Roughly a year after she came out on the cover of Time magazine in 1997, Ellen Degeneres' hit sitcom Ellen was cancelled. And as difficult as it is to believe now, for a while the popular entertainer thought she might never work again.
The 58-year-old said her decision to go public with her sexuality, in the cover story and a subsequent exclusive interview on The Oprah Winfrey Show, took a toll on both her professional and private life, describing the period that followed as her "rock bottom".
"I was the punch line of lots of jokes. I laughed at some, but I realised there's somebody on the other side of them. It's cruel," DeGeneres told Out this month, appearing on the cover after being crowned their 'Entertainer of the Year'.
If anything though, she said the way she was treated by the media and fellow entertainers simply reaffirmed her own philosophy when it comes to cracking jokes.
"I've never liked mean comedy, but that became even more important to me after I was the brunt of it," she said.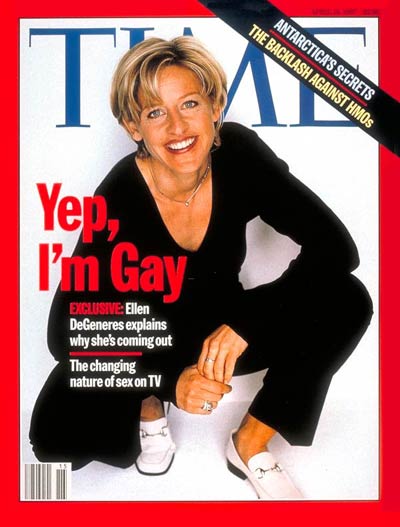 Ellen on the cover of time in 1997. Source: Time
It's obviously a formula that works, especially when you consider DeGeneres' talk show is now in it's 14th season and has won multiple Daytime Emmy awards.
But winning over the public, not to mention Hollywood producers, took time and for three years after revealing herself as a lesbian, a journey that was mirrored onscreen where she became the first openly gay main character on primetime TV. She struggled to find her place in what was still a deeply conservative industry.
"Before this show [her talk show], I had a lot of insecurity," she said.
"I wasn't sure if I was going to work again, and although I was out, I was still trying to alter myself — not dressing the way I wanted to dress or wearing my hair the way I wanted to.
"I slowly gained the confidence to be authentic, and what I've learned about other people is that they strive to be authentic, too. So whether they fully support me, love my lifestyle, or love that I'm married to a woman, I think they like that authenticity, and they're drawn to it."
DeGeneres, who married Australian actress Portia de Rossi in 2008, added things are only getting better too.
"Time is a strange thing. I was at rock bottom and out of money, with no work in sight, but one step at a time, it gets better," she said. "It gets much better than better."