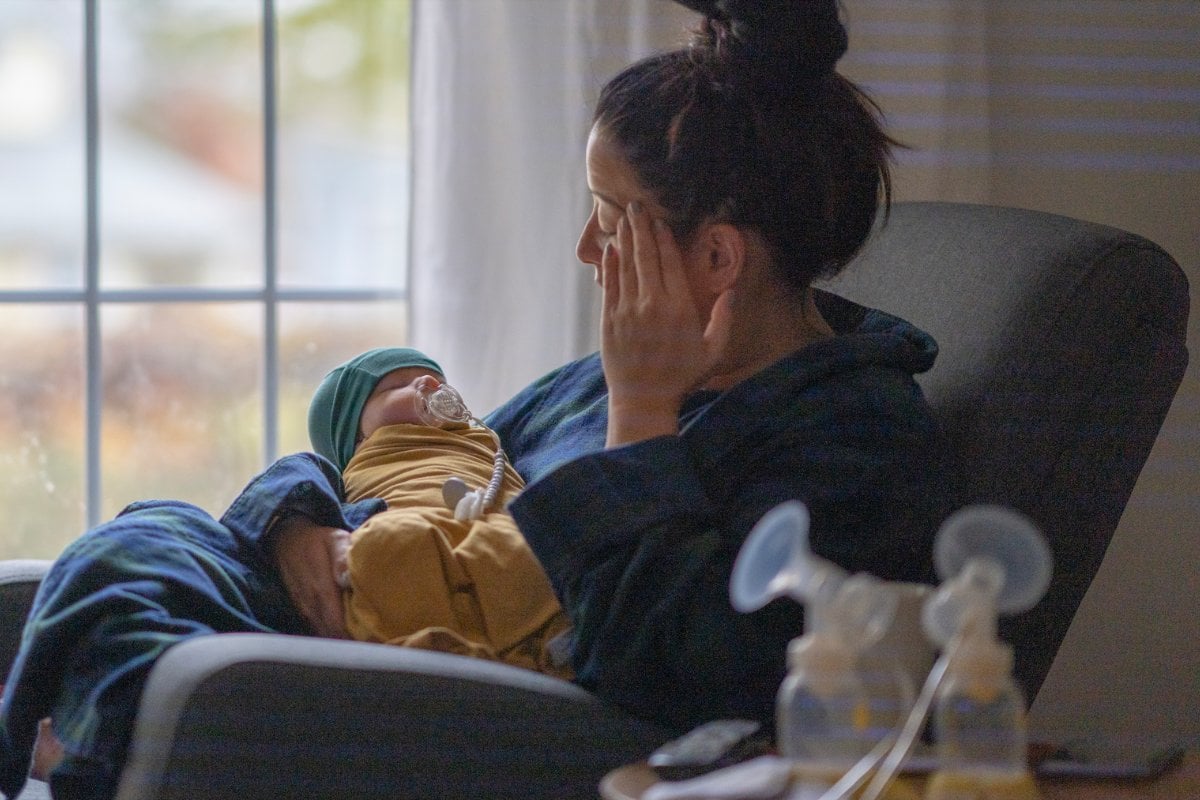 The author of this story is known to Mamamia but has chosen to remain anonymous for privacy reasons.

After a dream pregnancy, and a very quick and mostly uncomplicated labour, I finally got to hold my perfect baby girl.
As the midwives carefully placed her in my arms, I was anticipating an explosion of love, an instant connection, a surge of adrenaline but instead I was met with feelings of... nothing. More than anything, all I was left feeling was, "now what?"
In hindsight, this should have been my first clue that something wasn't right. It was the beginning of the darkest period of my life.
I'd had an episiotomy and experienced second degree tearing, which resulted in 17 stitches, mostly internal. "No sweat," claimed the midwives. Birthing classes had prepared me for this, I knew it wasn't uncommon, and in most cases a faster recovery time than a c-section.
I spent two nights in hospital to ensure my stitches started to heal correctly and the midwives seemed happy with my recovery.
"Any follow-up appointments?" I asked on my way out. "Not during lockdown, call us if you have any concerns," one of the midwife replied.
Settling in at home with a perfect baby, breastfeeding without any issues, we were finding our routine as a new family. After the first month everything was working out wonderfully, but I still felt... nothing. When friends and family asked me how I was coping, I answered truthfully; "just tired". I didn't have any other feelings, I was devoid of all emotions.
Watch: One woman discuss the impact of birth traumas on physical and mental health. Post continues after video.
My stitches had completely dissolved, though things didn't feel normal. It was often uncomfortable to sit in certain positions, sex was painful, almost impossible. I called the midwives to ask what could be done.
"Be patient, things will go back to normal, some take longer to heal than others," I was told over the phone.
We were still in lockdown so there were no in-person appointments. Technically, I was no longer a maternity patient, so there was nothing else they could do.
Finally, at two months postpartum, lockdowns had lifted. Soon, a socially distanced mothers' group meeting in a park became the highlight of my week. Babies were all in their best outfits, mums in sweats and barely brushed hair.
As we exchanged birth stories, I heard of labours lasting days, emergency caesareans and difficult recoveries. I couldn't help thinking I had got off easy and had nothing to complain about. The other mums were also exhausted, but beaming with love and joy. I thought surely they must just be putting on a brave face.
At three months postpartum, I went to see a pelvic physio to get clearance to join a 'Mums and Bubs' exercise class. She examined me and said, "There appears to be a slight over-stitch, but it may naturally stretch out in time".
I thought I must be overreacting; I needed to give myself more time to heal, adjust my expectations and be patient.
After four months, regular exercise had helped me gain a small piece of myself back, however, sex was still too painful. I booked an appointment with my gynecologist and raised my concerns. I suggested maybe I had been over-stitched.
"You're probably just nervous to have sex after having a baby, things will improve naturally in time," the doctor told me.
I felt dismissed.
I returned to work part time after six months, my daughter going into daycare a couple of days a week. My colleagues were sympathetic to me coming back, but I was ecstatic. I'd always enjoyed working, and while the juggle was difficult, I felt like I'd found another piece of the old me. I missed my daughter during work, but loved the break and being able to have adult conversations about something other than sleep schedules, baby led weaning and nappies.
Listen to This Glorious Mess and learn more about postnatal depletion. Post continues below.
At eight months postpartum, gynecologist appointments were still difficult to come by in the months after lockdown. Many were not accepting new patients without a referral and others could not fit me in for months.
It was exhausting navigating the health system for a problem I had been told doesn't exist. In a last ditch effort, I decided to go to the emergency room in hopes of receiving a referral. After a few hours, two midwives examined me and told me the same line I'd heard over and over: "It all looks fine, you're just nervous, sex won't be so painful if you relax."
I'd been dismissed for months, nobody was taking my concerns seriously, and I'd been laughed out of appointments. After months of feeling nothing, I was overcome with rage.
"I'm not leaving until this is fixed."
Finally I was given a referral to a specialist OBGYN at the hospital and I was able to get an appointment the very next day.
I was booked in for a simple procedure called a 'Fenton's Repair', which essentially involved re-cutting the episiotomy scar and re-stitching it correctly.
I had the op done the following week and was back home the next day. I ended up with fewer stitches than I had after delivery and was sent home with more pain relief and instructions on how to properly care for healing stitches. Everything healed perfectly.
As my daughter approaches her first birthday, I've finally found my village, my feet and my confidence as a mother. I no longer count the hours until my husband gets home, instead I look forward to my days off work to chase after my busy toddler. I have a wonderful mothers' group who help me navigate the ups and downs that come with the first year, my friends have embraced the newest member of our family with overwhelming enthusiasm and our families are a huge help in every way. I have found all the pieces of myself plus more, and I've never been happier.
Feature Image: Getty.
Calling All Skincare Enthusiasts! Complete this short survey now and go in the running to win one of four $50 gift vouchers!
Unlock unlimited access to the best content for women