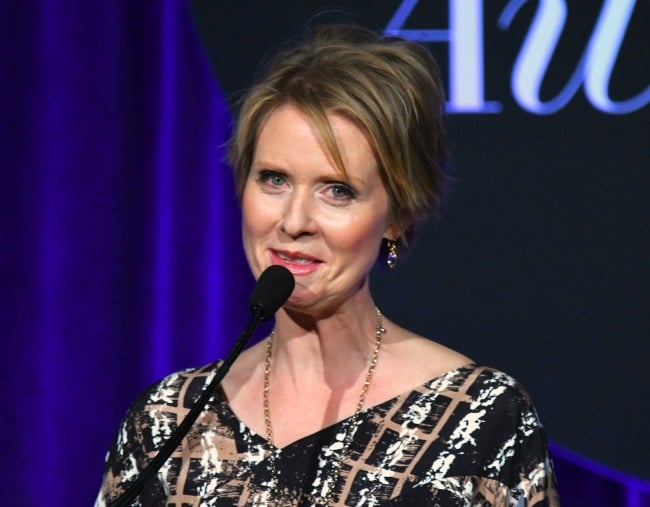 Former Sex and the City star Cynthia Nixon says she'll run in New York's Democratic primary for governor in September.
Her announcement sets up a race pitting an openly gay liberal activist against two-term incumbent Andrew Cuomo, who has a US$30 million war chest and possible presidential ambitions.
In a video on Twitter, Nixon said, "We want our government to work again."
Surprisingly, "Miranda Hobbes for governor" is not the slogan Cynthia Nixon went with. Post continues.  
Nixon in recent speeches has called on Democrats nationally to carve out a strong liberal identity instead of being merely the "anti-Trump party."
"This is a time to be visible," Nixon said. "This is a time to fight."
Nixon's platform on her campaign website seems to focus on progressive concerns of income inequality, health care availability, concerns about mass incarceration and "fixing our broken subway."
Nixon talks up her New York City bona fides, noting that she has never lived anywhere else but the city.
She declares herself to be "a proud public school graduate and a proud public school parent."
Nixon played career-focused lawyer Miranda Hobbes on Sex and the City from 1998-2004.
The 51-year-old Manhattan mother of three is an ally of Democratic New York City Mayor Bill de Blasio, who frequently clashes with Cuomo on various issues.
Sixty-year-old Cuomo was favoured 66 per cent to 19 per cent over Nixon in a recent poll.
Nixon identifies as bisexual. If Nixon is elected, she would be both the first governor of New York to be female and and to be openly a member of the LGBTQI community.
It's been more than 20 years since Sex and The City was first released. What's allowed it to become a cult classic? The Mamamia Out Loud team discuss. 
Thank you - just by clicking on this and other content on Mamamia, you are helping to fund education for some of the world's most disadvantaged girls.
Together with our commercial clients and charity partner Room to Read, Mamamia's goal is to be funding 1,000 girls in school each and every day, by June 2020.
Learn more here about our ongoing mission to make the world a better place for women and girls.