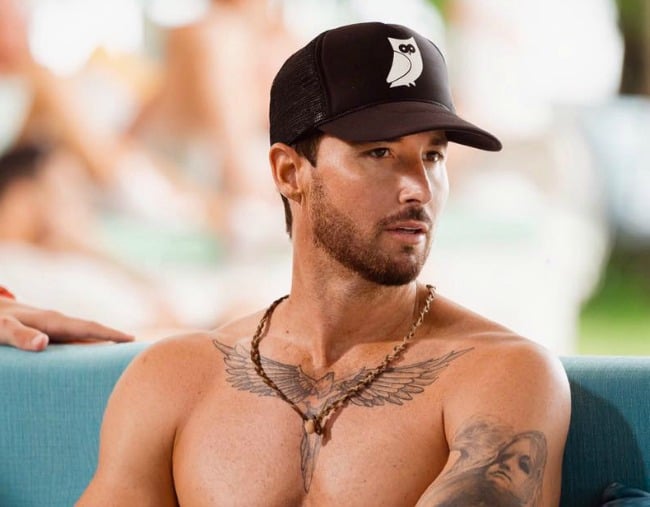 1. A woman paid $6000 for a date with Michael Turnbull. Only, she doesn't want it anymore…

Well, this is a little bit awkward.
At a charity event for Cure Cancer Australia held by Bachelor in Paradise's Jake Ellis last month, fellow BIP contestant Michael Turnbull auctioned himself off for a "VIP date" with one lucky bidder.
But now, the woman who paid $6000 for a night out with the former soccer goalie no longer wants it.
"The lady that put the big bid up didn't want to end up doing it," Ellis told The Goss earlier this week.
Although the second highest bidder was contacted to take the date, they couldn't be tracked down – meaning that only $3000 will be handed over for cancer research rather than the expected $9000.
Ellis put on the World's Biggest Dinner event, alongside fellow Bachelor in Paradise contestsants in honour of his late mother.
2. Ariana Grande just got a tattoo in honour of her fiancé's dad and it's actually incredibly sweet.

Just weeks after her fiancé Pete Davidson got two tattoos to mark their love, Ariana Grande has been spotted with a new tattoo in honour of Pete's father.
According to US Magazine, the 25-year-old singer now has the numbers 8418 on her foot, which was the badge number worn by Pete's firefighter father Scott, who died in 2001 during the 9/11 attacks.
Pete also has the same numbers tattooed on his left arm.
Pete recently got two tattoos in Ariana's honour, including her initials 'AG' on his right thumb and the dangerous bunny symbol tattooed behind his ear.
Pete, who only recently had a tattoo of his ex-girlfriend Cazzie David's face covered up with a tree artwork, was warned by his tattoo artist about getting the new tattoo.
"After we were done, I told Pete, 'Hey, dude, let's just stop with the girlfriend tatts until after [Ariana's] your wife.' Because relationships come and go, and Pete is a really young man… I think that went in one ear and out the other," Pete's tattoo artist John Mesa told Page Six.
3. So Bach in Paradise's Sam and Tara might be over, but Keira and Jarrod might be getting married…

We're not usually ones to start rumours, but… it totally looks like Keira Maguire and Jarrod Woodgate are getting married.
Keira, 31, is currently enjoying a romantic holiday in Thailand with Jarrod, 32, who she first hooked up with on this year's Bachelor In Paradise, and while things may be falling apart for some of the other couples (cough, Sam and Tara), these guys only seem to be going from strength to strength.
In fact, things appear to be going so well, Jarrod may have even proposed.
Keira shared a photo of herself in the hotel pool on Instagram, wearing a black swimsuit, with the words "Mrs Woodgate" embroidered on the back.
"Mrs Woodgate!?!???" she captioned it.
She did add a series of crying laughing face emojis, so there is a chance she's teasing us… or dropping a few not-so subtle hints for Jarrod.
Only time will tell.
4. Say hello to Justin Bieber's new baby, a $500,000 Lamborghini.

Justin Bieber has a new lady in his life – his US$500,000 Lamborghini.
The 24-year-old singer had his new red Lamborghini Aventador delivered to his hotel in California's Laguna Beach, and later introduced her to his fans on social media.
"My baby girl," he can be heard saying in a video posted to his Snapchat.
According to photos posted on TMZ, Justin was seen admiring his new ride as it was being dropped off, before later taking it out for a test drive.
It's not even his first Lamborghini.
Daily Mail reports he's previously been seen driving around in two other models of the super expensive car in the past.
If you're ever unsure about what to do with all of that extra money, Justin, feel free to send some of it our way.
5. Lauren Brant shares light-hearted Instagram story about Barry Hall controversy.
One person who seems determined to downplay Barry Hall's controversial comments is his partner, Lauren Brant.
The 29-year-old television personality and actress was in Bali on Saturday with the couple's one-year-old son Miller, and appeared to have a message for her 41-year-old partner.
In a short video, which showed Miller babbling next to a hairdryer in a hotel room, Brant can be heard asking, "Miller, are you trying to say, in your own way, that it's all going to blow over?"
On top of the video, Brant drew an arrow pointing to the hairdryer and wrote, "Get the pun?"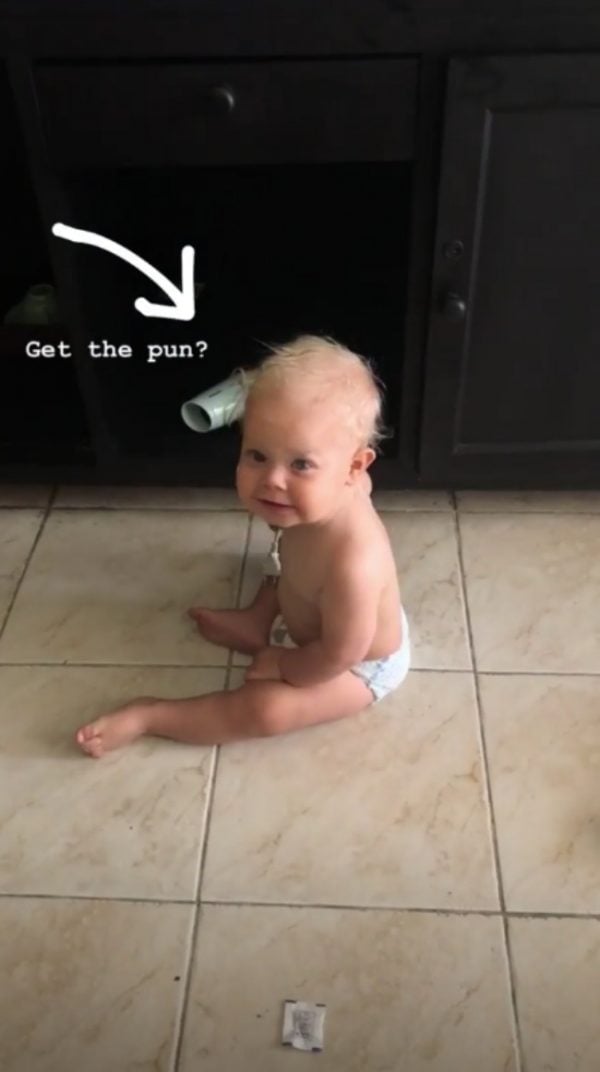 As reported by News.com.au, Hall was fired immediately from radio station Triple M after making lewd comments about fellow former football player Leigh Montagna's wife's pregnancy.
He was quick to apologise for his comments, issuing a statement saying, "it is not a reflection of who I am", as reported by News.com.au.
You can read more about Hall's controversial remarks right here on Mamamia.