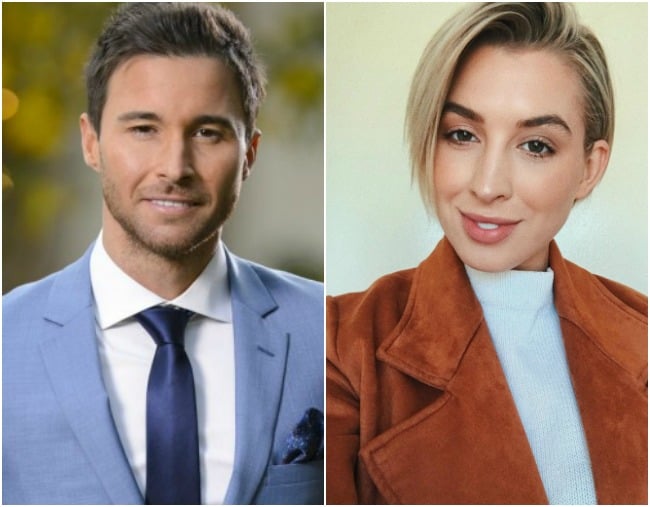 My word.
If you thought reality TV was the place of outrageous drama and inconceivable story lines, may I present to you the story of the year: The Great Paparazzi Saga of Alex and Michael.
In case you missed it, this week, former Bachelor star Alex Nation leaked private messages between herself and Bachelor in Paradise contestant Michael Turnbull, where it appears Turnbull was doing his darndest to stage some paparazzi shots with her.
These were said screenshots. (Taken from Michael's phone, though the original screenshots, we should clear up, were leaked from Alex's.)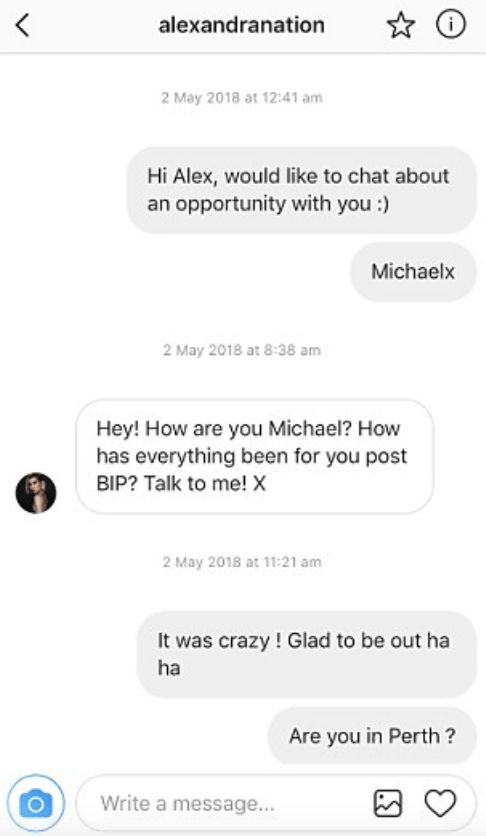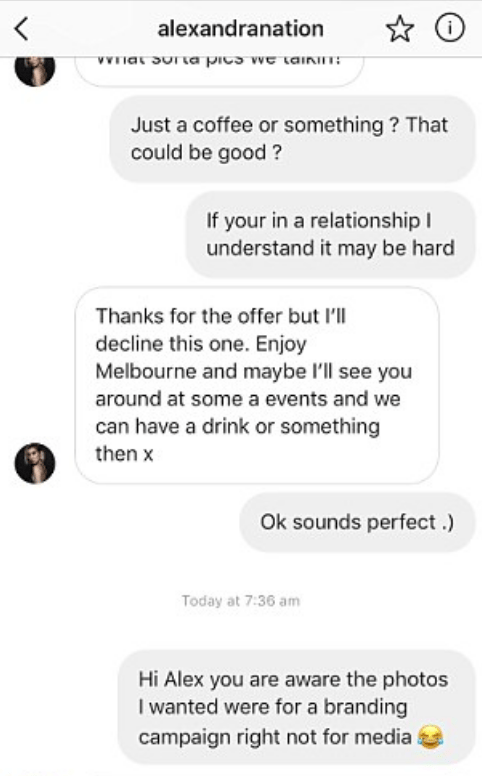 Yes, well, branding campaign.
"At no stage did I mention staged pap photos," he told the Daily Mail on Monday after the messages were leaked.
"It's disgusting Alex would send someone's private messages to the media and make false claims to the media just to make a few dollars."
And then, well, because we underestimated how long 15 minutes of fame can truly drag on for, we thought it was over. How novel.
It wasn't.
On Tuesday, Fitzy and Wippa decided to do some digging of their own, getting Turnbull on the show to ask, bluntly, if he makes some coin from staging paparazzi photos.
"I still haven't found out who or how the [messages] landed in the media, I don't know how they got there but I was surprised to see them, that's for sure," Turnbull told the show, before denying he had ever set up a pap shot.
"I don't make enough money for them to be worthwhile, I'd get, what, $50 or something?"
Turbull went on to say he and Alex are both ambassadors for a a dental company, so he was simply "organising a promotional shoot for them".
"[It was] to get some branding and things like that, and I think she took it the wrong way. At no stage in the messages did I mention pap shots or anything like that, so I am not sure where that came from."
Perhaps it's here we remind you last week, when Turnbull was accused of staging paparazzi photos with former Married at First Sight contestant Sarah Roza last week, he defaulted, once again, to the dental company (who, might we add, must be stoked with all the free plugs).
"We share the same dentist, Vogue Dental, in Melbourne and we just happened to bump into each at the clinic," Michael told Mamamia.
"[Sarah] is just a friend of mine and always has been, so no romantic connection."
Right.
Back on Fitzy and Wippa, Turnbull emphatically denied, once again, ever staging a shot:
"Someone asked me the other day, 'Do you set up pap photos?' I am a real estate guy, I am too busy to fly around and do pap photos, it's not my game. I guess I am in the spotlight, but to go and organise that sort of stuff is not my thing; if I get papped I get papped.