1. Alex Wolff, the star of Hereditary, says he was left 'traumatised' after filming the scariest movie of 2018.

Alex Wolff, 20, says working on the film Hereditary, released in Australian cinemas on Thursday of this week, left him scarred.
"It's hard to describe eloquently, it's just a feeling," the star of Patriot's Day and Jumanji: Welcome to the Jungle, told Vice. "I don't think you can go through something like this and not have some sort of PTSD afterwards."
The horror film, also starring Toni Colette, has been widely declared the scariest movie of the year, and centres on the unravelling of a family haunted by secrets of their ancestry.
Wolff was responsible for enacting some of the most terrifying scenes from the film, including violently slamming his head against a desk repeatedly.
Many of the scenes, Wolff told Vice, "stuck with [him] while filming, and it stuck with [him] well after."
He continued, "When I started talking about it, all these flashes with all this disturbing shit I went through sorta came back in a flood. It kept me up at night to where I got into a habit of emotional masochism at that point of just trying to take in every negative feeling I could draw from."
You can see Hereditary in cinemas all across Australia.
2. "This is awful… She's actually achieved nothing.": Waleed Aly criticises Kim Kardashian on The Project.
Yesterday, Alice Johnson was granted clemency for a drug offence, freeing her from her life sentence.
Her most notable supporter was reality star Kim Kardashian West, who met with President Donald Trump to request the 63-year-old grandmother's release.
The phone call I just had with Alice will forever be one of my best memories. Telling her for the first time and hearing her screams while crying together is a moment I will never forget.

— Kim Kardashian West (@KimKardashian) June 6, 2018
But according to The Project's Waleed Aly, Kardashian "achieved nothing".
On last night's episode of The Project, Aly said: "She's actually achieved nothing. She's achieved something for one person in one case."
"I reckon this is awful. You now have a president who effectively thinks he can do things by pardons. That's the way he operates," Aly added.
Aly's co-host Carrie Bickmore also pointed out that Kardashian had an unfair advantage in the case.
"I feel for all the people who have been advocating on behalf of people for years," she said. "Kim just walks in, [and they decide], 'OK, let her out.'"
3. One woman is very cranky about the grammatical error that plagued Sex and the City.
It's the 20th anniversary of Sex and the City and we're doing allll the reminiscing.
Remember the intro of every episode?
A city bus drives past and splashes Carrie – and not only that, right on the side of that bus is her face.
Well, one woman is not happy about what it says on the side of the bus.
The side of the bus reads: "Carrie Bradshaw knows good sex* *(and isn't afraid to ask)".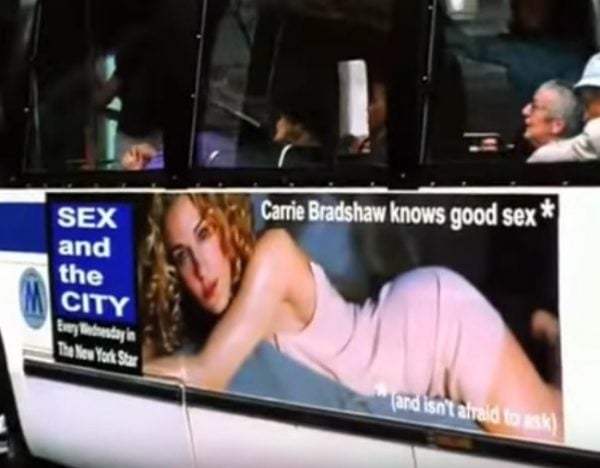 "I've got a minor grievance," Kelly Stout wrote, "The parallelism of this column's slogan doesn't work".
"There needs to be two additional words after "ask" for the slogan to make grammatical sense and this has bugged me for a long time. So much that it almost turned me off completely, and nearly kept me from the pleasure of watching four sexual friends who are afraid of the human butthole enjoy unencumbered adulthood and hot new restaurants," she added.
Alternatively, it should say, according to the author: "Carrie Bradshaw knows good sex* *(and isn't afraid to ask for it)."
We are never going to unsee this now.
4. Caitlyn Jenner's ex has taken aim at her on Instagram, for not attending son's wedding.

Ahhhh, the Kardashian family and all those associated with them... providing endless drama and entertainment for us. Linda Thompson is throwing major shade at her ex, Caitlyn Jenner, for not attending their son, Brody Jenner's, wedding. Brody Jenner, who is the half brother of Kendall and Kylie, exchanged vows with his girlfriend of five years last weekend.
According to People, Caitlyn couldn't attend the shindig due to work commitments.
A couple of days after the couple married in Nihi, Sumba Island, Linda Thompson posted a video of the wedding to her Instagram.
"This is the beautiful location where @brodyjenner & @kaitlynn got married!" Thompson wrote. "Yes, it's on the other side of the world… But I would've gone to the moon and back to share in the joy of my darling son & his beautiful bride getting married! "That's what parents do!" And that seems like a dig, seeing as that's not actually what Caitlyn did.
5. Australia's first Bachelor couple, Tim Robards and Anna Heinrich, have officially tied the knot.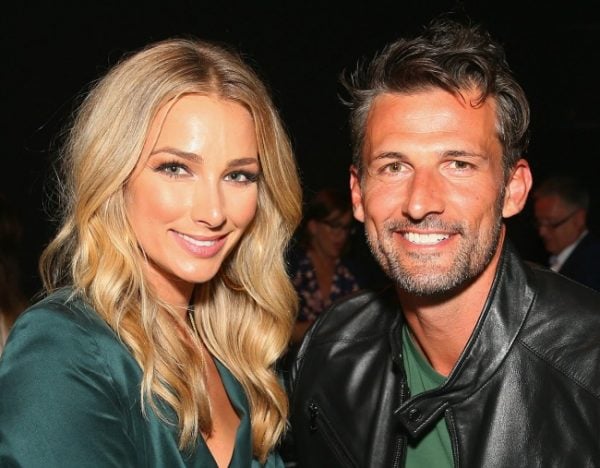 In slightly happier wedding news, Tim Robards and Anna Heinrich have exchanged vows in an intimate wedding ceremony in the South of Italy, proving that you really can find true love on a reality TV show.
The couple, who met on the first season of The Bachelor, looked just as spectacular as you would expect. The ceremony was held at the Masseria Potenti Hotel among the vineyards in Puglia, South of Italy.
No official photos have surfaced yet, just a few paparazzi photos which surfaced on The Daily Mail.
Heinrich, who is a criminal lawyer and social media influencer, was walked down the aisle by her father, Les Heinrich, and her older sister, Andrea Heinrich, was her bridesmaid.
Andrea wore a simple, elegant white dress. Carrying her white bouquet of flowers, Anna was also seen with her wedding planner, Georgia Duddy.
For all the dress details (because we know that's what you're really here for), you can read everything we know in the full article here.