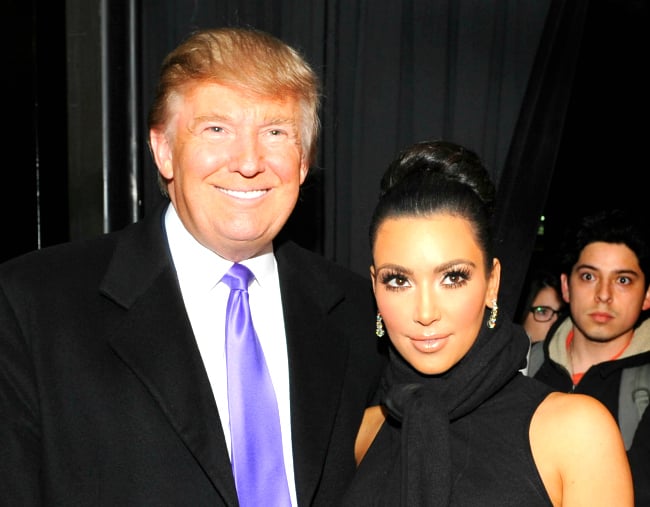 This week, the unthinkable happened. It was, presumably, a day many respected and experienced White House political correspondents never thought (nor hoped) they'd see.
Keeping Up With The Kardashians star Kim Kardashian met with US President Donald Trump in the White House's Oval Office to discuss prison reform.
Just a day after their meeting, it looked like Trump might have picked up what the 37-year-old entrepreneur was putting down. The 71-year-old announced he would be pardoning a prisoner who was "very unfairly by the government".
Only, he's pardoning the wrong one, at least in Kardashian's eyes.
Great meeting with @KimKardashian today, talked about prison reform and sentencing. pic.twitter.com/uOy4UJ41JF

— Donald J. Trump (@realDonaldTrump) May 30, 2018
In a tweet, Trump said he would be using his Presidential powers to pardon conservative commentator Dinesh D'Souza. D'Souza's crime was arranging illegal campaign donations for a Republican's unsuccessful senate campaign in 2012.
The former The Apprentice star also told reporters he's considering pardoning Martha Stewart, who served five months in prison after her 2004 federal conviction for obstruction of justice, making false statements and conspiracy for lying to investigators, CNN reports.
Coincidentally, both appeared on or worked with Trump on The Apprentice series, according to AAP. Trump has also pardoned other notable conservatives, prompting accusations of abuse of power.
Last August, he pardoned former Arizona lawman and political ally Joe Arpaio less than a month after he was convicted of criminal contempt in a case involving racial profiling of Hispanics. In April, it was Lewis "Scooter" Libby, who was chief of staff to former vice president Dick Cheney and was convicted in 2007 of lying in an investigation into the unmasking of a CIA agent.
Meanwhile, there's no word yet on the fates of the woman Kardashian actually went to the White House to advocate for.
That woman is Alice Marie Johnson, a 69-year-old great-grandmother serving a life sentence without parole for a first-time, non-violent drug offence.
She has been behind bars since 1996 and is not eligible for parole, because there's no such thing in the federal system. She was convicted on eight criminal counts relating to a cocaine trafficking operation involving more than a dozen people.
I would like to thank President Trump for his time this afternoon. It is our hope that the President will grant clemency to Ms. Alice Marie Johnson who is serving a life sentence for a first-time, non-violent drug offense.

— Kim Kardashian West (@KimKardashian) May 31, 2018
We are optimistic about Ms. Johnson's future and hopeful that she —and so many like her—will get a second chance at life.

— Kim Kardashian West (@KimKardashian) May 31, 2018
Another woman Kim is reportedly supporting legally is Cyntoia Brown, a 29-year-old who has been imprisoned since she was 16 for killing a man who had allegedly pimped her out into sex trafficking and prostitution.
Brown was charged for murder after admitting to shooting the 43-year-old man who allegedly used her as a sex slave.
She will be 69 by the time she is eligible for parole.
While it's unclear why Kim is invested in these cases, you can't doubt her passion for their causes. So much so, the mother-of-three spent months negotiating a meeting with Trump through back channels with his son-in-law Jared Kushner, News.com.au reports.
There's no way to know what Trump will do next. But did we really expect the American reality star President to take the political advice of… another reality star?
We don't know what to expect anymore.
You can catch up on Trump and Kim K's strange newfound friendship on Tell Me It's Going To Be OK below.
Want to hear to more?  Listen to Tell Me It's Going To Be OK in iTunes, Android or on Mamamia.
Do you think it's helpful for celebrities to use their profiles to get involved in politics?