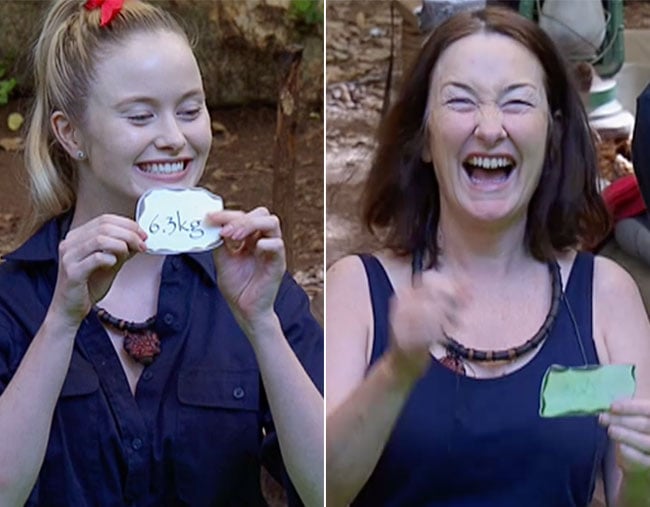 As a show that transplants some of Australia's most well-known faces from their luxury apartments and beachside villas and into the South African jungle, all while forcing them to sleep outside and compete in humiliating challenges that often involved blended…. animal parts… it's hard to pick which element of I'm A Celebrity… Get Me Out Of Here is the most problematic.
Sure, it's all entertaining as heck. And who doesn't love a chance to see a celebrity you never expected getting real, raw and emotional on national television?
(Or, you know, seeing someone you're… not a huge fan of… being locked in a glass cage full of cockroaches?)
But there's one part of the show that, every year, has viewers divided. It's the part where the show bizarrely crosses over with The Biggest Loser and the remaining jungle campmates are weighed and compared to their pre-jungle selves.
Watch the celebs 'weigh in' in the South African jungle:
Last night, the show's remaining contestants – Danny Green, Fiona O'Loughlin, Shannon Noll, Simone Holtznagel, Vicky Pattison, Jackie Gillies and Peter Rowsthorn – revealed they had lost a staggering 57.6kg between them since they entered the South African jungle five weeks ago.
Peter Rowsthorn – who became the latest celeb to be evicted from the jungle last night – shed the most weight, losing 12kg. Australian Idol runner-up Shannon Noll was the camp's second "biggest loser", shedding 11.5kg.
What a transformation for @peterrowsthorn ???? #mACelebrityAU pic.twitter.com/XZ149zNx88

— #ImACelebrityAU (@ImACelebrityAU) March 7, 2018
Of the women, comedian Fiona O'Loughlin lost 8.2kg, while model Simone Holtznagel shed 6.3kg, joking that most of it had been "lost off my boobs… which is very unfortunate".
According to News Corp, the campmates have been living off basic rations of just 25g of oats, 50gof brown rice, 45g of soya beans, 200g of vegetables and 30mL of olive oil per day.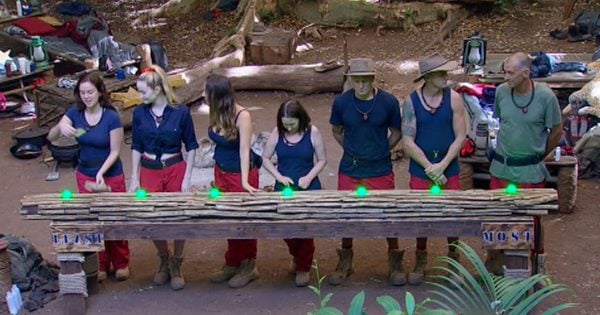 "While it is extreme, they were still given enough nutrients and constantly monitored to ensure they stayed in good health," the show's resident doctor Riesa Jansen van Rensburg told News Corp.
She added that some celebs had even purposely gained weight before entering the jungle, knowing their diet would be restricted.
"A couple of the celebrities, before they came into the jungle, put on extra weight because they knew they were going to be restricted in their daily intake. In those cases, you'd expect a greater weight loss," she said.
LISTEN: There's something wrong with the new season of I'm a Celebrity, Get Me Out of Here. Post continues after audio...
"It is nothing to worry about. Once out of the jungle, if they resume their pre jungle diet, they will presumably put the weight back on."
But some viewers weren't convinced, expressing their concern that the show had turned into an ad for 'crash dieting' and made a spectacle of their physical appearances.
"Bit f***ed up that they weighed all the celebrities and then made them arrange themselves into most to least suspected weight loss as a fun game to win food," one viewer wrote.
Others joked they wouldn't mind heading to the jungle to "lose a few kilos" themselves.
This year's 'weigh in' was slightly less controversial than last year, when (eventual winner) Casey Donovan admitted how intimidated she was at the thought of stepping on the scales in front of her peers and the whole of Australia.
"I'm never confident about weight... I don't like to stand on scales," she admitted.
"I kind of just go by clothes, and if I'm going by clothes, yeah there has been some weight loss."
LISTEN to the latest episode of Mamamia's TV and entertainment podcast, The Binge:
At Mamamia, everyday is International Women's Day.
Through Dress for Success' Empower Hour campaign, it takes just a few minutes to change a woman's life forever. Donate an hour of your pay this International Women's Day and set a woman on her path to success by visiting empowerhour.org.au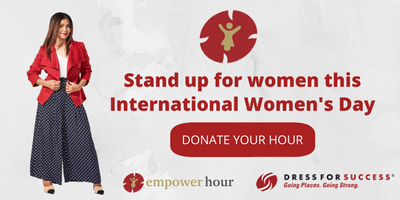 Mamamia has also partnered with Room to Read, where you can keep a girl in school for just $1 a day. Educating women and girls is widely understood to be the most powerful and effective way to address global poverty.
You can help make the world a better place for women and girls by donating at www.roomtoread.org/mamamia