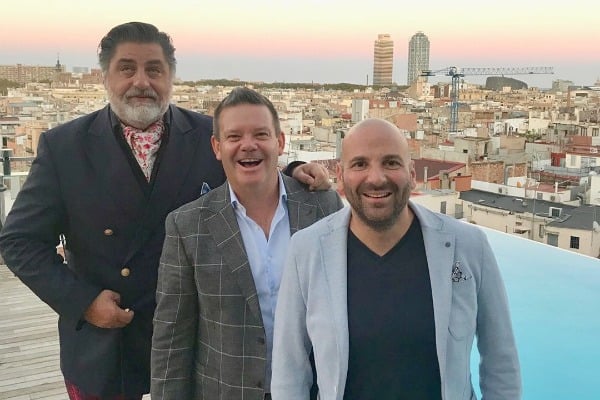 It was only a mere two days ago that news broke judges Matt Preston, Gary Mehigan and George Calombaris would be leaving MasterChef Australia, but the high-profile trio aren't wasting any time planning their next move.
The MasterChef judges, who've become household names since appearing on the show when it first aired back in 2009, have been in confidential discussions about a new series with rival TV networks and streaming services, according to The Sydney Morning Herald. 
Under their new production company GaryGeorge&Matt (GGM), only formed in February this year, the three are developing a concept for a new show aimed at a global audience, and are currently in talks with Netflix and Amazon, reports news.com.au.
Things I say while watching The Voice. Post continues after video.
According to The Daily Telegraph, the three are pursuing a "multimillion-dollar" deal with a major streaming service.
The show would likely see the former judges travel to different countries, particularly in India where the trio are popular.
But with Calombaris' personal brand taking another massive hit in recent weeks due to the $7.8 million underpayment scandal engulfing his empire of restaurants – thus hurting the reputations of his co-stars by association – it remains to be seen if there's still any appeal for the "three musketeers" in another cooking show.
Last week, unions called for Calombaris to be fired from MasterChef. There was also a petition, started by Orlaith Belfrage, a former employee of Hellenic Republic who is still owed $2000, demanding Calombaris' sacking.
"George should pay a serious price for this massive theft of workers' wages," Belfrage said in a statement. "A three per cent fine is not enough."
Why the MasterChef judges really left. Post continues after podcast. 

"He should be taken off MasterChef. Channel Ten should stop making excuses for this serial wage thief."
Since the announcement of the star judges' departure, it's been heavily speculated that the trio left the show due to disputes over their pay, with the trio asking for a 40 per cent increase to their already $1 million salaries.
With viewership declining in the latest season of MasterChef – the finale also had its lowest ever audience of 831,000 – Network 10 severed their association with the judges after negotiations failed.