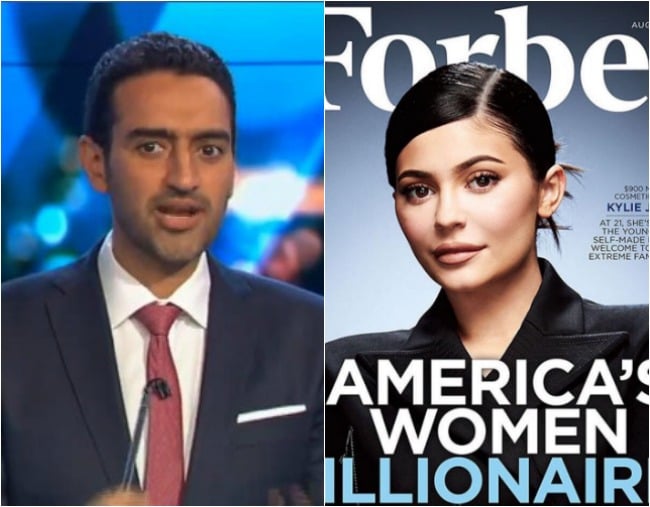 Waleed Aly has some feelings please and he'd very much like to share them.
You see, The Project co-host is not impressed with Forbes Magazine's decision to feature Kylie Jenner on its cover.
According to the publication, the youngest of the Kardashian clan is set to surpass Mark Zuckerberg as "the youngest ever self-made billionaire" by the time she turns 21 in August this year.
And Aly's not… into it.
"So in what way is she self made?" Aly asked on Thursday night's episode of The Project.
"She didn't have a lemonade stall somewhere and build it up."
Weirdly, Tommy Little then defended the reality TV star and accused Aly of "knocking her down because she's young".
"That's not why I'm knocking her down," Aly replied. "I'm knocking her down because she is part of an empire that doesn't do anything."
Little then replied, "Well, they make money" and touché.
thank you @Forbes for this article and the recognition. I'm so blessed to do what i love everyday. #KylieCosmetics pic.twitter.com/CRBwlBByk9

— Kylie Jenner (@KylieJenner) July 11, 2018
Aly wasn't the only one who raised an eyebrow at the "self-made" claim.
Im not discrediting her success but hardly self made ..sure she works hard and earned her success. but she was given the platform and had one hell of a capital to start up .

— Lynn Redmond ???????? (@thatlynnredmond) July 11, 2018