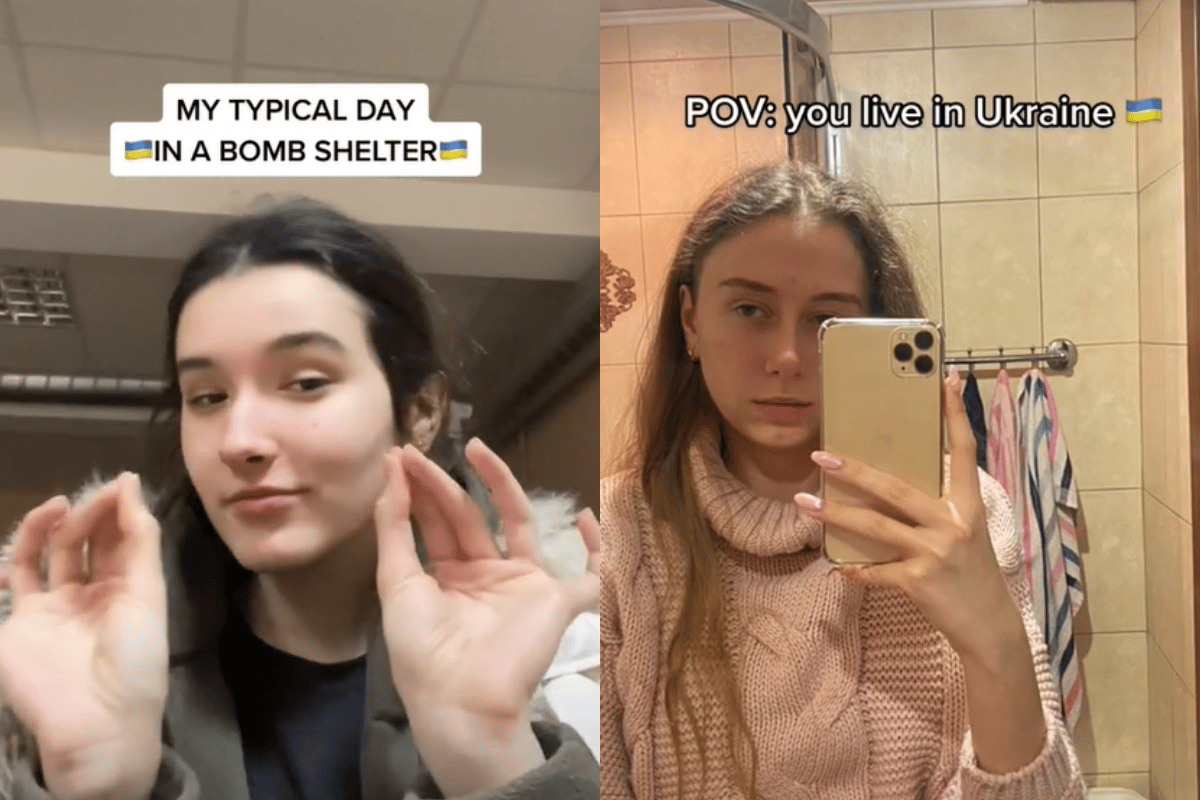 Alina has an emergency backpack beside her bed with documents, money and a first aid kit ready to go. She sleeps fully dressed in case she hears an alarm. 
Valeria wakes up in her bomb shelter with her family before eating breakfast. Heading outside, she sees a local movie cinema has been destroyed in the recent attacks. 
They are just two of the women who have been sharing what life is like in Ukraine right now on TikTok. 
From underground shelters to destroyed city buildings and empty supermarket shelves, Ukrainians are using the social media platform to offer a glimpse of what life looks during a war that has devastated the country for the past two weeks.
Here's what they've shared. 
Life inside a bomb shelter.
Like many Ukrainians, photographer Valeria Shashenok has been sheltering in an under-ground bunker in the city of Chernihiv, where 47 civilians where reportedly killed in an airstrike last week. 
In videos posted to her 540 thousand TikTok followers, Valeria shares what a typical day looks like living in the bomb shelter with her family and pet dog, including what her mum has been cooking for meals.  
Outside of the bunker, Valeria goes shopping for supplies at a local supermarket, which is riddled with empty shelves. 
18-year-old travel blogger Alina Volik has also shared footage inside her bunker, explaining how her life has changed since the invasion. 
"Our gym: to go to the shelter and go back home," she writes in a video shared with her 74,000 followers. 
"Your entertainment of the day is to go to the store or pharmacy," she continues.
In another video, she films herself waking to an alarm that she says rings four times a day. 
Filmed from inside a bunker in Kyiv, a video of a little girl has gone viral. 
In the video, which has been viewed millions of times, Amelia sings the song Let it Go from the Disney film Frozen while sheltering in a basement serving as a bomb shelter with a dozen others. 
Earlier this week, the video was shared by actress and singer Idina Menzel, who voiced Elsa, on Twitter. 
"We see you. We really, really see you," she wrote alongside the video. 
We see you. We really, really see you. 💙💛 https://t.co/Vhln1MjXpX

— Idina Menzel (@idinamenzel) March 7, 2022