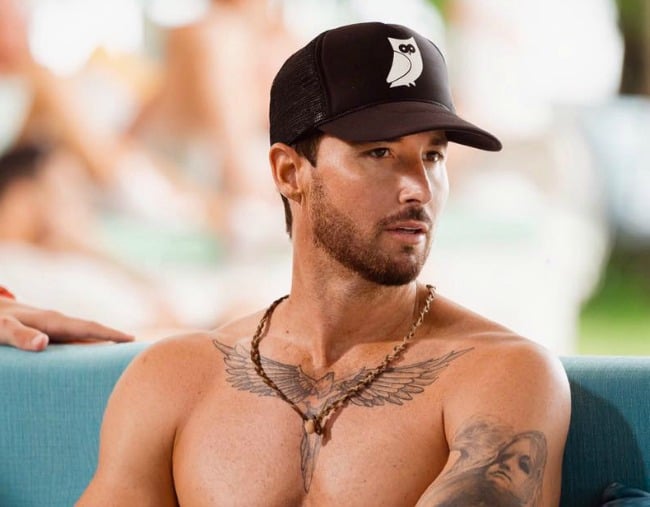 Bachelor franchise regular Michael Turnbull has copped backlash online for apparently insulting his Bachelor in Paradise co-star Ali Oetjen.
The former soccer player was forced to change his Instagram caption after first writing a caption many fans took as an offensive dig at the upcoming Bachelorette.
Next to an image of he and Ali while filming in Fiji last year, Michael wrote (according to a fan who screenshot it): "The look you give when you realise you're happy you're not going on the Bachelorette this year."
Now, we don't know how Michael intended that comment to be read. But the interpretation his followers ran with was a case of cruel and rather personal online bullying.
Soon realising that implying that you're happy not to be competing for a girl you once fell over yourself for (sorry Michael, but you did) wasn't a good look, he changed the caption.
"Hope she finds the right guy on the Bachelorette," read the new caption.
Michael then followed it up with an explanation that his first attempt was "not worded well". Riiiight.
"I changed my caption as my first post caption was not well worded and I do realise it may have come across as disrespectful, for that I apologise and I truly wish Ali the best," he wrote.
"I am against online bullying and hence the change. I hope everyone can forgive me if it came across in bad taste, it was not my intention. #goodluckali #imsorry."
Harmless mistake or online bullying caught out? You decide.
Ali has been the target of online abuse and criticism since she was announced as Australia's 2018 Bachelorette moments after Bachelor In Paradise ended. This only intensified when her island mate ex, Grant Kemp, claimed she had cheated on him.
We don't know exactly when Ali's season will air on Channel Ten later this year, but NRL star Nick "Honey Badger" Cummins will soon appear on our screens as The Bachelor.