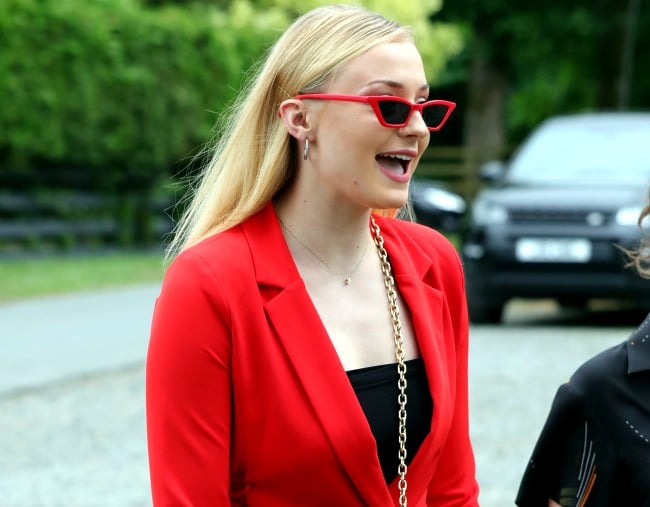 Over the weekend, something truly magical happened.
A man who is currently in the midst of fighting a great battle (and who just accidentally fell in love with his aunt) and a wildling women who died in the arms of her true love got to get all glammed up and say "I do" to each other in a romantic wedding ceremony held in a Scottish castle.
Of course, those dramatic story-lines mentioned above are actually the fates of Game of Thrones character's Jon Snow and Ygritte, played by Kit Harrington and Rose Leslie, who fell in love on the set of the epic fantasy TV show and then made fans' wildest dreams come true by bringing together the majority of their cast-mates for their beautiful wedding.
Present at the event were Game of Throne's cast members Emilia Clarke (who plays Daenerys Targaryen), Maisie Williams (who plays Arya Stark) and Peter Dinklage (who plays Tyrion Lannister), and while fans were excited to see their favourite stars out of medieval costumes,  they weren't the ones whose attendance grabbed headlines.
Instead of talking about Rose's dreamy lace wedding dress or the fact that her family actually owns the glorious castle they were married in, all fans and spectators seemed to want to talk about (and criticise) from the wedding was the outfit worn by 22-year-old actress Sophie Turner, who plays Sansa Stark.
The offending outfit in question consisted of a bright red, jacket-style mini dress with black thigh-high boots and red cats eye sunglasses.
Fans, social media users and commentators were quick to call her outfit inappropriate, labelling it too short, too revealing and too loud for the traditional wedding she was attending.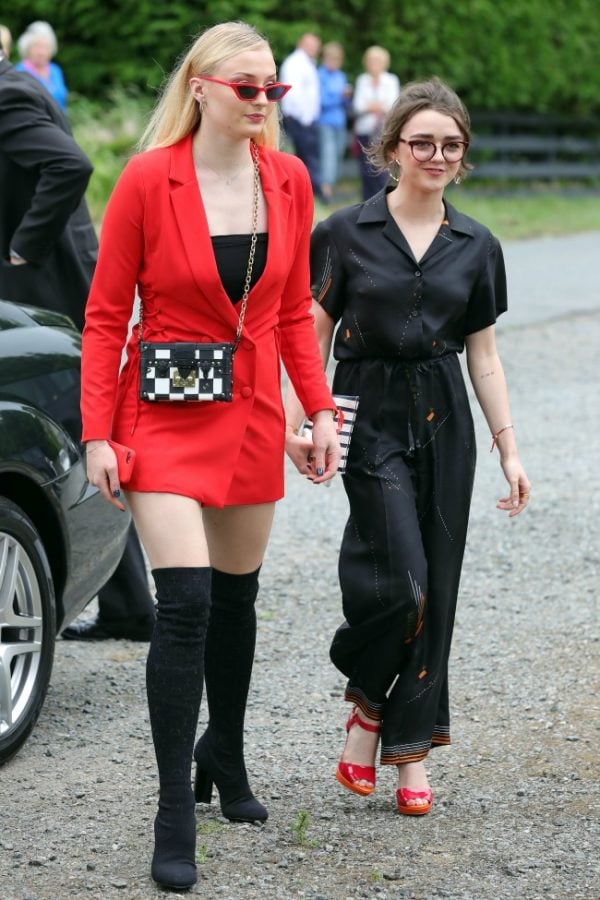 But before this dress-shaming madness goes any further, I have to step in and defend my fellow Dire Wolf loving compatriot, Sophie Turner.
When it comes to selecting a wedding guest ensemble from your closet, the lines have become a little blurred and the tried and true rules that we used to follow with precision have been tossed aside like a cold cup of coffee on a Monday morning.
Without knowing exactly what the dress code was for Kit and Rose's wedding (after all, guests came clad in everything from traditional kilts, to black jumpsuits and sweet Dior dresses, and that was just the Game of Thrones cast) it's hard to know how far Sophie strayed from the brief, but there's more to take into account here once you look at her fashion background.
I'd argue that if you are a person with a signature style, a look that is as just synonymous with you as the way you smile or the colour of your hair, then wearing that look to any particular event cannot be seen as subversive or rule-breaking, but more just a continuation of how you always present yourself to the world. The reaction to this is kind of like inviting the Queen to a fancy 'do and then giving her some grim side-eye because she had the audacity to wear a crown.
You see, not only was this not the first time Sophie has worn that particular look, it's not even the first time she has worn that particular dress either.
In fact, Sophie wore that exact same outfit (or at least an identical replica, maybe she likes to buy her clothes in bulk?) during her recent visit to Australia, where she attended The Voice Australia wrap party with her fiancee Joe Jonas, who was a judge on this season.
Joe Jonas and Sophie Turner attending The Voice Australia wrap up party on Sunday, in Sydney Australia ???????? pic.twitter.com/BzJFd5Ueai

— Joe and Sophie ♡ (@JophieUpdates) June 18, 2018
It's obviously a look she loves and feels comfortable in, and it wasn't that long ago we were all praising Kate Middleton to the skies for wearing a dress that looked recycled to the wedding of Prince Harry and Meghan Markle. It appears that you only get heaped with praise for wearing a previously worn look if the look in question is not fitted and red...
Also, who is to say that guests at the wedding even blinked an eye at her outfit choice?
From the plethora of photos of her that are available and show her both attending events or just going about her business during her downtime, we can see that Sophie often pairs mini-dresses with over-the-knee boots. To the Game of Thrones cast members that she was hanging out with for the day of the wedding, her look was was probably just a regular "Sophie outfit" and one that didn't detract from the bide and groom's happiness, I'm sure.
That's not to say, however, that what you wear to a wedding doesn't have the power to throw shade on the couple that is about to say "I do", it just all comes down to the intent behind the outfit choice and the knowledge you had about its impact before you selected it.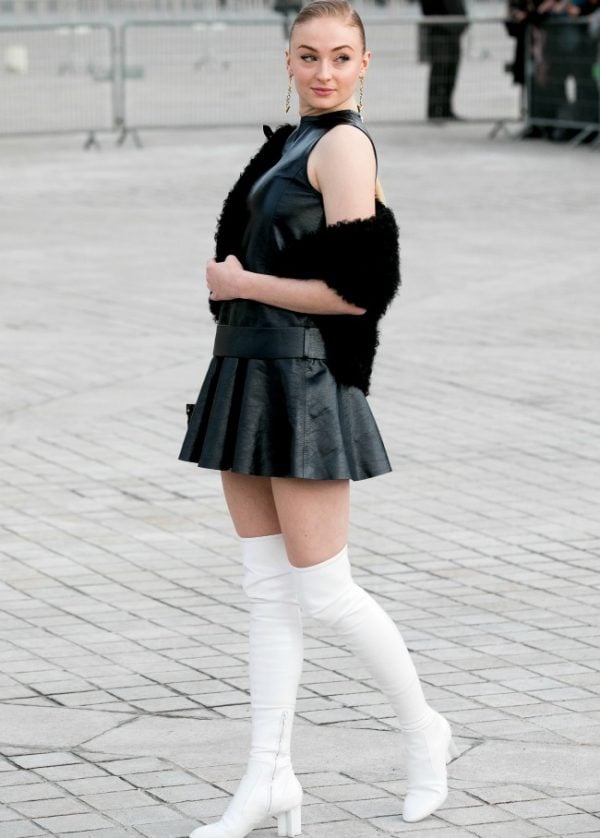 For example, this year I attended a family wedding where a number of the guests showed up in white or cream outfits, and I'm not talking just a splash of the colour just here or there. I'm talking about one woman wearing a long, fitted, pure white gown that could have doubled as a simple wedding dress in its own right if the occasion called for it.
In this case, the bride didn't care, she was too wrapped up in her big day or rightfully so, but talk of the white dresses of the day worn by guests rippled through the reception and the issue centred around that it is a known fact in our world that wearing something like that is disrespectful.
There is very much a way to use your outfit to throw shade at a bride on her wedding day, but in this case, Sophie Turner and her well-loved red coat dress are very much in the clear.
What did you think of Sophie Turner's wedding guest outfit?