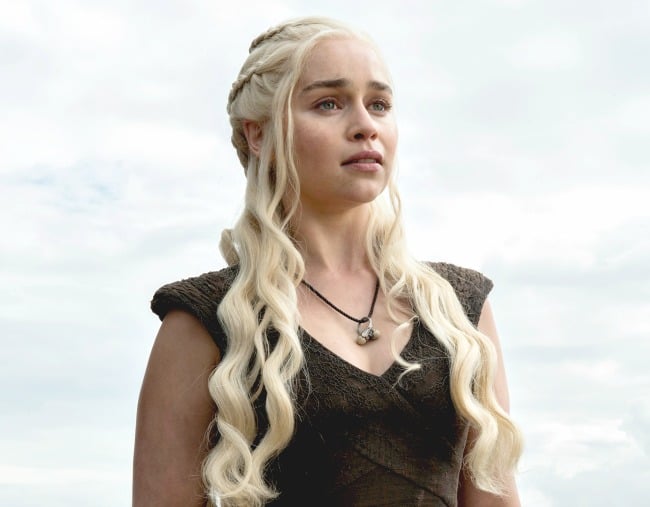 There's nothing a true fan of Game of Thrones loves more than a good conspiracy theory or dissecting a juicy spoiler.
Sadly for us, Game Of Thrones will not be returning to the small screen until 2019 (yes, that is a lifetime away) but we still have a pretty good idea of how things will play out… thanks to some spoilers from the set.
The eighth and final season of Game of Thrones will only consist of six episodes, but at least they will be super-sized ones.
Just like previous seasons of the show, the last season will also largely consist of original content not found currently in George R. R. Martin's best-selling A Song of Ice and Fire series.
Instead, writers of the TV series have adapted material Martin has revealed to show-runners about the upcoming novels in the series, The Winds of Winter and A Dream of Spring.
Here are the very best spoilers we have uncovered for season eight so far.
In case you forgot how Season Seven finished… Post continues below. 
1. Winterfell will burn to a crisp.
It won't come as a surprise to hardcore fans that Winterfell, the home of the Stark family, is going to play a pivotal part in the story-line of the eighth season.
Thanks to some videos that have been released from the set of the show, we know that the iconic structure will end up going up in flames.
Since the very last survivors of the Stark family, Sansa, Arya and Jon Snow, are all using it as their base of operations for the battles ahead, could one of them be killed in the flames in the finale episode?
Probably not, but it's safe to say there will be some casualties there.
2. The incestuous love of Daenerys Targaryen and Jon Snow has (probably) led to a child. 
Fans waited for seven long seasons for show favourites Daenerys and Jon to finally meet, and once they did, everyone then waited with bated breath for them to fall for each other.
In the season seven finale… relations were had (they had sex on a boat if you need to be reminded of that special moment) and thanks to a blind item thought to have originated from the set, it looks like a baby might have sprung from their incestuous love-making.
(We found out in that same scene that Dany is in fact Jon's aunt. Awkward).
A blind report that began making the rounds after the seventh season started states that 'a wildly popular, Emmy-winning series on a premium cable network is plotting a pregnancy twist that promises to be… surprising is an understatement' and added that the show would not be back on the air until 2019.
Only time will tell if this Game of Thrones premonition will come to pass.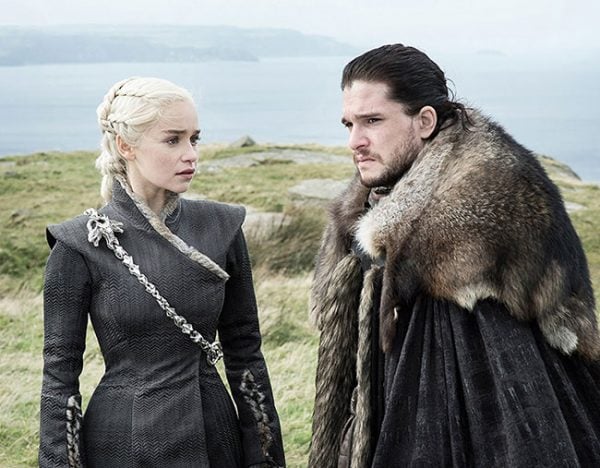 3. The remaining members of the Stark family all survive the final battle. 
This particular theory comes courtesy of the fact that  Sophie Turner, who plays Sansa Stark on the HBO series, got a very suspicious looking tattoo during her time in Sydney with her fiancee Joe Jonas recently.
The tattoo shows the House of Stark dire wolf with the words "The pack survives" next to it and eagle-eyed fans were quick to link it to an iconic line from Game of Thrones. 
The quote comes from season one of Game of Thrones, when Sansa's father Ned Stark said, "When the snows fall and the white winds blow, the lone wolf dies but the pack survives."
We are taking this to mean that all the Starks make it through to the end in one piece, thank goodness.
4. There will be one epic battle to end all Game of Thrones battles. 
According to sources on the Game of Thrones set, the last episode of the series will contain an epic battle, like nothing we've ever seen on the show before.
It is apparently the longest amount of time it has ever taken a TV crew to shoot a scene of that kind.
Which means it will be extraordinary. And, while a lot of our favourite characters will probably perish, at least the action will be good.
#GameofThrones leaked info about the filming goes public:
Final battle took 55 days to shoot, more than any other in series history.
This is gonna be EPIC ❄️????????????‍♂️

— ????Elias J. Manos (@EliasManos) April 10, 2018
5. Daenerys will do something unforgivable in her final moments on screen.
Out of all the theories and spoilers that have been swirling around about the final season... this one probably hurts the most.
Emilia Clarke, who plays Daenerys Targaryen on Game of Thrones, has confirmed that she has already shot all of her final scenes for the series.
However, she's pretty sure that fans are not going to like what they see when the time finally comes to watch that last episode.
"It fucked me up," she told Vanity Fair in a recent cover story. "Knowing that is going to be a lasting flavor in someone's mouth of what Daenerys is . . ."
Season eight of Game of Thrones will premiere in 2019. You can watch the first seven seasons now on Foxtel.