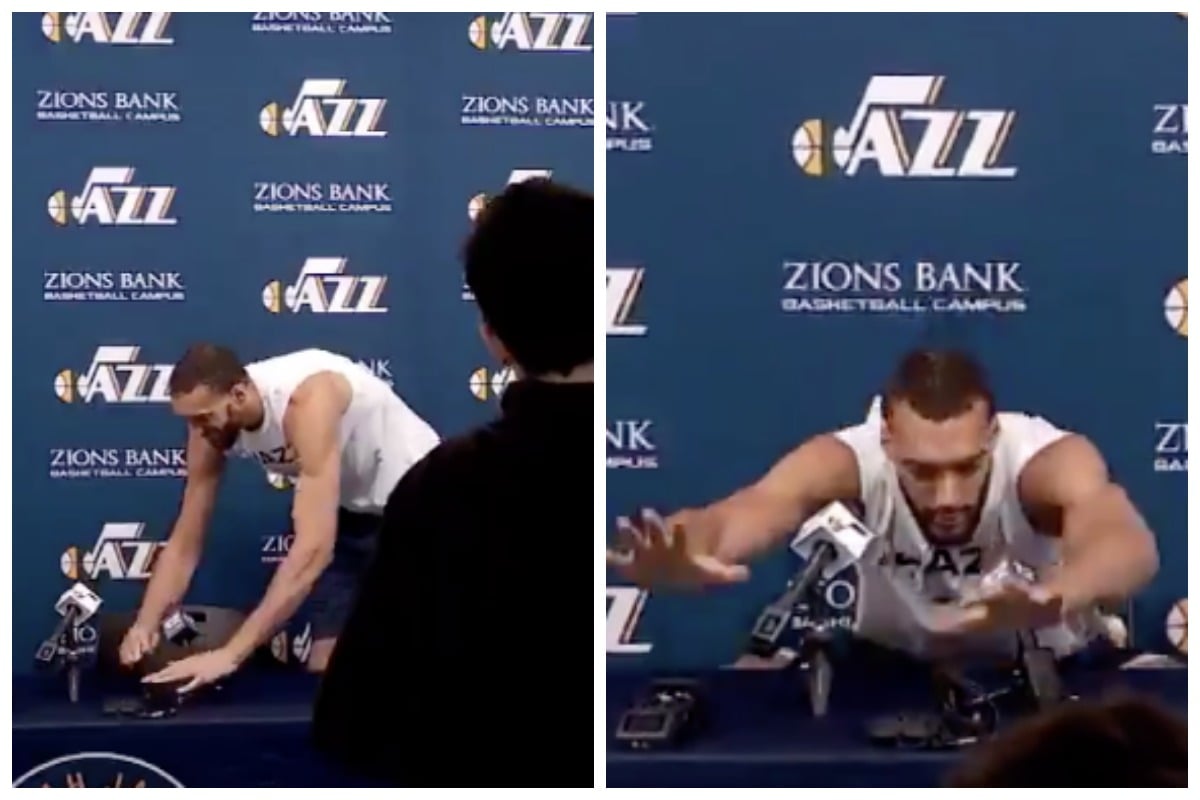 On Thursday afternoon (AEST) Utah Jazz centre Rudy Gobert, 27, tested positive for the coronavirus. By the time the news became one of the top trending stories in the world, a second player, Emmanuel Mudiay, had also tested positive.
Gobert had been feeling unwell for two days and was questionable for a game against Oklahoma City Thunder due to illness.
Seconds before the team took the court, a head medical staffer raced to stop it.
Gobert's diagnosis meant that not only would the game be suspended, but both teams would need to be quarantined.
In a period of just over an hour, US President Donald Trump announced that travel to the US from Europe had been suspended, actors Tom Hanks and Rita Wilson both tested positive to the virus, Ellen Degeneres announced she would be filming her show with no studio audience, Twitter made the decision that all employees, worldwide, would work from home, and as a result of Gobert's diagnosis, the NBA season was cancelled indefinitely.
Wednesday night in the US, this single hour seemed to signify a turning point in how the average person understood the coronavirus pandemic.
Suddenly, celebrities were falling ill with it. And not even the country's best athletes were immune.
Just 48 hours before Gobert's diagnosis, he attended a press conference where the precautions being taken by the NBA were explicitly discussed.
A pre-match warm up was conducted in a media room rather than on the court, and locker rooms had been stripped back.
As the press conference finished, Gobert stood up, leaned over, and made a point of touching every microphone and recorder in front of him. He then jogged out of the room.
Reporters who were present saw the move as a way of making light of the wave of mass panic that had started to penetrate the NBA.
Something about Gobert's body language seemed to say: Dare me? And then he did the most transgressive thing he could imagine in that moment, which was to touch all communal microphones with his bare fingertips.
We cannot know without comment from Gobert himself what he meant by his behaviour on Monday night. We do know the statistical likelihood of him actually having the virus was negligible. On Monday, 566 cases had been confirmed in the United States, a country with a population of more than 327 million. We can excuse Gobert for assuming that he was not carrying the respiratory infection. Especially given his own President's repeated attempts to downplay what has today been confirmed a pandemic by the World Health Organisation.