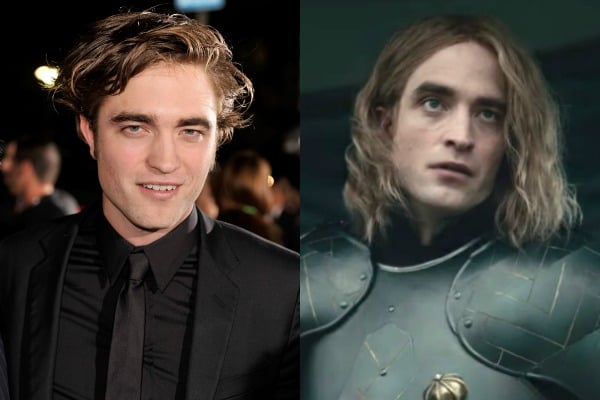 Although it's hard to believe, it's already been over a decade since Robert Pattinson burst onto our screens with his appearance in 2008 fantasy film Twilight.
From the abomination that was the nickname 'RPattz' to Team Edward T-Shirts, it was an… interesting time.
And now, 11 years later, it seems Robert Pattinson is all anyone can talk about.
The 33-year-old English actor is currently appearing alongside Timothée Chalamet in Netflix's The King – a historical drama based on several plays from Shakespeare's "Henriad", including Henry IV and Henry V.
In the new film, RPattz (I'm sorry) plays the heir to the French throne – the Dauphin of France – who wages war against English monarch Henry V (Timothée Chalamet).
But although fans loved Pattinson's supporting role in the new movie (and his glorious wig), they couldn't stop talking about his ridiculous choice of accent.
Currently seeking applicants for a support group I'm starting. Only those whose necks have been stepped on by Robert Pattinson's sublime accent in #TheKing need apply pic.twitter.com/T87QFjkNgo

— Netflix ANZ (@NetflixANZ) November 4, 2019
In fact, it was so outrageously French, Pattinson's accent almost bordered on parody. ¯\_(ツ)_/¯
Meanwhile, speaking to The Irish Times prior to the film's release, Pattinson shared that he hadn't quite figured out his character until he saw hair and makeup photographs of his The King costar Lily-Rose Depp.
"I was like, 'I want to play a princess too,'" he said