To catch up on all things royal family, make sure you check out our Royal Hub. We've got you completely covered.
When Meghan Markle became engaged to Prince Harry, she hung up her actress title for good, leaving her life in California for a royal working role.
But for famous royal sisters Princess Beatrice and Princess Eugenie, royal life is very different – especially when it comes to work.
Despite being eighth and ninth in line to the throne respectively, Beatrice and Eugenie don't receive a royal salary like their cousins Prince William and Prince Harry.
While the sisters do have royal titles, their involvement in royal life is fairly limited – both Beatrice and Eugenie receive no income from the Sovereign Grant (the tax-payer funded money that covers royal salaries) and they're not on the royal roster for official engagements either.
Left without a royal salary, the daughters of Prince Andrew and Sarah Ferguson have instead paved out their own careers.
According to Daily Mail, 30-year-old Princess Beatrice works as the vice-president of a technology company, while 28-year-old Princess Eugenie is the associate director of a contemporary art gallery.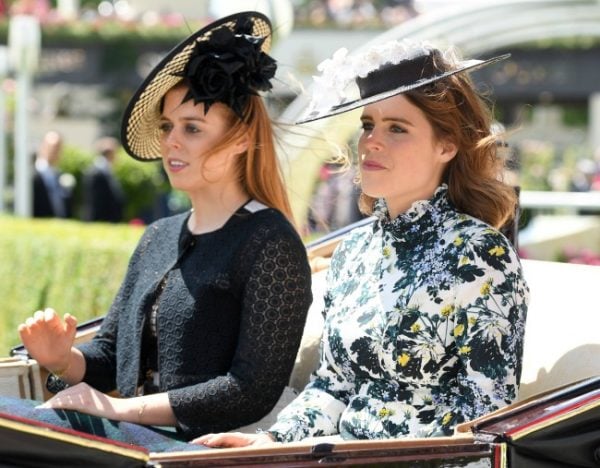 "We are young women trying to build careers and have personal lives, and we're also princesses, and doing all of this in the public eye," Eugenie told Vogue earlier this month.
Besides their work lives, the two sisters are both actively involved in a number of charities, which they often attend events and fundraisers for.
Beatrice and Eugenie's father the Duke of York has reportedly asked the Queen to employ his daughters for formal royal duties and grant them a royal salary in the past, but the Queen denied his request.
The Princesses also lost their 24-hour police protection back in 2011, much to the anger of Prince Andrew.
British taxpayers don't seem to mind, however.
A YouGov poll in 2015 found that only nine per cent of people believed Prince Andrew's daughters should benefit from public funds.
Watch: Royal rebels and the rules they broke.
Despite not having a royal salary, the sisters still have some royal financial support.
When Beatrice and Eugenie's mother 'Fergie' divorced Andrew back in 1996, the Queen reportedly provided the Duchess of York with AUD$2.4 million for a trust fund.
Together, their net worth is around AUD$6.2 million, according to The Sun.
Princess Eugenie is set to marry her long-time partner Jack Brooksbank on Friday, October 12 at St. George's Chapel at Windsor Castle.