When Meghan Markle married into the British royal family, she adopted a bucket load of royal rules and regulations.
From social media restrictions to learning how and when to curtsy and even how to sit correctly, the newly appointed Duchess of Sussex has a lot to learn in her new role.
But it turns out not every member of the royal family has to follow the royal rules as closely as Meghan has to.
When looking at Meghan alongside Prince Harry's cousins, Princess Eugenie and Princess Beatrice, it's clear that the famous sisters have a lot more flexibility when it comes to following the rules.
Here's the six royal rules that Meghan must follow that Princesses Eugenie and Beatrice can ignore.
1. Social media restrictions
When Meghan Markle first starting dating Prince Harry in 2016, she started to say goodbye to her online presence when she shut down her lifestyle blog, The Tig.
Now, as a fully fledged member of the royal family, you'll no longer find Meghan on Instagram, Facebook or Twitter.
Princess Eugenie, on the other hand, recently launched her verified Instagram account where she posts everything from throwback pics to personal and professional updates and even the occasional meme.
2. Asking permission to marry
Although Harry had to ask the Queen's permission to marry Meghan, the rule doesn't apply to Princess Eugenie and Beatrice.
The Queen gives formal consent to the marriage of Prince Harry and Meghan Markle. pic.twitter.com/kGEfdrJAp7

— Richard Palmer (@RoyalReporter) March 15, 2018
When Eugenie got engaged to her boyfriend, Jack Brooksbank, she didn't need Queen Elizabeth's permission.
Since the Royal Marriage Act changed in 2013, only the first six people in line for the throne have to consult the monarch before marrying – meaning the rule no longer applies to Eugenie and Beatrice.
3. Careers outside the royal family
When Suits actress Meghan Markle became engaged to Prince Harry, she hung up her actress title for good, leaving her life in California for a royal working role.
In her new role as the Duchess of Sussex, Meghan attends public events and meets members of the public.
Princess Beatrice, 29, and Princess Eugenie, 28, are allowed to do much more than carrying out public duties. In fact, the two princesses have no obligations to carry out royal duties at all.
Princess Eugenie, for example, currently works as an associate director for the Hauser & Wirth art gallery in London.
4. Holding hands
Holding hands is just not the done thing in the royal family.
In fact, the Queen is very rarely seen holding hands with Prince Phillip.
When the Duke and Duchess of Sussex attended the Young Leaders Reception at Buckingham Palace last week, when Meghan reached for Harry's hand, he very obviously moved his hand away.
The same goes for the Duke and Duchess of Cambridge, Will and Kate, who are rarely seen holding hands in public.
Princess Eugenie and her fiancé Jack Brooksbank are more PDA friendly, often seen holding hands.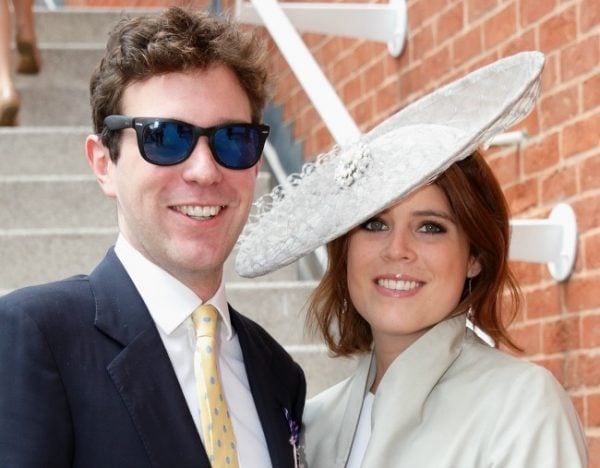 5. Nail polish rules
It's an unwritten rule, but one that's followed by the likes of both Kate and Meghan.
As the Queen famously only wears a pale pink nail colour, Meghan and Kate do the same, sticking to nude and pale pink coloured polish.
Beatrice and Eugenie however have a lot more variety, often choosing dark and colourful shades.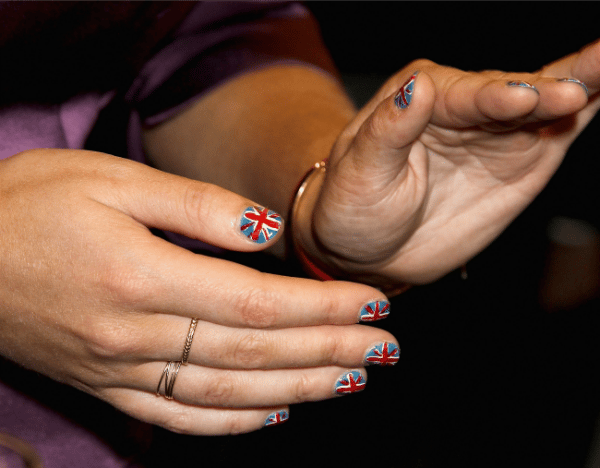 6. Dress length and nude stockings
Meghan Markle's dress choices are far more limited than Eugenie and Beatrice's.
Meghan is expected to dress fairly conservatively, with dresses expected to cover the knees but Beatrice and Eugenie often appear in much shorter dresses than their new cousin.
The princesses even go bare-legged while Megan is required to wear nude tights.