Anyone in the 21st century will tell you, there's nothing quite so satisfying as a deep-dive social media stalk.
Thankfully, Ellie Hall from Buzzfeed has done just that with soon-to-be-royal Meghan Markle's now-non-existent Instagram profile.
Remembering, Meghan and Prince Harry are due to be married next month and, in the process of becoming a 'royal', the former Suits actress deleted all her social media… But nothing is really ever gone forever in the milieu that is the internet.
What Hall's discovered, well, it is evidence of a couple very much in love, way, way back before the headlines started.
First, she uncovered an image of Markle holding a bunch of flowers with the caption: "#Spoiledrotten, #London."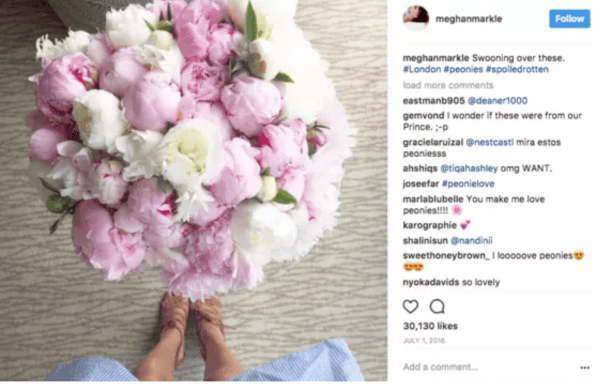 (This was in July, 2016 and, judging by the size and beauty of the bunch of peonies, we'd say it's certainly a bouquet fit for a... Princess?)
But, more than this, there's apparently a photograph of Prince Harry himself wearing a Golden Girls sweatshirt in October 2016, weeks before the relationship was exposed by London tabloids.