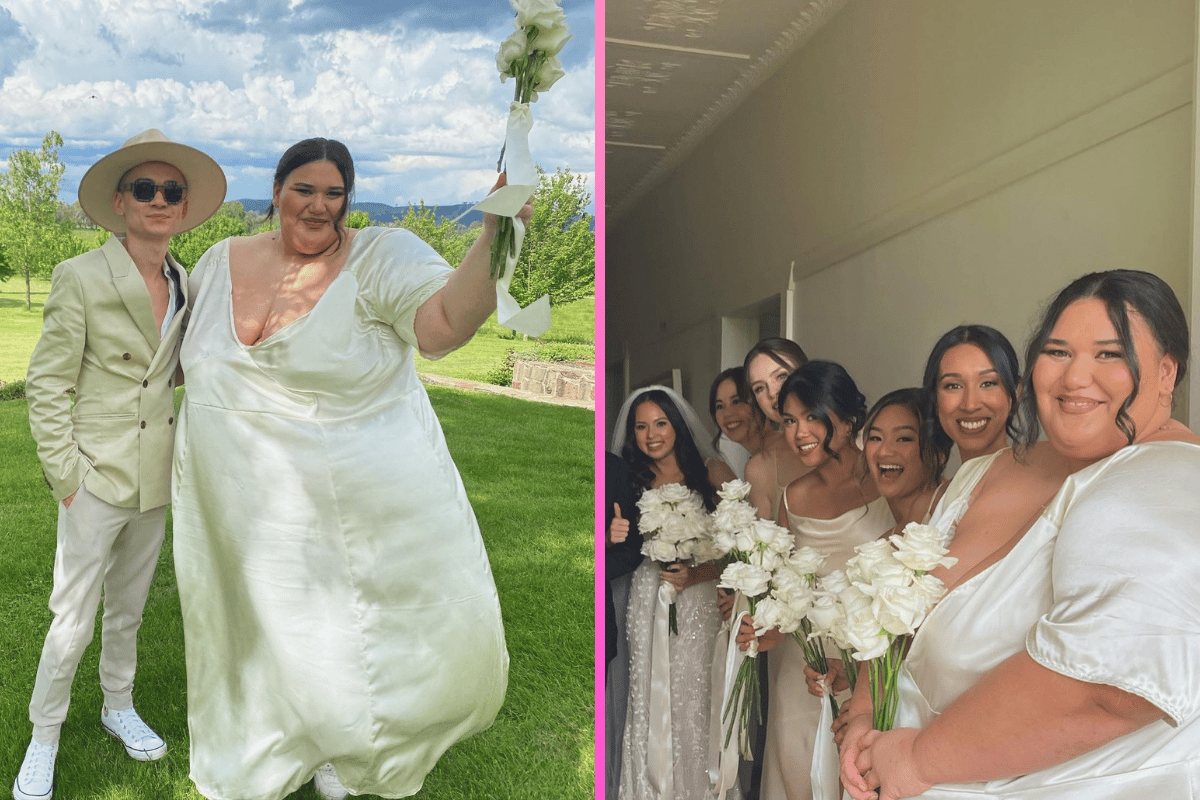 In 2021, right before the pandemic reached an all-time high in Australia, my best friend tied the knot with her high school sweetheart. 
The bride, groom and all six bridesmaids had gone to high school together (some since kindergarten), and it was the first wedding from our friendship group. 
Watching our best friend walk down the aisle, surrounded by immense love, and with the understanding that this will be who our friend spends the rest of her life with was emotional. I still play flashbacks in my mind daily. 
We ugly cried, smiled long after our mouths began to hurt, and did not want any of it to end.
If it isn't clear, my best friend's wedding has been a major highlight in my life.
But I'd be lying if I said I didn't have any reservations before diving into all of this as a plus-size woman.
Watch: The things people never say at weddings. Post continues below. 
Being a bridesmaid for the first time is a new and unexpected challenge in itself, but there are so many more factors to consider when you're fat.
I learnt a lot from this experience, and there were tiny details that I feel like would have been incredibly useful for me to have known before I said yes to this glorious, beautiful, unpaid gig. 
So, here are 10 of the things I would recommend to anyone who is about to be a plus-size bridesmaid. 
1. You likely will need to get a specially made dress. Prepare for the cost. 
As a fat woman, a lot of brands don't cater to you. Clothing and shoes are also difficult, even when you have a big budget. 
When I was asked to be a bridesmaid, I knew I had to prepare to spend a lot. I didn't mind - it was my bestie's wedding day after all. But I wish I had prepared a bit better and made more financial sacrifices so I could spend bigger for the occasion. 
After all, the photos taken aren't just from a night you'll forget - they will be revisited for decades to come. 
So when the bride told me she wanted the bridesmaid dresses to be from a well-known Australian designer, I emailed the brand right away. I wrote some long, lofty letter with lots of questions about whether they could make me a dress in my size. I ended the email with something along the lines of, "Don't worry if not! Thanks!" Unfortunately, I didn't hear back from them.