It's official: Princess Charlotte, Prince George and Prince Louis are getting a new cousin this year – Pippa Middleton has confirmed she is expecting her first child.
The younger sister of the Duchess of Cambridge confirmed the news in her latest fitness column for Waitrose Kitchen, the UK supermarkets monthly magazine.
In the column about exercising during pregnancy, Pippa wrote about her experience of the first trimester – which was quite different from her sister, Kate Middleton's experience.
Unlike Princess Kate, 34-year-old author and columnist Pippa did not suffer from severe morning sickness or Hyperemesis Gravidarum (HG).
"I was lucky to pass the 12-week (mark) without suffering from morning sickness," she wrote. "That meant I was able to carry on as normal and continue most of my sports with better knowledge and, more importantly, professionals to learn from."
Pippa Middleton Matthews is featured in a new column for @waitrose weekend. "Exercising during pregnancy" pic.twitter.com/2rktWaKaFg

— MiddletonMaven (@MiddletonMaven) June 7, 2018
Kate Middleton suffered from HG and it gave her such intense morning sickness, she was unable to carry out her royal duties during the first trimester of all three of her pregnancies.
Pippa, on the other hand, has been able to maintain a fairly normal routine and even fit in a pregnancy exercise routine.
"I've noticed my body change, but through exercise I feel it's being strengthened," Pippa wrote of her pregnancy.
Fitness has been a major focus for Pippa during her pregnancy, but she found it challenging to find what work-outs would work best for her.
"I'm fanatical about sport and have looked at loads of books and websites on exercise during pregnancy, but have been disappointed by the limited technical information what you can and can't do," she wrote.
"This being my first pregnancy, I had so many questions I felt were still unanswered, I wanted to know things like, would I strain if I served in tennis, are strokes of swimming safe, can I still do a normal yoga class if I avoided certain positions? Could I still work my abs?
"I've noticed my body change and weight increase, but through effective exercise and sports I feel that it's been strengthened to support a healthy pregnancy, birth and recovery…  And ensure that post-baby, my old favourite jeans will still fit eventually!"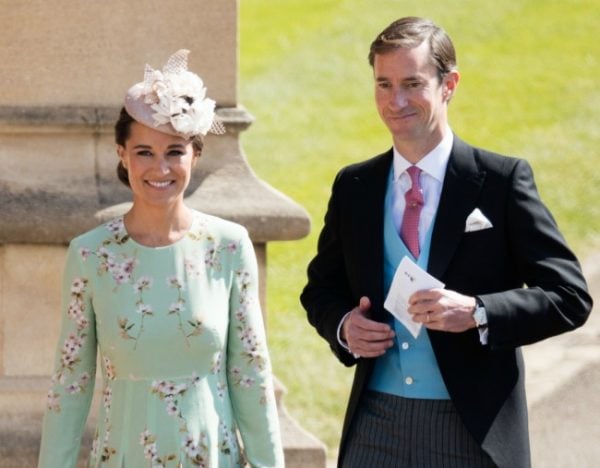 Pippa and her husband, former racing driver and hedge fund manager James Matthews married last year on May 20.
Rumours of Pippa's pregnancy first arose in April, shortly before Princess Kate gave birth to her third child, Prince Louis.
Pippa, who was recently seen alongside her husband James at the royal wedding of Prince Harry and Meghan Markle, is reportedly due in October.