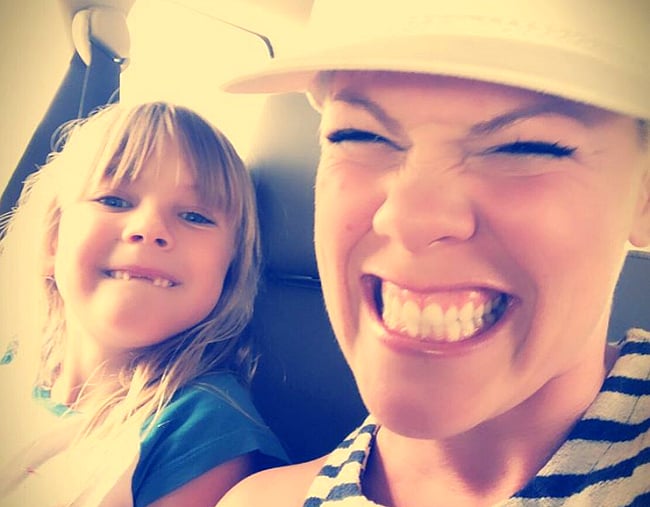 The tooth fairy is known for being a bit of a tight arse, right? She's not made of money.
Back in the day, most of us were pretty grateful to wake up to 50 cents under our pillows after losing a tooth. Heck, you might've got the odd gold coin if you were really lucky.
Clearly, the tooth fairy in Pink's household is cashed up and living her best life because the Grammy-winning singer's daughter just got more money for a loose tooth than all of us ever did, combined.
The 38-year-old performer and husband Carey Hart gave their seven-year-old daughter Willow the biggest payday of her young life. Or, they instructed the tooth fairy to.
That payday was a casual $135 (US$100). In cash.
According to Willow's dad, parting with that kind of money was more of a tense hostage negotiation than a willing donation on the tooth fairy's behalf.
"Willz is gonna be the next major investment banker," 42-year-old Hart shared on Instagram.
"We settled on 100 buck for one shot at pulling her tooth out. Was the best money I ever spent, and she got 20 weeks worth of tour per diem in five seconds."
It's not clear exactly how Willow pulled out the wobbly tooth in question… but gee, that's a lot of money for one lousy tooth, isn't it?
The post's commenters agreed, although most saw the funny side of the situation.
"I'm lucky if I got a buck OR even 50 cents… damn times have changed," one user wrote.
"I have 32 teeth I will let you pull," added another.
"I want to work for her. She is one smart girl," another user commented.
Speaking of sneaky kids, here's a few things most mums have never heard come out of their childrens' mouths. Post continues after video.
One woman even shared her own expensive tooth fairy horror story, saying, "Our tooth fairy accidentally gave our kid a hundred dollar bill. She meant to give a $10 bill but it was late and she didn't notice the extra zero. I though the kid was mistaken as she accidentally announced her $100 find but nope."
Both Pink and Hart are known for sharing candid moments like this one on social media quite often, giving fans an intimate look into their family life.
The pair, who have been married for a total of 11 years after splitting briefly in 2008, are also parents to a one-year-old son Jameson.
Australian fans might get the chance to tell Pink what they think about her tooth fairy's generosity when she's in the country for her Beautiful Trauma Tour from July to August, 2018.
Here's hoping Willow has almost grown out of her baby teeth. If not, Pink might need to take out a loan, especially considering Jameson's tooth fairy days are still ahead of them.
Oh wait, she's a millionaire. Never mind.
How much money does the tooth fairy in your house usually pay for a lost tooth? Do you think $100 is too much?