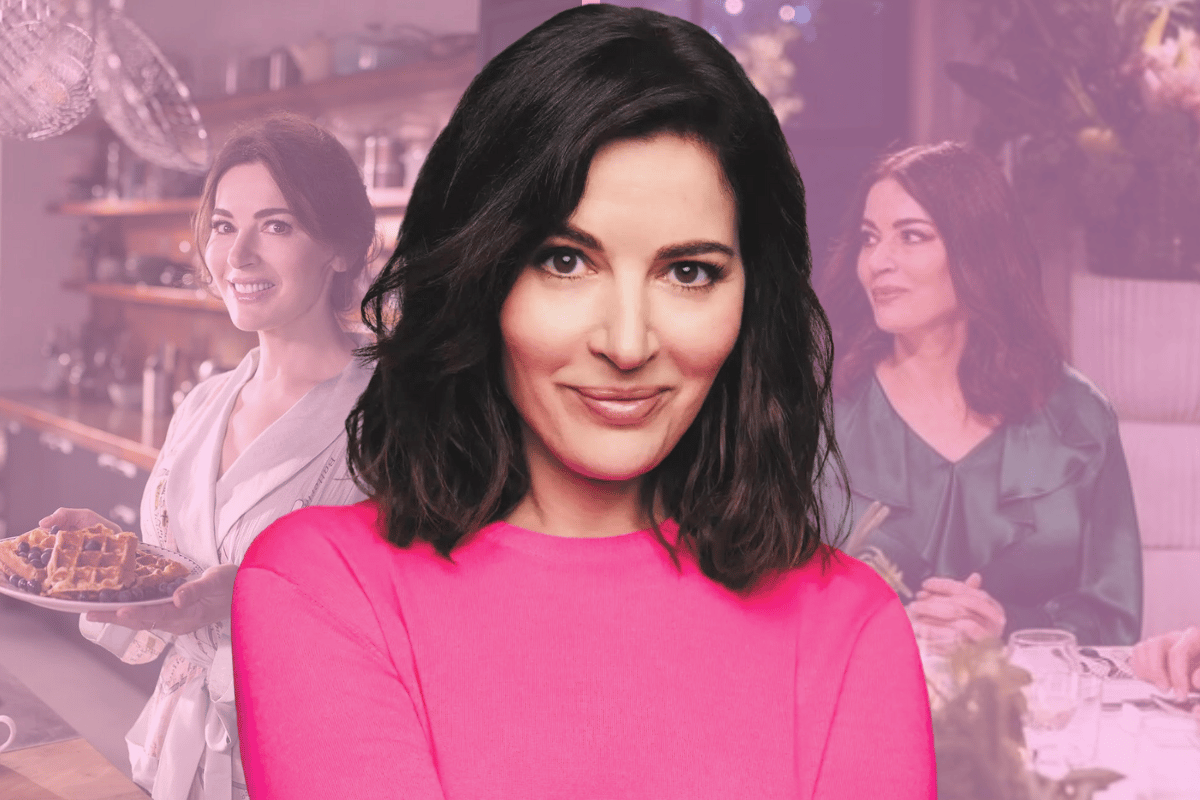 Content warning: This story includes descriptions of domestic violence that may be distressing to some readers.
Australia's love affair with Nigella Lawson has always been strong. 
And there are plenty of reasons why. Her approach to food as pleasure rather than guilt, her array of cookbooks, her pronunciation of microwave (you'll have to look that one up!) and her overall love of food makes her so refreshing.
She's currently starring on My Kitchen Rules alongside fellow judge Manu Feildel, with fans online declaring that she has "saved the series". And at 62 years old, Nigella is showing no signs of slowing down, recently saying that her passion for home cooking will keep her in work for years to come. 
"Home cooking is where my heart is. For me, it's the real story of food, and I was just terribly excited about eating food that told me where people had come from, who they are, and what they love," Lawson said in a statement about MKR.
Away from the spotlight, Nigella's life has been quite the mix of triumph and tragedy, especially in the case of her two marriages. 
Nigella is also well known for having a "no personal questions" clause when it comes to media interviews. So in the few instances when Nigella has opened up about her life away from the spotlight, it has been powerful.
Watch: Nigella Lawson talks to Mia Freedman. Post continues below.
Before Nigella Lawson was famous for her cooking, the world knew her as the daughter of a famous British politician, Nigel Lawson and as the wife of a famous newspaper columnist, John Diamond.
Making use of her father's connections, Nigella had landed her own restaurant column in The Spectator. It was through her work that Nigella met John, the pair getting married in Venice a few years later in 1992. She and John had two children - Cosima and Bruno - before John contracted throat cancer and endured his illness for four years before his death in 2001.
It was a traumatic time for Nigella, who told Mia Freedman in a No Filter episode that food was a means of escapism for her. 
"My first husband couldn't eat. He had oral cancer. I did feel it was quite important to hold on to being able to cook for myself. My children were little then, so I would make two lots of supper, one for them and then one for myself," she explained.