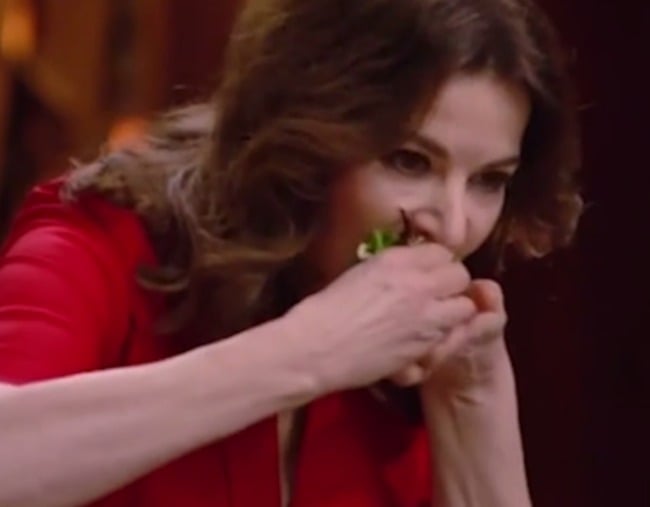 So, Nigella Lawson just out Nigella-d herself.
Australia's love affair with the 58-year-old British chef has always been strong.
We love that she snips things with scissors because she can't be bothered cutting them.
We love her casual approach to measuring out ingredients.
Her sneaky way of raiding the fridge in the middle of the night is probably the most relatable thing we've ever seen on TV.
And now Nigella has proven, once and for all, that she's just like the rest of us… by unashamedly shoving food in her face.
Nigella is currently a guest judge on MasterChef's Nigella week.
Part of her judging duties involves tasting all the dishes the contestants create and, well, Nigella takes that job very seriously.
So seriously that Twitter was absolutely delighted last night when she started pushing food into her mouth with her palm.
She was basically all of us when we're presented with delicious food we don't have to pay for… Or in fact, any food, in general. Because as we can all agree, eating is the greatest joy and screw how you look doing it.
Not to mention, the food in question was a handheld Vietnamese pancake, which we'd like to see you try conquering on national TV.
Here are some of the funniest tweets from the night:
The way Nigella pushes food into her mouth is so relatable because I, too, often cannot eat as much in one mouthful as I would like #masterchefau

— &. vee (@veespirit) May 20, 2018