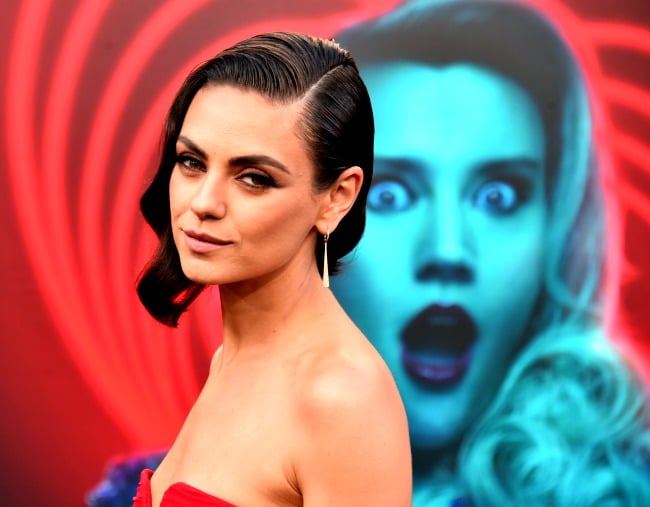 There's a lot of things Mila Kunis liked about filming her new action comedy The Spy Who Dumped Me.
However, the most heavenly part of the experience for her by far was what she was allowed to slip on her feet while the cameras rolled.
Flats.
Glorious flat shoes, often of the sneaker variety, which allowed her to dash through the streets of Budapest, Prague and Berlin while filming a sequence of nail-biting stunts and manoeuvres for the flick without once having to fall foul of the footwear curse that has plagued Hollywood actresses for decades.
That is, having to always run for your life with the knowledge you're much more likely to be brought down by your spindly stiletto heels than the bad guys pursuing you.
The 34-year-old actress spent months in various European cities filming the action adventure film alongside co-star, Kate McKinnon and with husband, Ashton Kutcher, and children Wyatt and Dimitri in tow.
And although it sounds like she may have feared for her life at some points during the production, the end result was certainly worth the wait, because this is a film bursting with energy, wit and humour.
The Spy Who Dumped Me tells the story of Audrey (Kunis) and Morgan (McKinnon), two best friends who become entangled in an international conspiracy when Audrey discovers the guy who just dumped her was actually a spy and involved in a whole lot of bad stuff.
"The great thing about filming this movie is we didn't have to be good at anything," Mila told Mamamia. "We could just run around and have things blow up around us.
"There's this car sequence in the movie that was incredible to film because the guy who was driving the car was actually in a cage wearing a helmet but Kate and I were just belted into the car. We were tossed around the whole time and it was really crazy but actually pretty scary.
"And, I got to wear flats the whole time! For almost the whole film I am in sneakers.
"It's realistic because Audrey works in a grocery store and Susanna (Fogel, the director and co-writer) had a vision that that outfit she would be seen in (for the first half of the film) would be based off a big grocery store chain we have here in the states and it was very realistic in that sense."
It was the action and the humour weaved throughout the script that drew Mila to take on the role of Audrey, along with the fact that her character was not one who would just hang off the arm of a man for the entire duration of the story-line.