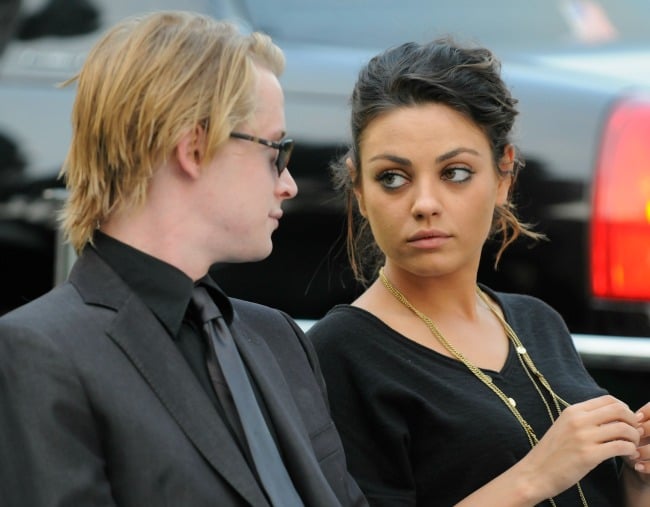 1. Mila Kunis has spoken about her "horrible, horrible" break up with Macaulay Culkin, and says she was the one to blame.
Actor Mila Kunis, 35, has opened up about her eight year relationship with Macaulay Culkin, 37, citing that she "f**ked up", as part of the reason why their relationship deteriorated in 2010.
In a new Armchair Expert with Dax Shepard podcast, Kunis, who started dating Culkin when she was just 19, explained that her age difference with the Home Alone star hindered their relationship.
"I had a horrible, horrible breakup," the Bad Moms actor revealed. "I f**ked up. I was an a–hole in my 20s and I'll be the first to admit it. And that's something that took me a long time to come out and be like, 'Yeah, you know what, I was a d—,' and accept it and I own it."
Kunis said she blamed herself for the breakup, and told the host that becoming single was an awakening for her.
"When I got to be single I said, I just need to figure myself out. I genuinely need to know why I did what I did and, like, regroup myself as a human being."
Kunis is now married to actor Ashton Kutcher, 40, with whom she has two children, daughter Wyatt, three, and one-year-old son Dimitri.
However, Kunis said she is now kinder to herself about the situation, and has accepted that she was only 20 at the time.
"You know, it's been so long, like I feel like enough time has gone by," she said. "I think enough mutual friends have been like… everybody kind of forgave everybody for what went down. At 35, I could look back and be like, 'I was 20.'"
2. The promise by a Shark Tank investor that leaves the panel stunned.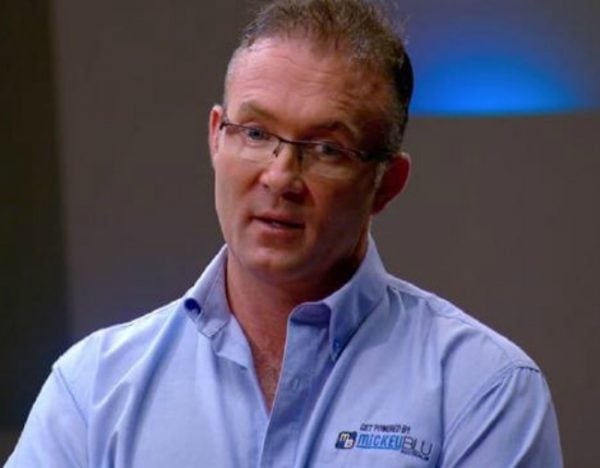 When Mick Ryan arrived to deliver his Shark Tank pitch, he was so nervous, he hadn't slept in three days.
Mick, who is the founder of a company that sells portable generators and campers, was seeking an investment from the panellists of $2.5 million for a 50 per cent stake in his business Mickey Blue Australia.
But it was a promise the 46-year-old Perth man made that left the Shark Tank panel stunned.
"I want to promise you: I will be the next entrepreneur to make you a billion dollars," he said.
"The first one-billion dollar business on Shark Tank. That's a big, big audacious goal," panellist Janine Allis said.
With Mick's generators selling for $1899 each, the panellists were a little confused.
"Is this offer for the generator and the store, or is it just for this product? if you can answer that question, that would be great, just so we know what we're investing in," Janine asked.
We'll found out tonight if Mick's big promise paid off.
3. Jackie O walked in on her cleaner and fired her immediately.
Jackie 'O' Henderson made the decision to fire her cleaner after coming home from work and finding her "bending over" in front of her husband, Lee Henderson.
Jackie O told the story on KIIS1065's Kyle and Jackie O show on Tuesday morning.
"I did have a hot cleaner turn up one day," Henderson told co-host Beau Ryan, who was filling in for Kyle Sandilands.
Although the mother-of-one maintained she was "comfortable in her marriage," she did take issue with this particular cleaner.
The 43-year-old explained, "You know Kylie Minogue's gold hot pants in that 'Spinning Around' video? She turned up wearing that and a crop top, and started doing the vacuuming while I was at work and Lee was sitting on the couch.
4. "I never enjoyed that time." Simone Callahan discusses what it was like dating Shane Warne.
Yoga teacher Simone Callahan, who was once married to cricketer Shane Warne, has opened up about feeling "suppressed" during her relationship with the high-profile sportsman. The 48-year-old told A Current Affair on Monday night that she "never enjoyed" the part of her life she spent with Warne.
"The person I wanted to be was suppressed a little bit, through everything that happened," she said. "I tend to shy away from all of it."
Callahan told the show she disliked the attention that came with her relationship with Warne, and is "more introverted than extroverted".
Now, the mum-of-three is developing a profile of her own, sharing yoga videos on her Instagram page.
Callahan was married to Shane Warne for a decade between 1995 and 2005, and they had two sons and a daughter together.
5. This is what Merlin from Big Brother looks like now.
On Monday, I came across the news that former Big Brother star Merlin Luck just bought a $1.33 million dollar home in Sydney's Erskineville.
I like that it's newsworthy when former reality stars buy houses. I find this necessary and important.
The photos of the stunning, two-bedroom 1880s terrace with not one but TWO fireplaces, however, left me curious: What's Merlin up to now? How does one live a post-Big Brother life?
Merlin captured Australia's attention in 2004 by staging a silent protest following his eviction from the show. After living in the Big Brother house for 43 days, Merlin appeared on stage beside host Gretel Killeen with a strip of black tape over his mouth and a sign that read: 'Free the refugees'.
When Killeen's efforts to convince Merlin to (please) speak failed, he was escorted off stage by security.
Now, 14 years on, Merlin is a self-described "middle-aged corporate dad," with a wife, and a young son and daughter.
To read more about what Merlin, read the full story here.