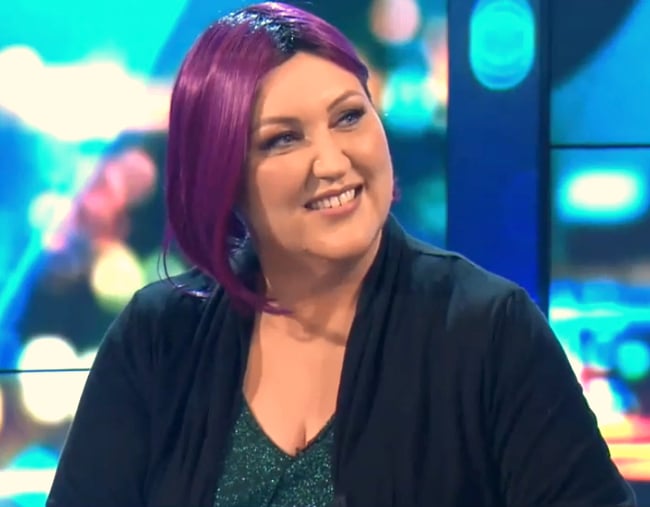 If you've seen Meshel Laurie on The Project lately, you may be wondering what happened to the comedian's hair.
In May, Meshel Laurie sat behind The Project desk. Her smile was wide, her wit quick, and her hair a sleek, purple bob.
This week, she sat behind the desk sporting another new look – stunning long, blonde hair.
The 41-year-old radio and TV presenter is known for her colourful and ever-changing hair looks. It's one of the many reasons her fans love her.
But behind her latest looks is a common health issue many women are experiencing, but feel they can't talk about. Female hair loss.
In a lengthy Facebook post posted last month, the mother-of-two felt she had to explain the reason she chose to wear wigs.
"I know my look on The Project tonight was a bit wacky, and to be honest, it rattled my confidence a bit. It was a desperate measure by a desperate woman," the Buddhism for Break-ups author wrote.
"It was a cheap wig. The fact is, I have a problem. I've always had great hair. I've never felt like I had much else going for me on the physical side of things, but I always had a great, thick head of hair that could take anything, but now alas, it has left me.  It grows, but then it snaps. I know for a lot of women it stops growing altogether!
Meshel went on to explain how her hair loss has impacted her mental health and self-confidence, more so than any other sign of ageing.
"It's taking my confidence and making me feel like I'm not myself anymore. It's also making me so very sad. Every time I look in the mirror I'm horrified at what I see. I've just been flailing around for months until now, grabbing at one thing after another until I hit rock bottom with this purple wig."
"I try so hard not to be a problem to anyone, but this issue was quickly becoming too big for me to handle on my own. I was spending whole days driving around town trying to figure out how to cover it up before my next Project call time. 
"Onward and upward. Time to start dealing with it positively instead of ignoring it."
It's a common myth that hair loss only looks like a man thinning on the top. In fact, more than 55 per cent of women will experience some degree of hair loss in their life, Dinh and Sinclair research reports.