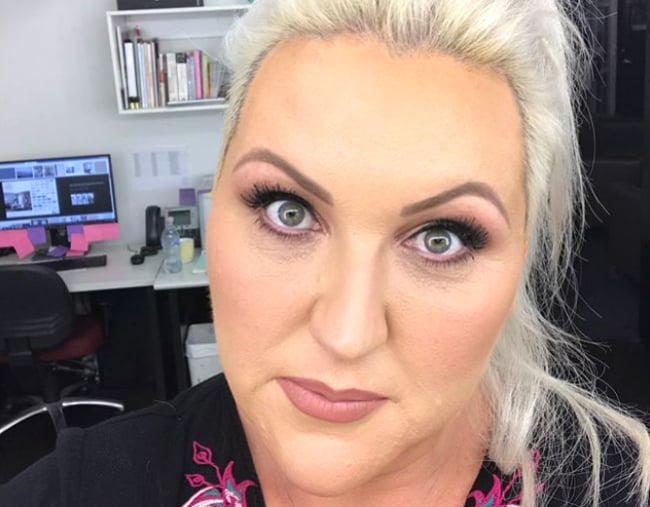 In those days, when I wasn't gigging at pubs I was spending my time falling in love with Adrian.
Tall, slim and classically handsome, with thick brown hair, full pouting lips, high cheekbones and big blue eyes, Adrian definitely looked good. And, sure enough, he told me straight away that there were a few ladies around the traps who were well and truly sick of his shit (as well as handsome, Adrian is unfailingly honest and self-deprecating – what a package, huh?).
But I refused to believe I'd ever be sick of anything about this lovely man – who somehow managed to pull off sexy and goofy, straightforward and shy, sensible and artistically dreamy all at the same time. I jumped in with both feet and married him, six months to the day after we met on the smoker's landing at a compulsory work-for-the-dole program. (As you can see, the omens were fabulous!)
Not long before the wedding, I ceased a friendship with someone when I heard she'd made a nasty comment about us. 'Meshel's only marrying Adrian because he's the first man who's ever said he loves her,' this woman was reported to have said. How rude!
But how true. At twenty-three, I'd never had a boyfriend before. A few friends with benefits, sure. The odd accommodating stranger? Of course. But no-one to call my own.
No-one who told me they loved me. You might not be surprised to find out that I had a difficult relationship with my father in my teens and early twenties. Now Adrian's love meant everything to me, and I was determined to hold onto it with everything I had.
Meshel Laurie shared what it was like going through IVF alone. Post continues after video.
I didn't want to listen to anyone's misgivings about our rush to the alter. At that stage in my life I was a big fan of avoiding unpleasant feelings whenever possible, by whatever means necessary. In fact, I was using heroin when Adrian and I first met. Luckily for me, he didn't like the idea and Adrian's attention comforted and numbed my pain so much that I stopped using. The fact that he was attracted to me was intoxicating.
His love was the best drug I'd ever tried. It blocked out every bad thing that had ever happened or which I feared was possible. Adrian's desire to be with me made me feel, for the first time since early childhood, that I had a place in the world.