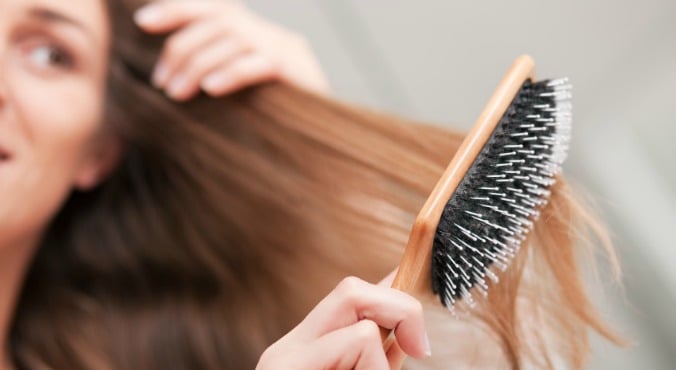 Image: iStock.
While we may spend most of our time cursing it for being uncontrollable and knotty, your hair is actually really helpful in keeping track of your health – which is why it can be the first thing affected when something's not right.
Far from being a problem only men experience, it's estimated that over two million Australian women are affected by some kind of hair loss condition.
Given the focus on women's hair, it can be an extremely difficult experience losing some or all your hair, no matter what the cause. Here are 8 things you need to know about female hair loss.
1. It can happen at any age.
According to Andrew Wilson, Director of Transitions Hair one of the biggest misconceptions people have about hair loss is that it doesn't happen to young women.
"Hair loss and thinning doesn't age-discriminate and can affect young girls as much as any other age group," he says.
However for most women it occurs later in life, often as a result of menopause.
2. Your diet plays a significant part.
What you eat can affect the health or loss of your hair in many ways. Hair is made of protein, which is essential to repair or grow our bones, skin, muscles and hair. If your body is lacking protein, the rate of new hair growth will slow down. Ensuring your providing your body with the nutrients it needs and eating a balanced diet can go a long way to reducing your risk of hair loss and keeping remaining hair healthy.
3. It can be caused by stress.
Stress is one of the most common causes of hair loss – but it takes more than just one busy day at work.
"Emotional stress is the most harmful I've seen in terms of hair loss. It can be triggered by a significant event like a death, divorce or constant prolonged stress of something like a bad relationship," says Trichologist Anthony Pearce.
It largely affects hair loss by impacting your body's production of various hormones, including adrenaline and testosterone. Cortisol is the primary stress hormone that raises blood sugar, resulting in more glucose than normal, while adrenaline elevates the blood pressure and heart rate. The body then goes into defence mode, preparing to fix any damaged tissue. As a result, this stress can cause two types of hair loss: Alopecia Areata and Telgen Effluvium. (Post continues after gallery.)
Volume boost: Dry shampoo