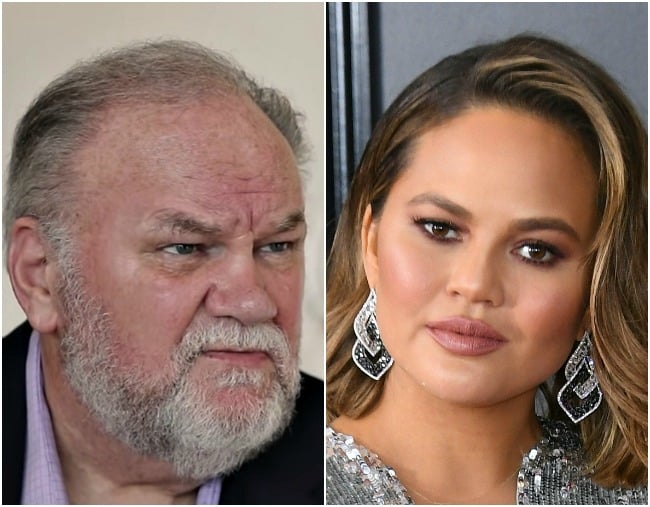 It was intriguing at first. A reclusive former Hollywood lighting director thrust into the spotlight by his famous daughter's engagement to a British royal.
But as the wedding approached, as Thomas Markle gave interview after interview, feeding the tabloid hunger for insight into his strained relationship with former Suits star, Meghan, the tide quickly turned.
What was once intriguing, started seeming, well, just plain exploitative.
Model Chrissy Teigen captured the mood perfectly over the weekend, tweeting images of one of the 74-year-old's latest interviews.
"This guy…this guy sucks," Teigen wrote. "What is wrong with him? Let your daughter be happy, please. This is embarrassing." [sic]
this guy…this guy sucks. what is wrong with him? let your daughter be happy, please. this is embarrassing. pic.twitter.com/FADsBT5sfX

— christine teigen (@chrissyteigen) July 28, 2018
Teigen's pithy tweet referred to Thomas Markle's recent tell-all chat with The Daily Mail, in which he claimed he'd been cut off from Meghan and the Royal Family.
The interview, which reportedly went for nine hours, included gag-inducing gems like this:
"What riles me is Meghan's sense of superiority. She'd be nothing without me. I made her the Duchess she is today. Everything that Meghan is, I made her."
"I used to have a phone number and text number for her personal aides at the palace, but after I said a few critical words about the Royal family changing Meghan, they cut me off."
"Perhaps it would be easier for Meghan if I died. Everybody would be filled with sympathy for her." (Referring to his recent heart problems.)
"Oh, she's a mummy's girl now and [her mother] Doria gets a lot of the credit. But Meghan seems to have forgotten that she lived with me up until Doria and I divorced, when she was six, and even then I was still a big part of her life."
"[The Royal Family] have Meghan treating her father in a way that Harry's mother, Princess Diana, would have loathed. That's not what Diana stood for."
The interview is the latest in a series of embarrassing publicity grabs by Thomas Markle, which included being caught staging paparazzi photographs in the lead up to Meghan's May 19 wedding.
Days after the scandal broke, Meghan issued a statement confirming that her father, who lives in Mexico, would not be attending her nuptials at St George's Chapel, Windsor Palace, due to health problems. (He had reportedly experienced a heart attack.)
Markle told The Mail he has not spoken to his daughter since her wedding day, yet in an interview with The Sun earlier this month claimed she was not adjusting well to her new role as the Duchess of Sussex.
"My thing about my daughter right now is that I think she is terrified. I see it in her eyes, I see it in her face and I see it in her smile," he said. "I've seen her smile for years. I know her smile. I don't like the one I'm seeing now. This one isn't even a stage smile — this is a pained smile."
Gosh, Mr Markle, I wonder what could be upsetting her?