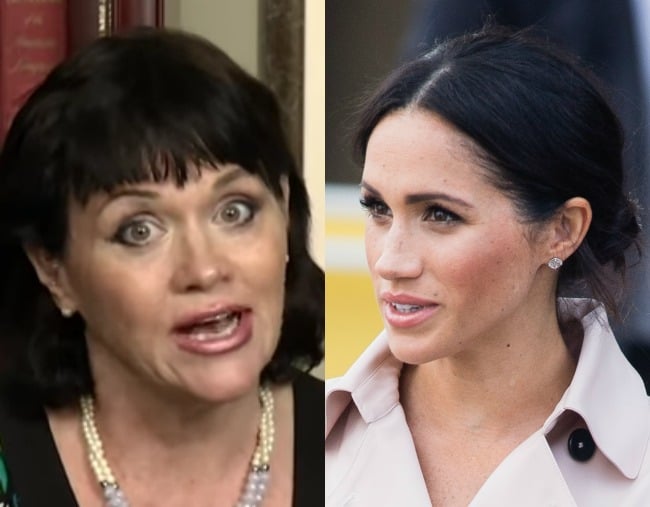 After months of publicly shaming her half-sister Meghan Markle, Samantha Markle has reportedly signed on to appear on the UK's version of Celebrity Big Brother.
Since Meghan Markle and Prince Harry announced their engagement in November last year, Meghan's estranged sister Samantha has been a common name in the media, known for her frequent attacks on Meghan and the royal family.
From suggesting Harry would be better off marrying his ex-girlfriend Cressida Bonas to dubbing her sister the "Duchess of Nonsense", what could possibly go wrong with Samantha entering the Big Brother house?
Although Celebrity Big Brother (CBB) haven't confirmed the claims yet, 53-year-old Samantha appeared to confirm the rumours in an interview with Good Morning Britain yesterday.
"I worked in media most of my life and in broadcasting, so because my sister is suddenly royal isn't grounds for me to stop doing all that," the mum-of-three said.
"Let's face it – we all have to survive. Money makes the world go round, so if you want to call that cashing in, that's fine."
Watch: Piers Morgan lashes out at Samantha Markle in an interview ahead of the royal wedding. 
According to Inside Edition, Samantha will reportedly take home six figures to appear on the reality show.
"Life is about cashing in," she told Inside Edition. "You take opportunities as they arise and hopefully you enjoy the ride and make it as positive as you can. There's nothing wrong with it."
Although the former model and actress is rumoured to be writing an autobiography titled The Diary of Princess Pushy's Sister, she claims she won't be discussing her famous sister on CBB.
"The purpose of that show would not be to discuss [Meghan]," she told Inside Edition.
Yeah, we're not too sure we can actually believe that.
The newest season of CBB is rumoured to feature celebrities that "have been caught up in their own media storm".
The reality show will begin filming on August 17.