1. Um. So the latest Married at First Sight promo just gave away the show's ending.
Considering the reality TV trash fire that Married at First Sight has been this season, it's only fair that it goes out with a bang, and oh it will, according to the promos.
Number one – Davina is back, and we're giddy with excitement. Plus we finally get to find out what becomes of Sarah and Telv, John and Melissa and Troy and Ashley.
It'll be difficult to top Tracey's Oscar winning performance last night, but one can only hope.
However, after the closest watching, and re-watching, and re-watching of the promo for tonight's show, oh boy are there spoilers…
You watch the trailer below…

Viewers believe they are able to decipher the 'marital status' of the couple from the dinner party seating. For example, Sarah and Telv are sitting together, while John is spotted sitting near a blonde woman (who could be Melissa, but I guess we can't confirm that) and MAFS shadow couple, Carly and Troy are sitting together too.
DRAMA.
Now presuming that the dinner party takes place after the couple's final vows, we think this might just be a hint of how tonight's episode will play out.
Speaking of Married at First Sight, we debrief on the moment Tracey shattered Dean's heart into a million tiny pieces. It was pretty great. Post continues after audio.
2. Karl Stefanovic's ex wife Cassandra Thorburn reportedly called the police on the day of his commitment ceremony with Jasmine Yarbrough.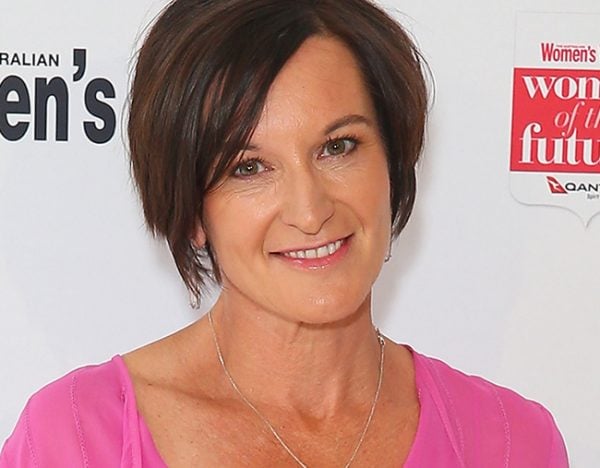 While her ex-husband battles a cycle of negative publicity after a private conversation in an Uber was recorded, Cassandra Thorburn is back in the news for another reason entirely.
New Idea reports Thorburn called the police during ex-husband Karl Stefanovic's commitment ceremony to Jasmine Yarbrough earlier this month.
The magazine reports Thorburn was concerned for her two youngest children, River and Ava, who were with Stefanovic on the weekend he exchanged vows with Jasmine Yarbrough. The former couple's oldest son Jackson was not present at the ceremony.
The tabloid publication reports Karl's youngest children were 'upset' after finding out about the commitment ceremony just a few hours before it happened.
Stefanovic - unsurprisingly, given the controversy he is embroiled in today - has yet to comment on the reports so at the this stage, we'll just call them reports.
3. Blue Ivy bid $19,000 on an artwork and WHAT YOU'RE LITERALLY SIX YEARS OLD.

We're so confused. And tired. And confused. And much poorer than Blue Ivy.
You see, footage has emerged of the six-year-old at the second Wearable Art Gala in Los Angeles. At the charity auction, Blue Ivy bids not once but TWICE on on a portrait of legendary actor Sidney Poitier. She placed a bid for $19,000 USD, which is over $24,000 AUD.
Watch the video for yourself and try not to despair that old mate Blue has more clout in the art world than you ever will.
Lool... Blue Ivy is about to buy all the Artworks at the auction. She must have been listening to JayZ's tracks about Basquiat and investing in Art. pic.twitter.com/Nd0pFrA16z

— R. (@alrhemist) March 18, 2018
4. The trailer for the Meghan Markle and Prince Harry movie is here and it's so beautifully cheesy.

And by amazing, we mean awful and cringe-worthy, but we're definitely going to watch it anyway.
A first-look trailer has just been released for Harry & Meghan: A Royal Romance, and it is everything we need in our lives right now plus more.
Before the ring, before the "I do," watch their love story unfold in Harry & Meghan: #ARoyalRomance premiering this May on Lifetime. pic.twitter.com/FfaMwgviYh

— Lifetime (@lifetimetv) March 17, 2018
It stars Murray Fraser as Prince Harry and Parisa Fitz-Henley as Meghan, but the real stars here would have to be the soppy romantic soundtrack and cheesy script, which includes gems like: "I don't need my life to be this perfect royal picture. I just need you."
And while we're almost certain Harry has never said anything like that to Meghan, here we are.
The clearly made-for-TV movie will premiere on May 13, exactly one week before the wedding, and the timing is giving us life.
Even Chrissy Teigen is excited.
just put me in a coma until meghan & harry on lifetime

— christine teigen (@chrissyteigen) March 17, 2018
Same, Chrissy. Same.
5. Jessica Rowe says the Stefanovic brothers are "no victims".
Jessica Rowe has spoken out in support of Georgie Gardner, and ultimately all women.
The 47-year-old, who considers Georgie one of her "dearest friends" said Karl and Peter Stefanovic are "not victims" in this situation during an appearance on Studio 10 on Monday.
In case you missed it, Karl and Peter were overheard having a phone conversation by an Uber driver, where they discussed their jobs and their colleagues, including Georgie.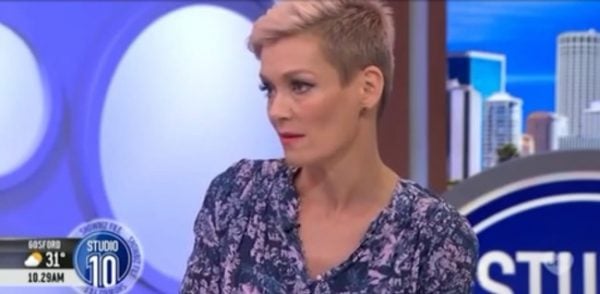 Karl apparently accused the 46-year-old journalist of "sitting on the fence" and said she'd have to step it up if she wanted to keep her job as his new co-host on Today.
"If you have nothing nice to say about someone, do it behind closed doors. Do not do it on speakerphone where people are listening," said Jessica.
You can read more of what Jessica had to say about the incident right here.