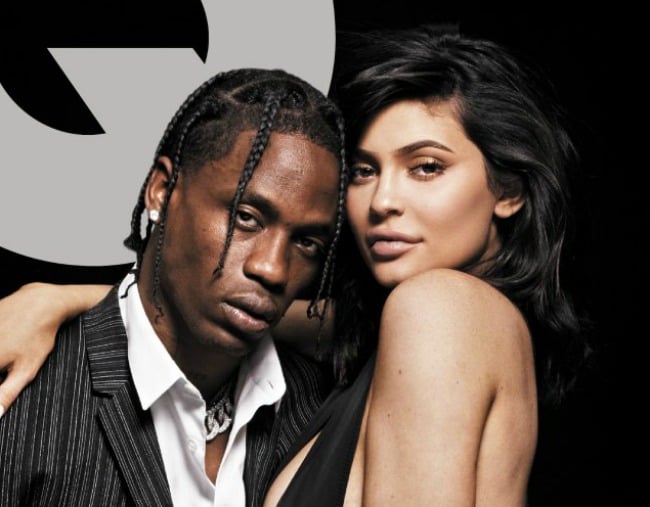 When GQ released their August issue featuring Kylie Jenner and Travis Scott on the cover, there was one glaring detail fans simply could not wrap their heads around.
While 26-year-old rapper Travis is pictured sitting on an office chair wearing a pinstripe suit, Kylie – the 20-year-old "self-made" multi-millionaire is sitting on his lap, wearing a tiny one-piece swimsuit.
Now it's 2018 and we accept the notion of power dressing as extending beyond a pantsuit, and we embrace a woman owning her sexuality and body, but it still left fans feeling unsure.
Presenting GQ's newest cover stars: @KylieJenner and @trvisXX https://t.co/vWLD1hNHfE pic.twitter.com/92FOBicDBZ

— GQ Magazine (@GQMagazine) July 17, 2018
This would have been so much better with Kylie in the power suit and Travis shirtless.

— S-A-V-A-G-E (@swaye77) July 17, 2018
GQ, I love your magazine, but why is his entire body covered and she's wearing a bathing suit?

— Jaimie ???? (@original_rrots) July 17, 2018
Travis is completely dressed and Kylie is almost naked, his name is first and THEN +Kylie like an after thought. I'm not even a fan of the Jenner's, but media outlets continuously frames women as sexual entities with no other value than to be beside a man and I'm SICK OF IT pic.twitter.com/7vbCBgxfZe

— Alexis (@lexilinback) July 17, 2018
Being a woman is being allegedly worth 900 million but still having to be the half naked one on a GQ cover.

— Jessica Espinosa (@JessLA2NY) July 17, 2018
It's believed the shot was perhaps referencing an iconic 2007 Vanity Fair cover which featured Sopranos creator David Chase and James Gandolfini (who played Tony Soprano in the hit TV show), with an unidentified and barely clothed woman draped on Gandolfini.
It's an interpretation of this… pic.twitter.com/NefaNfPnI1

— Kendra Francis (@iamfranke) July 17, 2018
However contextually, the two covers don't line up.
Kylie was recently tipped by Forbes as being on track to becoming the world's youngest billionaire – she's no glorified human prop.
Styling issues aside, social media users were also annoyed that GQ dubbed Travis and Kylie "a powerhouse power couple." Something else which got a lot of Twitter debate.
GQ is calling Kylie Jenner and Travis Scott America's #1 power couple and I need to check on at least 185 other famous couples to make sure they're still with us.

— Old Bay (@MF_DAD) July 17, 2018
Definitely not "America's #1 Power Couple." You can stop with the social engineering now.

— Social List (@sociallylowiq) July 17, 2018
how is GQ calling kylie jenner and travis scott the biggest power couple?

all they did was have a baby. I really must be missing something

— paige (@goldandaPAIGEr) July 17, 2018
She's not 21 yet.. she can't legally drink.. what is this GQ?

— G&G (@1DtoEgy) July 17, 2018
When GQ calls Kylie Jenner and Travis Scott "a powerhouse power couple" and Travis "an undeniable rap god" pic.twitter.com/Lfyew4rt8h

— Taylor Filliben (@TaylorFill) July 17, 2018
So Forbes says Kylie Jenner is self made. Moe GQ says Kylie and Travis Scott are the "world's most powerhouse [power] couple." They're both doing their thang but these inflammatory statements gotta stop. I would even let anyone gas me like that. Lol.

— Xanny Pacquiao (@XanBeans) July 17, 2018
What about Kylie Jenner's scar?
Also confusing fans was the origin of Kylie's scar, which can be prominently seen on her leg.
According to People, this was from a childhood accident, which the beauty mogul once explained during a Q&A in 2011.
"When I was about 5 my sister and I were playing hide and seek and I hid inside this really tall-enclosed gate," she said.
"After a while when my sister didn't find me I had to climb up on this sharp pole sticking out from the gate. I slipped and the pole went into my leg. I tried pulling away to get the pole out but it just tore through my whole leg."
"It's smaller now though because I grew!"
Since then, Kylie has also posted on social media about how much she 'loves' her scar.
What do you think of the GQ cover? Tell us in a comment!
Kylie Jenner and her friend, Jordyn Woods answer fan questions.
Like to have your opinion heard? Want to win $100? Take our short survey now for your chance to win 1 of 3 $100 gift vouchers.