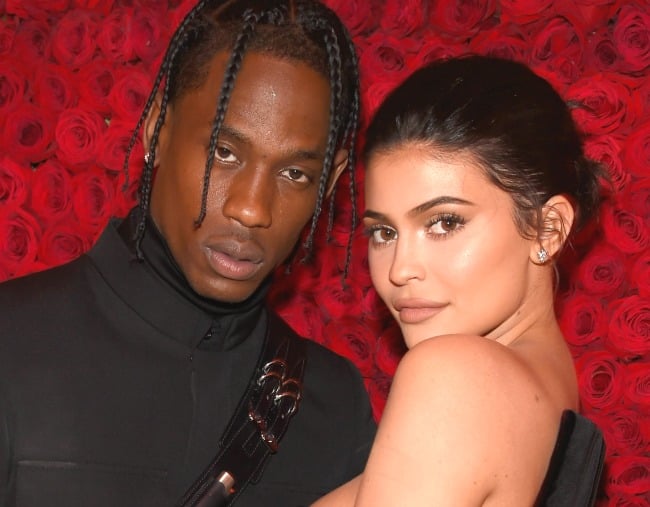 The love between billionaire-in-the-making Kylie Jenner and rapper Travis Scott are not your usual celebrity couple.
For a woman that comes from a family that has made its millions by sharing the ins and outs of their life on reality television, 20-year-old Kylie is remarkably private about her relationship with Travis, 27.
Kylie is known for being fiercely protective of her little family, ensuring she and Travis are rarely photographed together in public and having even deleted all her Instagram pictures that showed the face of their five-month-old daughter Stormi.
And so, little is really known about Kylie and Travis' romance. But now, just over a year into their relationship, the devoted parents have done their first photo shoot together and interview for GQ magazine. In doing so, we've been able to glean a few details on the inner workings of their relationship, and it was definitely an educational experience.
Here are four things we learned.
They had their first meet-cute at Coachella.
And it was surprisingly normal.
Meeting at the music festival in April 2017, the couple said it started with a funny conversation while hanging out, which evolved into Kylie spending the remainder of his tour with him.
"So he said, 'I'm going back on tour — what do we want to do about this?' Because we obviously liked each other," Kylie told GQ.
"I really jumped on the bus. And then we rode off into the sunset. I did the whole tour with him."
Despite this, the beauty mogul confirmed that the couple don't "go on dates".
Watch Kylie Jenner quiz Travis Scott about their relationship. It doesn't quite go to plan:
They have a very extravagant approach to conflict resolution.
Because a text just doesn't convey the same level of emotion… duh.
Kylie revealed that on the day of her scheduled GQ interview, she and Travis got into a little squabble. It ended up leading to the sit-down being cancelled and moved to the next day – because Kylie decided to get on a plane to mend things with her partner instead.
She told GQ's Mark Anthony Green that it "wasn't even about anything really specific."
"Me and Travis got in a little fight. Which is normal. So I was just crying because I was just overwhelmed.
"And then we made up an hour later. I just flew to Houston to see him for a few hours."
Now that they're a family, Kylie said that most of their fights stem from the fact that with Travis' busy touring schedule they can sometimes got for weeks without seeing each other.
Travis is very romantic.
Admitting the rapper is a secret softie, Kylie spoke to GQ about his romantic deeds.
For example after their aforementioned fight, Travis made a "Stormi chain" for when she landed, however, the most romantic thing he did for her was surprise her on her 20th birthday.
"He woke me up out of bed at like six in the morning. He was like, 'We gotta go,' and I'm just like half asleep, like, 'What do you mean? What do you mean?,'" said Kylie.
"He just starts pulling me, and the sun was just coming up, and he had flowers all the way down his house and violin players everywhere."
They're aware of the 'Kardashian curse'.
Fans of the Kardashian klan will recall a 2016 episode on Keeping Up With the Kardashians in which Kourtney Kardashian's ex-husband Scott Disick tries to 'cleanse' himself of the Kardashian curse. It's a (rather sexist) theory which suggests men close to the Kardashian/Jenner clan burn out with the media frenzy that surround the family, with men like Kris Humphries, Lamar Odom, and Tristan Thompson falling victim.
Despite this, Travis doesn't intend on suffering the same fate.
"Hell nah," he told GQ magazine. "Nervous for what? I'm on my own island."
"I don't be looking at sh*t. Kylie actually likes me for me."
Kylie on the other hand is well aware of her family's track record, and said that Travis does get affected by the intense media scrutiny. Because of her experience, Kylie said she's able to "get over" the constant controversy quickly, while Travis gets angry.
"He's like, 'Wait… but how do you just get over this?' He gets more angry about things. It's not just him," she said.
"I don't think he's really cool with it, but he deals with it, because we love each other and we have a family."
Did you learn something new about their relationship? We certainly did.