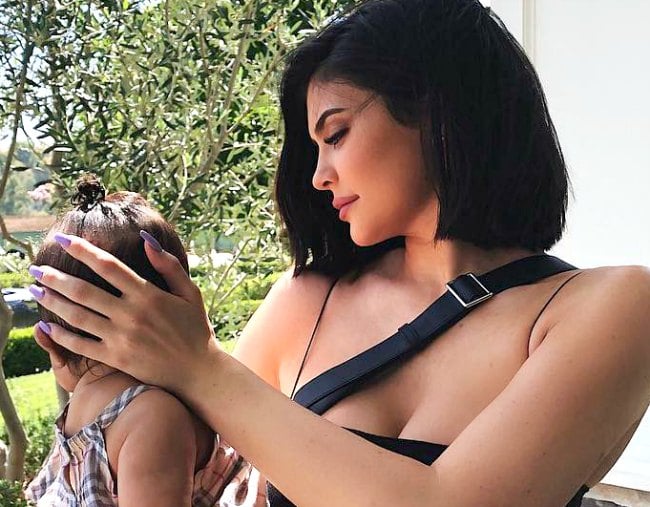 Remember a few news cycles ago, when Kylie Jenner had decided against posting photos of her daughter Stormi Webster's face?
Well, kudos to her for the effort, but the blanket ban has now been lifted.
This is great, because we're dying to see ALL the pictures of the little bébé's cheeks, and the 20-year-old soon-to-be-billionaire just delivered.
On the day of her 21st birthday, the mum-of-one, shared two photos of six-month-old Stormi.
"Bringing in my birthday tonight with my most special gift. What was life before you, Stormi. I love you my little angel," she wrote in one caption, before simply writing, "my heart" in the other.
Evidently overjoyed, fans sent in side-by-side comparison photos of the photo and pictures of the cosmetic giant as a baby with mum Kris Jenner, and Kylie does evidently share an uncanny resemblance with her daughter.
"I love these pics you guys are making ♥️ my baby is my little twin!" she wrote.
In June, Kylie sent fans into a tizzy when she told fans that she had decided to stop sharing photos of Stormi and deleted her old photos which showed her face.
"Yeah I cut my baby out. I'm not sharing photos of my girl right now," she replied to a fan in an Instagram.
At the time, The Sun claimed this was a reaction to increasing internet trolls which threatened to kidnap her, with an "insider close to the star" confirming the suspicion.
"There have been an increasing number of trolls on social media calling Stormi ugly, and throwing out really horrible insults," they said.
"It's been really upsetting for Kylie, because also some of the comments are direct threats to kidnap her."
Although we don't know what's changed, hopefully this will mark a new age of more baby photos to come.
Happy days people, happy days.
Do you feel #blessed by these adorable photos? Celebrations in the comments section please.