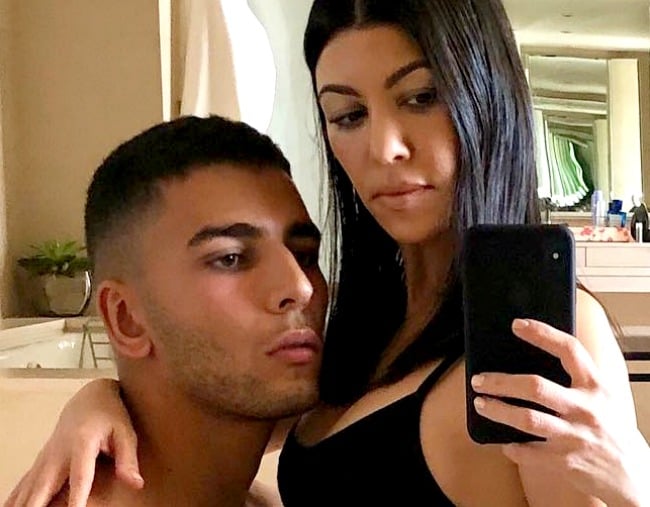 Kourtney Kardashian is currently that friend posting photo after photo of her European holiday, while you're freezing on your way to work, but that's okay, and completely her prerogative.
What's not okay, is how a certain someone (her boyfriend, Younes Bendjima) has responded to one of those photos.
A quick recap of the situation…
Currently on vacation with Younes and her three children – Mason, 8, Penelope, 6, and Reign, 3 – Kourtney posted on Instagram a photo of herself in a particularly high-cut bikini.
Do you need major guts to wear it? Absolutely.
Does that matter? Not at all.
However, Younes thought it was necessary to leave a particularly scathing comment on Kourtney's photo.
"That's what you need to show to get likes?" he wrote.
Like we said, completely uncalled for – particularly from one's own boyfriend.
Kourtney Kardashian's boyfriend Younes Bendjima publicly shades her over revealing bikini: "That's what you need to show to get likes? pic.twitter.com/iaqWt6Jo1E

— Pop Crave (@PopCrave) July 17, 2018
Immediately fans jumped to her defence.
"I'm honestly so embarrassed for all the people that agree with him lmfaooo she's a 39-year-old woman with three kids and millions of dollars leave her be because she's doing just fine," read one comment.
"Flaunt it if ya got it!" wrote another.
"If he cares he would've spoken to her in private about it, not on Instagram for everyone to see."
Since sharing his thoughts, it seems like Younes has now deleted his unacceptable comment, and we'd like to hope that Kourtney has had a serious chat with him.
Because you do you, gal pal.
It's believed that Kourtney and Younes have been dating since October 2016, despite only going public with their relationship in May 2017. Despite this, fans assumed the couple had broken up in March of this year, after the couple unfollowed each other on Instagram and went on 'hiatus'.
And according to People, Kourtney's Instagram photos might have had something to do with it.
"He never liked that she posted sexy pictures of herself on social media. He doesn't want his girlfriend to do that. He gets that it's her job, but wants her to post more covered up picture," said an unnamed source.
"He has always had a problem with this. This is the stuff they argue about and what made them split in the past."
And, well, if this really is an ongoing issue, we'd say Kourtney might be simply better off without him.
We're all about body positivity here at Mamamia, and Taryn Brumfitt is the perfect example of that.

Need a quick break? Want to win $100? Want to be listened to? Enough questions already? Do our quick survey now!