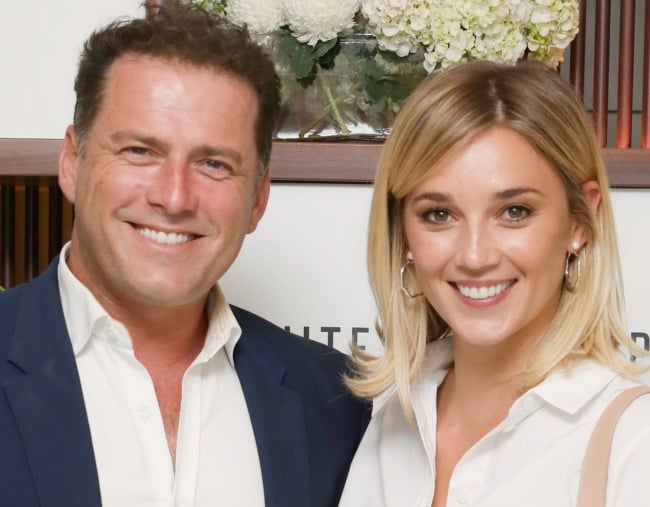 Ever since Karl Stefanovic and Jasmine Yarbrough announced their engagement earlier this year, everyone wants to know every little detail about the couple's upcoming wedding.
But it seems some reports are missing the mark.
A recent issue of Woman's Day reported that the 42-year-old Today presenter was set to marry his 33-year-old model fiancee this month on a private island in Fiji.
A source reportedly told the magazine that the couple had chosen to return to Kokomo Private Island for their wedding, as it's "private" and "has every luxury".
"Karl and Jasmine loved it when they spent a week there earlier in the year. It's a special place for them," they said.
But according to Karl, the "source" is far from right.

"That is definitely not true, but it's not a bad suggestion," he told Kyle and Jackie O on KIIS1065's morning show yesterday.
It's not the first time Karl has shut down tabloid rumours. Last month, the breakfast TV host hilariously responded to New Idea's claims that he is losing his job on Today.
An article in the weekly magazine claimed Karl was losing his job to celebrity vet and TV presenter Dr Chris Brown, as Karl's contract was coming to an end.
"Another day another cover from No idea. Just for the record the only thing broken in this photo was my serve. And I have years left on my contract," Karl posted on Instagram, posing with the magazine in a newsagent.
Karl Stefanovic and Jasmine Yarbrough had a commitment ceremony. Here's why.
Want to hear to more?  Subscribe to Mamamia Out Loud.
The father-of-three started dating Jasmine after splitting with his wife of 21 years Cassandra Thorburn.
Karl and Cassandra have three children together – Jackson, Ava, and River.
In March, Karl and Jasmine exchanged vows in front of their closest family and friends in a 'commitment ceremony' at Sydney's Palm Beach.
Love weddings or getting married and need to ask all the questions about venues, flowers, photographers, wedding dresses, EVERYTHING? Come join Mamamia's wedding planning podcast Facebook group Hitched.