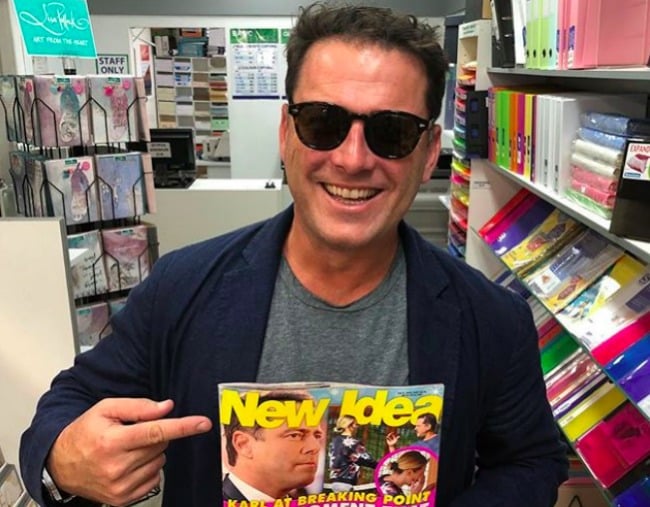 1. Karl Stefanovic posing with the latest cover of New Idea magazine has made our day.
Karl Stefanovic has hilariously responded to New Idea's outlandish claims that he is losing his job on Today, posing with the latest issue of the magazine in a newsagent.
A new article published in the weekly magazine alleges the breakfast TV host is losing his job to celebrity vet and TV presenter Dr Chris Brown, as Stefanovic's contract with the network reportedly comes to an end.
Gold Logie winner Grant Denyer is also listed by the magazine as tipped to take Stefanovic's role.
The article also suggested that Stefanovic's relationship with fiancée Jasmine Yarbrough is going downhill, with ~sources~ suggesting the couple are having problems.
Right…
Posting to Instagram, Stefanovic has shut down the rumours straight off the bat, writing "Another day another cover from No idea. Just for the record the only thing broken in this photo was my serve. And I have years left on my contract. Ha. You guys rock!!"
2. People think Sam Frost's Logies outfit was an "optical illusion" and, ugh, please.
Ex-Bachelorette Sam Frost is confusing everyone (okay, a very small minority) with her Logies outfit, which has been branded an "unusual optical illusion".
The optical illusion, you ask?
The Home and Away star's clear Tony Bianco high heels.
"At a glance, she appeared to be barefoot and strangely levitating along the red carpet," Daily Mail Australia wrote.
Really?
Come on people, clear heels have been around FOREVER!
The 29-year-old paired her 'optical illusion' heels with a custom-made glittery dress.
And she looked flippin' fabulous.
3. This photo of a 13-year-old Prince Harry and Spice Girl Victoria Beckham will make you wish it was the 90s again.

It was an innocent time, and to be honest, we never realised just how much we missed the 90s until we saw this throwback photo of Prince Harry with the Spice Girls. Well, two of the Spice Girls, anyway.
Geri Halliwell is responsible for this vintage photo gold, posting the picture on her Instagram and captioning it, "Awh bless."
It shows a young Price Harry, now 33, sandwiched in between Emma Bunton and Victoria Beckham.
The photo was apparently taken in 1997, just months after Harry's mum died, and he would have been around 13 years old at the time.
Victoria, who would have been 23 when the photo was taken, can be seen protectively holding his hand.
It appears to have been the beginning of a beautiful friendship between the pair, with Victoria, 44, and her husband David Beckham, 43, attending Harry's wedding to Meghan Markle, 36, in May.
Talk about a fairytale ending.
4. A slightly problematic conversation about Justin Timberlake's... anatomy... just happened on national television.
Have we learned nothing over the last few months, people?
Appearing on Andy Cohen's TV show, Watch What Happens Live, Patricia Clarkson was asked to play a little game called "How Big Was It?" (You can probably connect the dots here.)
The 58-year-old actress, who appears in the movie, Friends With Benefits, was asked which actor from the film she would be friends with benefits with in real life.
Patricia didn't hesitate to answer, immediately saying it would be Justin Timberlake, 37.
"Hands down, Justin Timberlake. Because if we want to talk about big…" she teased, as reported by News.com.au.
She then went on to explain she knew this because Justin was filming a scene where he couldn't really cover himself up, and she described him as "a gorgeous man".
When Andy, 50, then asked her directly if he was, ahem, blessed, the flushed actress responded simply with, "Oh, yes."
This then led to Andy saying it was the best bit of information he'd ever received on his show, and telling Patricia not to worry about what she'd just disclosed, because Justin would be "thrilled".
Would he though?
5. Ryan Reynolds was forbidden from bestowing his daughter with a truly bizarre name.
Ryan Reynolds had a very interesting name picked out for his daughter, but it didn't get to see the light of day.
Speaking to Canada's etalk, shortly after the birth of his second daughter, Inez, in 2016, the 41-year-old actor said he suggested calling his little girl 'Excalibur Anaconda'.
Apparently Ryan first proposed the unique name – which, if we're being honest here, sounds like a spell from Harry Potter – when his first daughter, James, was born in 2013.
Ryan's wife, Blake Lively, 30, apparently shut down the idea of calling their kids 'Excalibur Anaconda' immediately, but that didn't stop him from trying to think up ways around it.
"I had [suggested] the same name, except with all the letters in the name being silent, which again was confusing for everyone. Especially me," he joked to etalk.