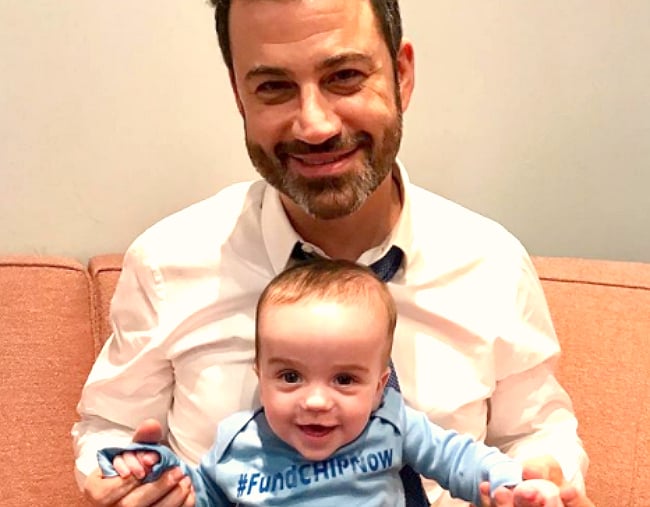 With just "six pushes", US talk show host Jimmy Kimmel and his wife Molly McNearney welcomed their second child into the world in April 2017.
What they didn't know was that three hours later, their tiny baby boy William "Billy" John would be diagnosed with a serious heart defect called tetralogy of Fallot with pulmonary atresia.
Almost a year after Billy's birth, the 50-year-old host of Jimmy Kimmel Live! has shared some of the dark thoughts he and his wife had about their son they were too afraid to share, even with each other.
"There were secrets we kept from each other that we revealed only after the second surgery," the father-of-four told Oprah Winfrey in an interview with O, The Oprah Magazine's April issue, PEOPLE reports.
"The biggest one was that, I think subconsciously, we didn't want to get too close to the baby because we didn't know what was going to happen."
Watch the moment Kimmel first shared his son's condition with the world below. Post continues after video.
The Oscars host and comedian who has two other children from a previous marriage said once he and his wife were able to be honest with each other about how they were feeling after Billy made it through his second surgery, they realised they weren't alone in their worries about their son.
"I don't know if that's right or wrong or common or uncommon. But when I told her I was feeling that way, she said, 'Oh I'm so happy you said that because I was feeling that way too, and I didn't want to express it'," he said.
In December 2017, Kimmel stepped down from his TV hosting duties for a week to be with his family while Billy underwent "a scheduled and successful heart surgery", according to a statement released by ABC.
What the mother of a sick child in hospital wants you to know. Post continues after audio.
Kimmel first announced his son's condition in an emotional monologue on his talk show in May 2017.
"Basically, the pulmonary valve was completely blocked and he has a hole in the wall between the left and right sides of his heart," he explained.
"He appeared to be a to be a normal, healthy baby until about three hours after he was born."
Billy underwent his first open heart surgery to fix one of the two defects in his heart at just three days old.
Tetralogy of Fallot (TOF) with pulmonary atresia is a severe type of congenital heart defect. According to the Boston's Children's Hospital, babies who have the condition have five heart abnormalities including the complete obstruction of the pulmonary valve (obstructing the heart from pumping blood to the lungs) and a hole between the lower chambers of the heart.