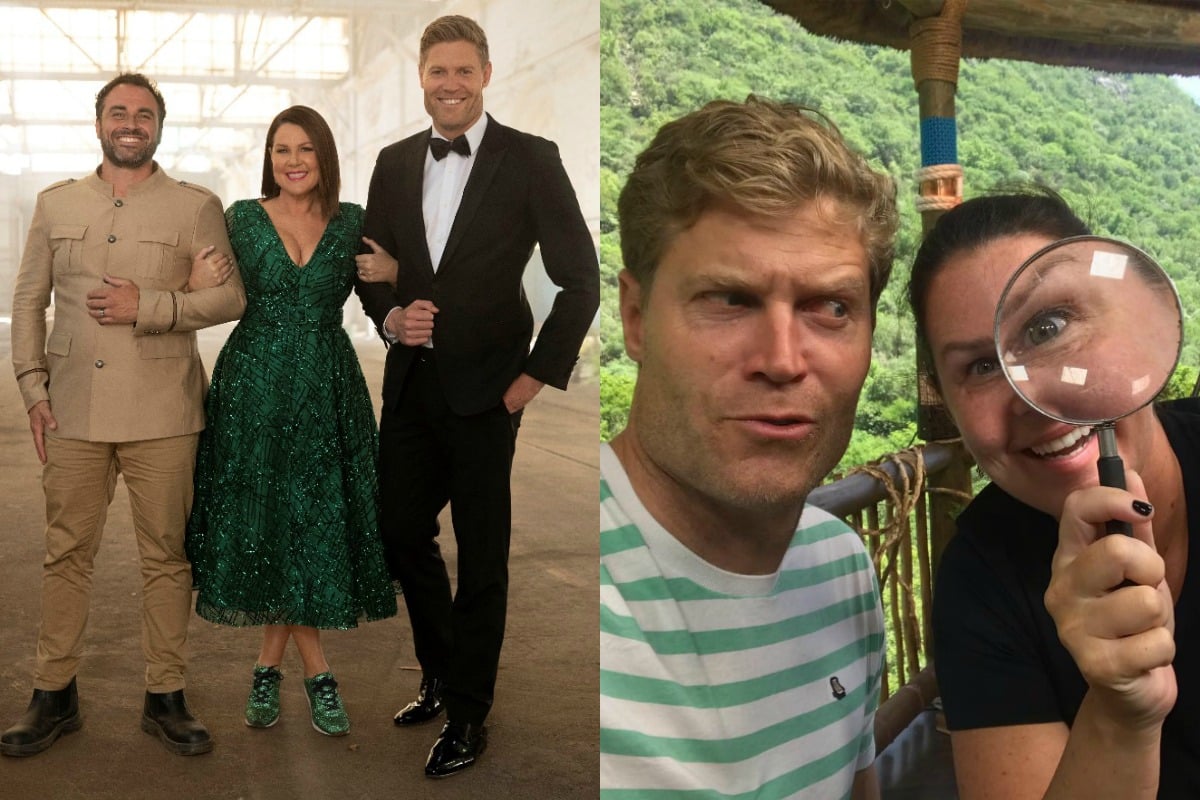 In 2020, for the sixth year in a row, Julia Morris and Dr Chris Brown will enter the South African jungle for I'm A Celebrity… Get Me Out Of Here! Australia.
For comedian and actress Morris, hosting the reality show certainly comes with its challenges.
After all, watching your friends encounter terrifying bushtucker trials and disgusting eating challenges isn't exactly easy.
Watch the trailer for the new season of I'm A Celebrity… Get Me Out Of Here! below. Post continues after video.
"I've had a lot of friends [on the show] over the years, which makes it hard to see them suffering," Morris told Mamamia. "It's really difficult."
Speaking about her favourite contestants on the show, Morris added that it was like "choosing my babies over each other".
"I loved Chrissy Swan, always. My beloved Joel Creasey. I loved Casey Donovan," she recalled.
But while Morris has had dozens of favourite contestants on the show, she's also famously "hated" others.
Speaking to news.com.au after tennis player Bernard Tomic and boxer and rugby league footballer Anthony Mundine chose to withdraw from the show in 2018, you could feel the anger dripping in her words.
"I hated them for turning their backs on it. I thought, you know what? You are weak. As. Piss. The two that walked – one of them didn't even give it a chance! And the other one was just sort of over it," she said referring to Tomic who left after just three nights and Mundine who departed the show after less than two weeks.
Listen to Mamamia's podcast No Filter, where host Mia Freedman interviewed Julia Morris in 2016 about miscarriage, magazines and the paparazzi. Post continues below.
Now, nearly two years on from Tomic and Mundine's appearance on the show, Morris' view on the pair hasn't changed much.
"I was so full of hate at the time and even now, when [Tomic's] name comes up," Morris told Mamamia.
"I'm sure had Tomic had stayed in, he would have had an experience of a lifetime but he gave it a solid 24 hours," she added.
"He certainly didn't lead me to believe that he had made any effort whatsoever. He had been talking himself into leaving from the first day and a good deal of that, I think, was to do with the fact that he hadn't spent a great deal of time in Australia, meaning he wasn't familiar with the other celebrities so he didn't want to be associated with them.