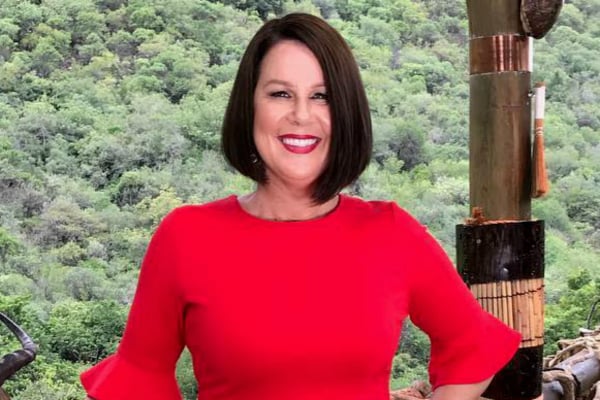 I'm a Celebrity… Get Me Out of Here is set to drop its 2019 season on January 13, and to get us excited, host, Julia Morris has shared the two contestants she absolutely "hated".
And our ears are burning.
The comedian spoke to news.com.au's Nick Bond and you could feel the anger dripping in her words.
Unsurprisingly she picked the two celebrities that chose to walk off the show – tennis player Bernard Tomic and boxer and rugby league footballer, Anthony Mundine.
"I hated them for turning their backs on it. I thought, you know what? You are weak. As. Piss. The two that walked — one of them didn't even give it a chance! And the other one was just sort of over it," she said referring to Tomic who left after just three nights and Mundine who controversially departed the show by saying, "I'm the man. Get me out of here".
Watch the moment Anthony Mundine called it quits and left the jungle:
Questioning their actions, Morris continued with her critique, and when asked if she would take either Tomic or Mundine back, her answer said it all.
"They blew their chance. We're over you now, we want to see new people," she said.
"Where's your commitment? I also come with the added knowledge of just how much work has gone into getting a human being into that jungle."
"Twenty-four hours later, if things aren't going your way, or you've been left to have your own thoughts for the first time in your entire life, and you're like, 'I'm so special, I can just walk at any time?' It's just someone who's not willing to learn about themselves."
Although at the time of his walk off, Mundine received little sympathy for 'quitting,' especially when he chose to spout sexist slurs like "I just kick back and relax while women cook and clean. That is my attitude," Tomic's exit was given more understanding by the Australian public.
During the 25-year-old tennis star's stay during the show, he shared instances of him possibly suffering from depression.
"I thought I'd be super happy, camping for the first time, being around new people… Half the time during the day, I'm just depressed," he shared.
"I'm not coping… I don't know if I can do it. I'd like to speak to someone."
Although the first episode of I'm a Celebrity… is set to drop in just a few nights, there're currently only two confirmed contestants – Gogglebox's Angie Kent and Yvie Jones – however we know this year's lineup will include two controversial politicians, a gossip guru and a football legend.
Your guess is as good as ours.
Are you excited for the new season of I'm a Celebrity? Who do you want to see enter the jungle? Tell us in a comment below.