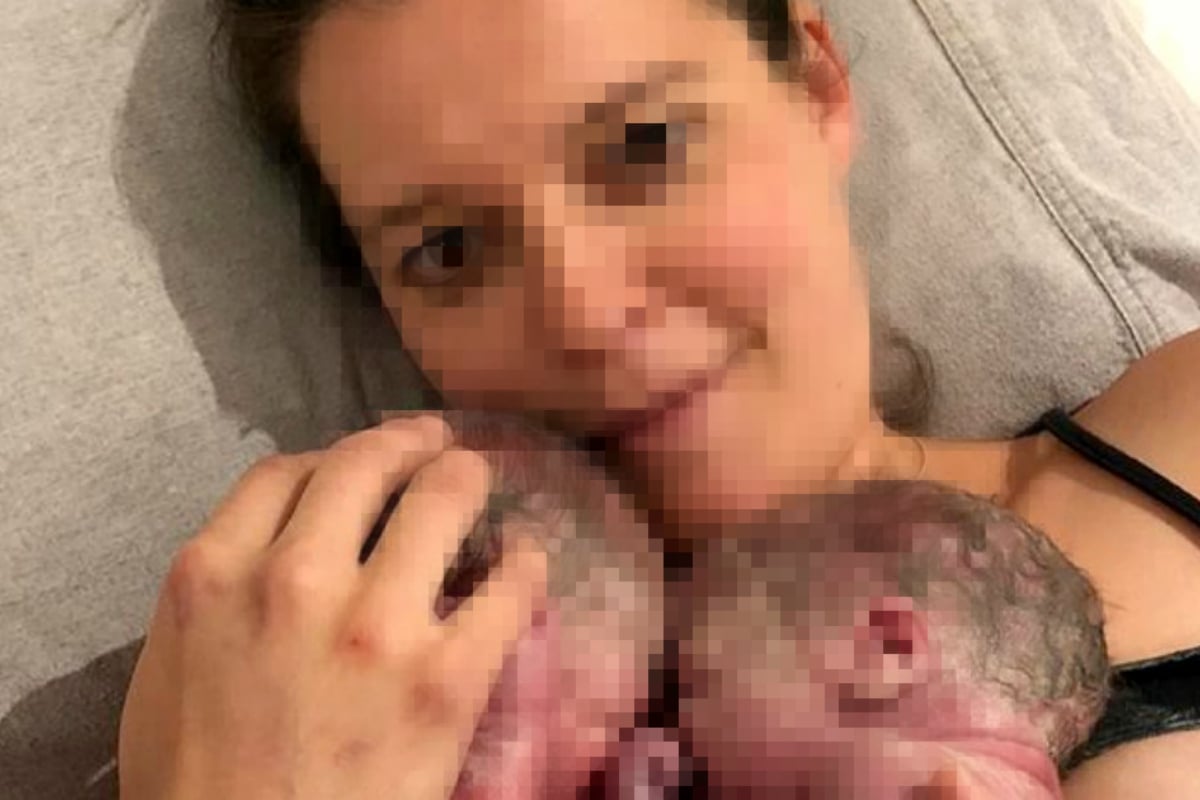 Melbourne mum Brooke got the surprise of her life recently when she gave birth to twins at home. However, after being transferred to hospital her home birth midwife has now been suspended for delivering the twins, which is against regulations.
Brooke declined routine scans throughout her pregnancy, so neither she, nor her midwife, Martina Gorner from Ten Moons Personal Midwifery Care, knew she was expecting twins.
Ten Moons' Facebook post announcing the arrival of her twins went viral with pictures of Brooke beaming as she holds her tiny newborns.
The post said after she birthed a little boy in the water everyone was expecting the arrival of the placenta, but out came another boy. The twins were identical, born early at 35 weeks and weighing 2350g and 2200g.
The post was then amended to say an ambulance was immediately called and mum and babies were transferred to hospital, because one of them was experiencing respiratory difficulties.
The post had 15,000 likes, 1700 comments and was widely shared.
Although mum and babies were all very happy and healthy, hospital staff reported Martina to Australian Health Practitioner Regulation Agency (AHPRA) because midwives are not allowed to deliver twins at home.
AHPRA investigators went to Tens Moons office and requested all medical files, computers and mobile phones.
Following a hearing last Thursday by AHPRA, which saw supporters, including the mum herself, rally outside, Martina has been suspended until they conclude investigations, which could take months or even years.
A spokesperson for AHPRA said Martina's registration as a midwife was suspended by the Nursing and Midwifery Board of Australia (NMBA) on November 8, which is an interim decision while further inquiries are undertaken.
"The NMBA's role is to keep the public safe and ensure practitioners are meeting the trust the public places in them," they said.
"The NMBA supports women's choices by setting evidence-based standards, codes and guidelines for midwives to manage risk and ensure the safest possible healthcare for women and their babies in any setting, including home births."