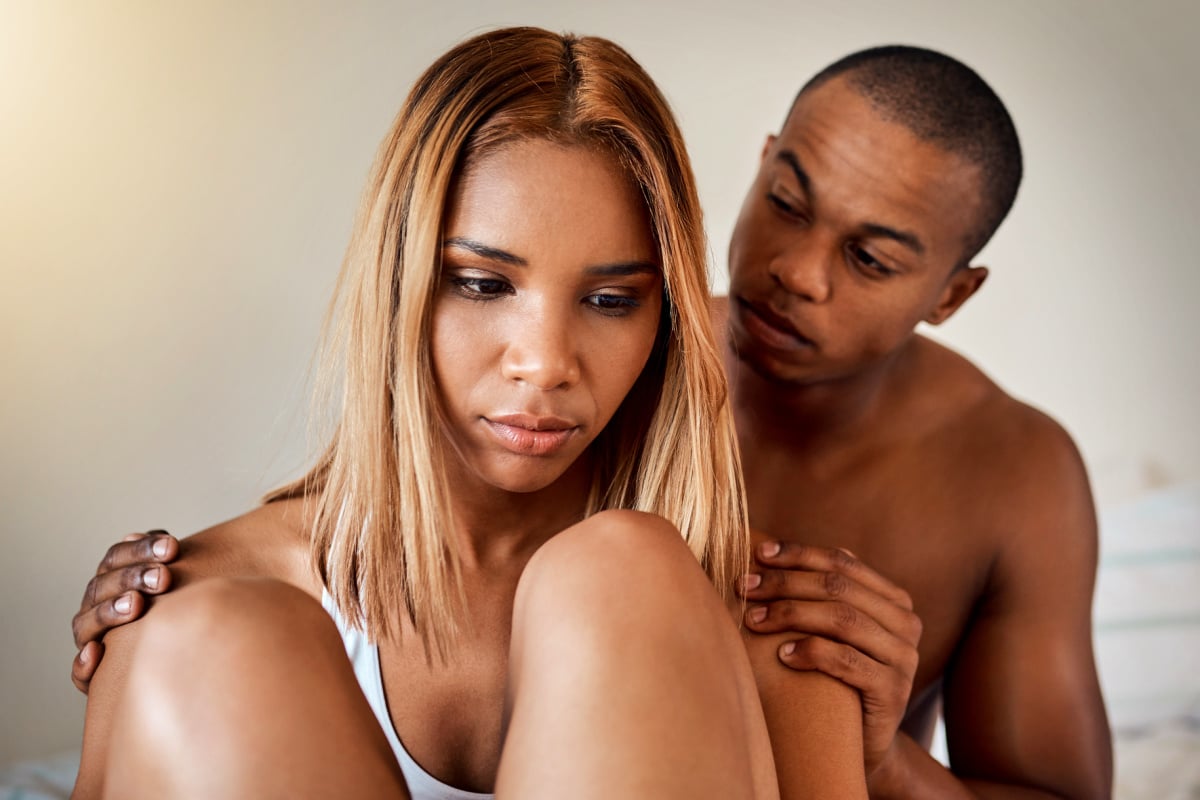 Fact: people in relationships fight. It's just what we do, right?
It's impossible for two people to be in complete agreement on everything at all times (or is it?), and overcoming screaming matches disagreements is one part of sharing your life with someone.
Be it over leaving milky cereal bowls in the sink for days or differing opinions on how to parent, what constitutes an argument is subjective and unique to every couple. But how much fighting in a relationship is OK and is there a type or amount that isn't?
Side note -Mamamia staff share their ultimate relationship deal breakers in the video below, any sound familiar? Post continues after video.
Here, 26 Aussie women share an insight into the kinds of fights going on in their relationships.
From how often and how heated, to what they're fighting about in the first place, it's a snapshot of what "normal" couples in relationships are actually arguing about behind closed doors.
1. 27, together for five years and living together for one.
My partner and I have two fights over and over again. The first is about why we don't have more sex. Are we normal? Do you desire me? Am I not attractive to you anymore? We have this fight once a fortnight or so. The second fight we have monthly or whenever something like a wedding, birthday or a significant occasion comes up. It is: can you see a future with me? My partner lives very much in the 'now' and doesn't like to think too far ahead, but I'm yearning for a commitment. I don't want to be engaged right now, but I also don't want to get another year into our relationship and be in the same place we are now.
2. 25, together for almost three years and married for one.
The only serious fight we've ever had was when I fell asleep after he'd given me his keys and he was locked out.. so he had to find a hotel to sleep in (so bad). Apart from that, I try and pick fights when I get annoyed about household stuff but he never budges. It's so frustrating, I can't imagine being that level-headed. We occasionally have disagreements about his regular conversations with his ex-girlfriend because they still share a dog together. He says they're 'logistical conversations', but she still likes to talk to him about everything. He says if we want to keep seeing the dog, then I should just deal with it.
3. 31, together for 12.5 years and married for three.
Our fights are mainly over my partner saying he is or was 'going to do something' but didn't. He is very laid back, so our fights consist of me sort of shouting and him being calm. Our fights are usually about life admin – for example, because the electricity is in his name, I've been asking him for at least a month to ring up and ask why our rate has just jumped, and he still hasn't done it. We are very much equals and my partner gets home before me so he does his fair share of the housework – and cooks every night, so I can't complain, but we sometimes bicker because he has this weird mentality that if he cleans the floors once, he shouldn't have to do them for weeks. He gets frustrated and says, "I just did those floors!" Um no, that was weeks ago. We have happily solved this problem by getting a cleaner fortnightly and I'm telling you, our fights have significantly decreased!