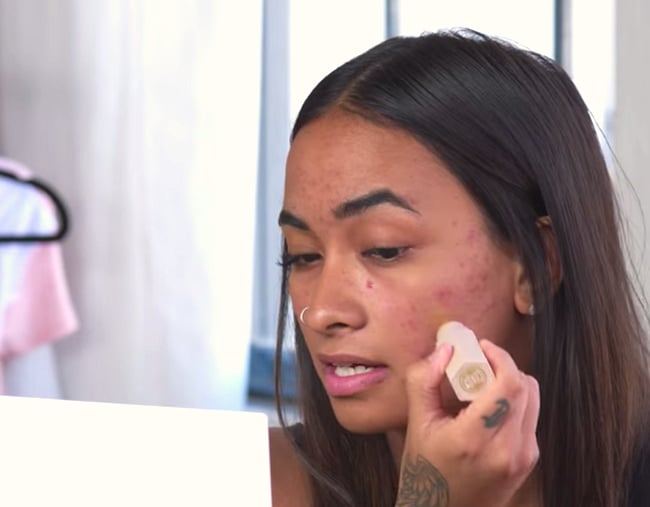 Almost nothing can make or break your day like an acne flare up can.
Unlike greasy roots or dark under eye circles that can be masked with dry shampoo and a ponytail or a stack of concealer, facial acne is hard to hide.
It's on your face where everyone can see it. Acne is painful too, and often gets angrier as the day goes on.
Everyone has 'bad skin days', but for people dealing with cystic acne or other skin conditions on a daily basis, especially well into adulthood, it can be debilitating.
It's also a catch 22 because the more you try to cover it up with heavy makeup, the worse it can get.
Although there's nothing wrong with having blemishes or acne – in fact, 54 per cent of women over 25 experience some form of facial acne – it's the impact pimples have on people's self-confidence and body image that's worrying.
That's why when Rihanna's cosmetics brand Fenty Beauty released a before and after makeup tutorial on covering acne this week, it quickly went viral.
The video shows how professional dancer and choreographer Ysabelle Capitulé covers her cystic acne and acne scarring using only four products.
Her before and after photos are incredible.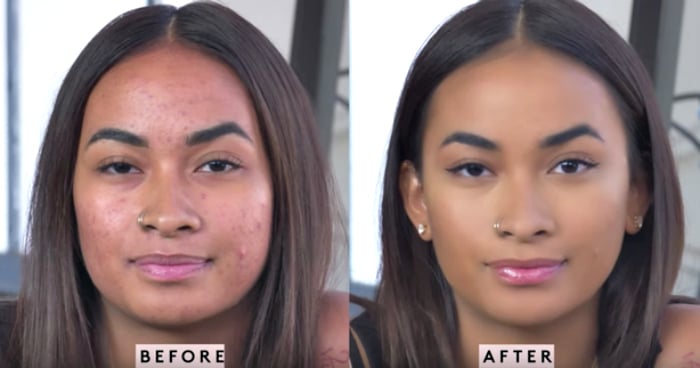 Here's how she does it.
Step One: Primer
First, Ysabelle applies the Fenty Beauty Pro Filt'r Instant Retouch Primer ($46) after moisturising to prep her skin.
Using a matte finish primer before going in with concealer and foundation will absorb excess shine and give your base a good surface to stick to.
The BYS Face Primer ($6) and BECCA First Light Priming Filter ($34.99) are great options too.
Step Two: Concealer
Next comes concealer. Many makeup artists suggest applying concealer after foundation so you can see accurately how much you'll need, but if you have red blemishes or acne scars like Ysabelle, you can use concealer first to knock out some colour before putting on foundation.
Ysabelle uses the Fenty Beauty Match Stix Matte Skinstick ($37), but NARS' Radiant Creamy Concealer ($35.99) and this Revlon PhotoReady Colour Correcting Pen in Green ($11.99) are popular choices too.
Blend with a small, flat concealer brush.
Step Three: Foundation
Thirdly, Ysabelle applies the highly acclaimed Fenty Beauty Pro Filt'r Soft Matte Longwear Foundation ($50). Using a foundation brush will give you a higher coverage finish than a beauty blender.
Pick a matte formula over a sheer one if you get shiny quickly - like the Revlon ColorStay Makeup for Combination/Oily Skin ($14.99) or Estée Lauder's Double Wear Stay-In-Place Makeup ($49.99).
Once her base is finished, she then goes back in over any particularly angry spots with more concealer.
Pro tip - this time, apply then press the product over the blemish, rather than blend.
Step Four: Setting powder
The last step is to set your foundation and concealer in place. Ysabelle does this with the Fenty Beauty Invisimatte Blotting Powder ($46).
You can also use a fluffy powder brush to apply translucent powders like Revlon's PhotoReady Translucent Finisher ($13.99) or the NARS Light Reflecting Setting Powder ($46.99).
Watch the full Fenty Beauty Acne tutorial below. Post continues after video.
The finished result is a smooth, full coverage base that gives Ysabelle the confidence to go about her day.
Yes, it's a heavier makeup look, but it shouldn't affect your skin if you're thoroughly removing the products at night as soon as you get home, as well as following an acne-specific skincare routine.
Again, acne isn't something anyone has to cover up. Some days, it's more comfortable to rock a fresh face without any makeup.
But for the days when you feel like your skin is stopping you from enjoying your life, there's makeup.
Do you struggle with skincare? How much do blemishes impact on your day?