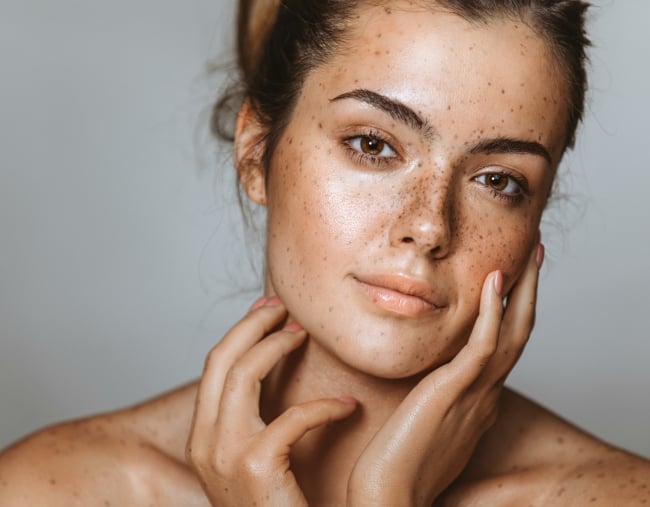 So you decided to go off the contraceptive pill and your skin has lost the plot. Damn.
Give your body a break, they said. Go natural, they said.
But no one mentioned the acne flare ups, bumps along your hairline, extra oily T-zone or general effed up-ness, did they?
Whether you're looking to change your contraception method or want to start a family, choosing to say 'cya' to the pill is a major lifestyle change.
And with change comes consequences.
One of the biggest concerns women have about going off the pill is what will happen to their skin, especially if that was the whole reason you started taking it in the first place. Will all that teenage acne come back as if you're 16 again?
Turns out the answer to these questions is a lot more complex than removing your makeup at night.
So we asked two dermatologists to explain in detail everything you need to know about why you'll get 'bad skin' after going off the contraceptive pill. And what to do about it.
Why you can get bad skin after coming off the pill
Getting your head around what causes your skin to change (i.e. increased greasiness, more vascular reactivity – blushing, rosacea – acne lesions and flare ups, change in texture, dryness) when you come off the pill is tricky. But it's important to scrap thinking of withdrawing the pill as the 'cause' of your bad skin.
"The contraceptive pill, particularly ones containing oestrogen, is a treatment for skin issues. Going off the pill doesn't cause skin issues, it removes the treatment that's been controlling the problem for a period of time,"  Central Sydney Dermatology's Associate Professor Stephen Shumack told Mamamia.
"Like any other form of treatment, when you take it away, you'll often go back to experiencing the symptoms you would've had if you hadn't been on the pill, but people often take these as new symptoms."
Assoc. Prof Shumack explained the reason women experience really great skin while they're taking the pill is thanks to the added oestrogen, which boosts overall skin health and keeps the skin moist and hydrated – "it's a bit like being pregnant and experiencing the 'pregnancy glow'," he said.
"So what happens when you stop the pill, particularly an oestrogen pill, a few months down the track the skin can change because you're taking away the hormones you were supplementing your skin with. This can result in a bit of acne, skin dryness and some hair loss."
Along with reducing the amount of oestrogen circulating in your system, coming off the pill is much like taking off a mask and returning to your natural hormonal base line, Dr Adam Sheridan of the Specialist Dermatology Surgery & Laser clinic in Melbourne said.