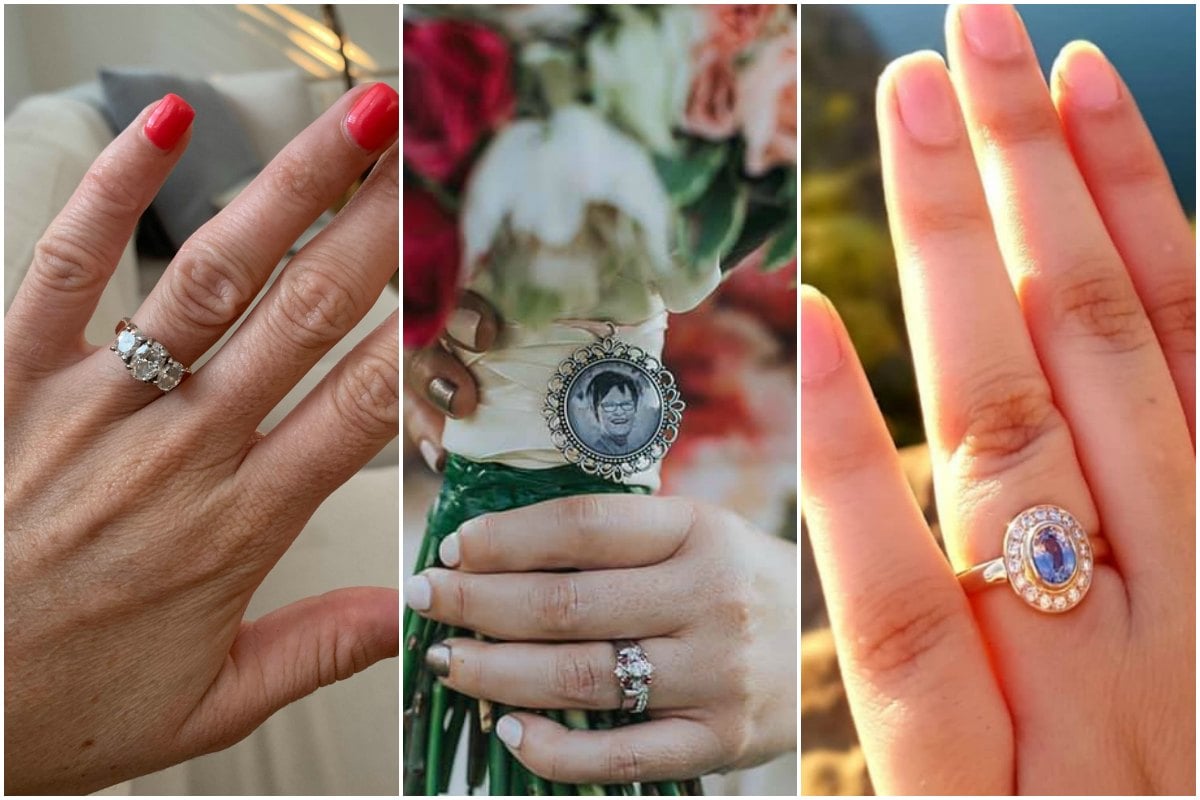 When we asked the Mamamia community to share the stories behind their engagement rings, we didn't anticipate we'd receive so many heartfelt, brilliant and funny stories.
From spontaneous announcements, to meticulously planned projects that were months in the making, each story was as unique as the the rings proposed with.
Some women opted for unique gemstones, while others chose family heirlooms. Then there were the couples who got theirs redesigned in the years after their wedding.
Here are just some of our favourites:
Engagement ring trends through the decades, from the 1900s to now. Post continues below.
Alena: 'He proposed with a note on the back of a Ryanair ticket.'
We had discussed the idea of getting married and had decided not to as it wasn't really our thing. But it seems like three weeks after sailing across the Atlantic, and a couple of close calls changed things. He called my dad as soon as they reached land in Morocco to ask permission and worked himself up to asking as he met me at the airport. Little did he know my flight was cancelled and as my phone wasn't working I couldn't let him know, so he waited at the airport all nervous for me and I didn't turn up. He had to do it all again the next day when I did arrive, but even with the extra 24 hours, biro on the back of a Ryanair ticket was the chosen way of proposing.
The ring itself was a placeholder ring from the only jewellery shop on the tiny Caribbean island he sailed from. He knew I wasn't into standard rings and wanted to use family jewels, so I got his ring designed using diamonds from my great grandmother's and grandmother's engagement rings, based upon an art deco brooch from my great aunt.