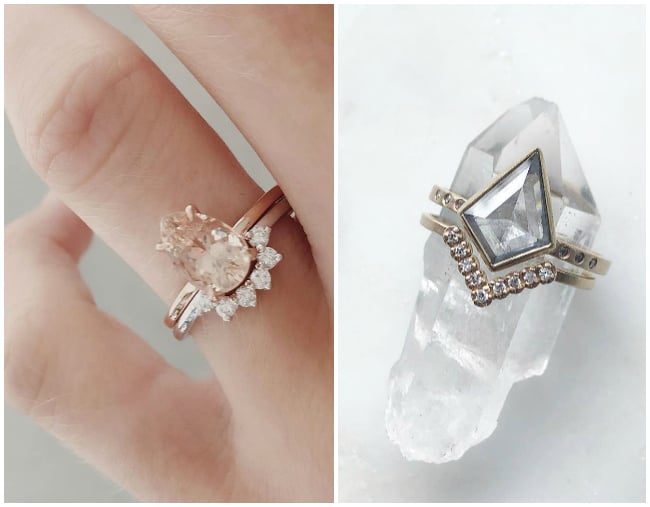 So, you've finally found the person you want to marry and now it's time to choose the ring to make it all official.
Whether you're shopping on a budget, completely overwhelmed or just after something different, cutting through the clutter and finding 'the one' when it comes to the engagement ring is no easy feat.
That's where we come in. From budget hacks that will get you your dream ring without sacrificing your housing deposit to alternative gems, stone-settings and cuts that will make your engagement ring truly yours, here are 15 options to consider before you even think about walking into a jewellery store.
Consider this : the halo ring.
Halo engagement rings are loved for their ability to make smaller diamonds and gemstones look bigger, and make higher-carat stones look even more dramatic.
The halo refers to the pavé or micro-pavé stones surrounding the main gem and are a great option for customers on a budget.
The halo option is also great if you want to find a way to incorporate colour into your ring as you have a lot more freedom in the kind of gemstones to include.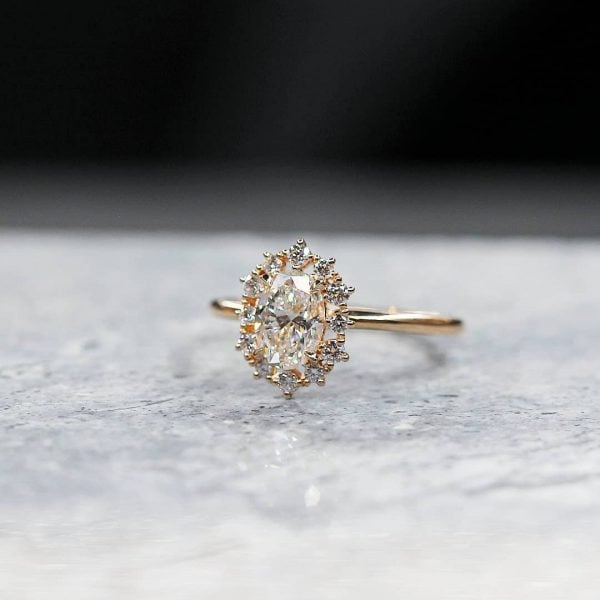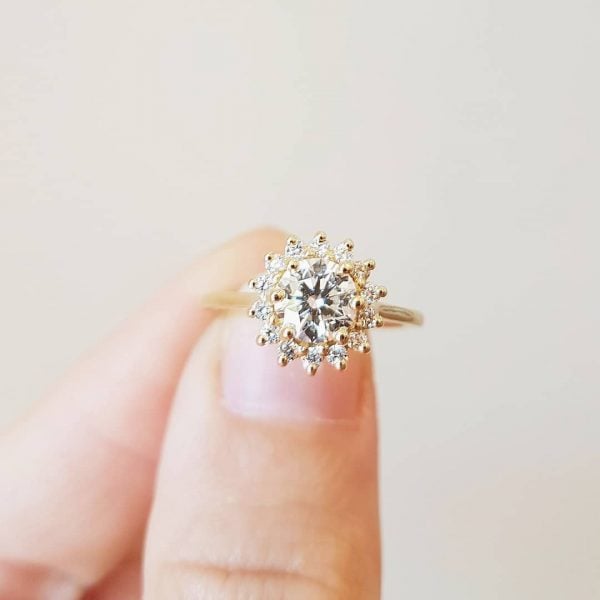 Consider this : half-halo ring.
Similar to its full-halo sister, half-halo rings refer to the half or partial strip of gemstones that surround the bigger stone and based on our very extensive Instagram and Pinterest research, they're currently having a moment in the engagement design world.
They have the tendency to look modern but with an antique touch and look great when designed together with a stacked wedding band. See below.
Consider this : the hexagonal ring.
Hexagonal-set engagement rings ooze old-school glamour and are sure to make a statement on the finger.
According to London jewellery designer Noor Fares, the shape also represents union and balance, which makes it a very appropriate  cut given the occasion.
While you can find hexagonal-cut stones, these are often more rare and expensive. Instead, round diamonds set in a hexagonal halo (the line of smaller diamonds that surround the main diamond) are a lot more common.
Consider this : the three-stone ring.
Ever since Prince Harry and Meghan Markle's royal wedding, three-stone diamond rings have been on the rise.
Apart from looking damn luxurious, the elegant and stunning option also holds a special significance with the three stones representing the relationship's past, present and future, as well as friendship, love and fidelity.
They use to be a common anniversary gift, but now are regularly used as engagement rings in their own right.
For the bride-to-be, our podcast Hitched runs through every single detail when preparing your wedding, from the venue, the guest list and more in episode six... your host Aleisha McCormack tackles the dress.

Want to hear to more? Subscribe to Hitched here.
Consider this : the tear drop (or pear) ring.
Used interchangeably, pear and tear drop shaped engagement rings give the finger an elongated look and look beautiful in a halo or prong (AKA solitaire) setting. When it comes to pear-shaped diamonds, the cut is more unique and according to Diamond Port, they also around 25 per cent cheaper than their round-shaped compatriots. Score.
Consider this : emerald-cut ring.
Originally designed for emeralds, the rectangular cut is said to represent an open heart and personal clarity. It also really, really shows off the sparkle of the gemstone be that an emerald, diamond or sapphire (as pictured).
Consider this : the open cuff ring.
For the modern bride-to-be, open cuff rings are an edgier take on the classic engagement ring, while still being simple enough to guarantee timeless appeal.
Opt for mismatching cuts or different stones for ring that's unique to you.
Consider this : The Morganite Gemstone.
A rosy pink gemstone for a blushing bride, the delicate rose-tone of the morganite stone is becoming a popular alternative to the traditional diamond and looks fantastic when paired with either yellow-gold, rose gold, white gold and platinum, making it a very versatile rock.
Despite the delicate shade, the stone still sits at a 7.5 to 8 on the Mohs scale and Diamond Port reports that it costs around $300 per carat, making it a great option if you're pinching pennies or want to 'dress up' the ring with the addition of some smaller diamonds. See 'cluster rings' for inspiration.
Consider this : the black diamond.
Powerful, moody and different, black diamonds are an under-utilised engagement stone that looks just as elegant and classy as its clear alternative.
They're also generally more affordable than a white diamond, but depending on its colour, cut and carat, they can still cost anywhere from $300 to $5000 a carat. White diamonds on the other hand range from $1,200 to $7,600 per cart depending on the quality.
Consider this : the sapphire ring.
When Prince William proposed to the Duchess of Cambridge with Princess Diana's iconic sapphire and diamond engagement ring, he bought the stunning stone back in vogue.
The dark blue stone technically ticks the 'something blue' box for your wedding day, and supposedly represents wisdom, royalty and divine fortune - all good things to bring into any marriage.
It also needs to be said that the gem looks beautiful when paired with diamonds... but we'll leave that up to you.
Consider this : the birth stone.
Not only are birthstones (generally) cheaper than diamonds but they can also carry a beautiful sentimental value for couples.
Mamamia's local romantic, Paul, says he went for the December birthstone - Tanzanite, when he proposed because it marked the month he and his fiance went on their first date.
Awwww.
Other options include choosing the stone based on the month of the proposal, or even combining the birthstones of you and your fiance-to-be.
You'll just want to keep in mind the hardness of your chosen stone to ensure its durability as you'll be wearing it everyday. The easiest way to do this is by looking up where the gemstone sits on the Mohs scale.
Consider this : The solitaire diamond.
A timeless classic for a reason - solitaire-set diamonds put the focus solely on rock, with the get normally cast on a plain band.
You can get a solitaire cut with most stones, however when it comes to diamonds, it's a style that really shows off the clarity and colour of a high-quality (also expensive) stone.
If you like the shape of the solitaire ring, but worry that it might become boring, you can always add a more elaborate wedding band, or 'anniversary' bands to customise the ring.
Consider this : the cluster ring.
These vintage-inspired cuts are oh-so-pretty to look at and guarantee a unique ring that you probably won't see on anyone else.
They look dainty and delicate on the finger and you can still choose a focal stone (like a diamond) and accompany the gem with a a scattering of other smaller stones.
The design looks particularly stunning when you play with co-coordinating shades of gems, which you can see below.
Consider this : the
stack-able

 ring.

You by no means have to ensure that your engagement ring perfectly matches with your wedding band - you don't even technically need a wedding band if that's your preference, but for a modern look, there are now several designers offering stunning ensemble sets that sit perfectly together.
Consider this : the minimalist option.
If you're not into statement-making stones or extravagant rings, minimalist designs are a chic and discreet option for those that would rather spend their wedding budget elsewhere.
From barely there diamonds or simple thin bands you can always turn your engagement ring into your wedding ring, and save up for something more extravagant later down the track.
Do you have a favourite style or cut from the ones listed above? Or do you have an engagement shopping tip of your own? Tell us in a comment below.
Love weddings or getting married and need to ask all the questions about venues, flowers, photographers, wedding dresses, EVERYTHING? Come join Mamamia's wedding planning podcast Facebook group 

Hitched

.