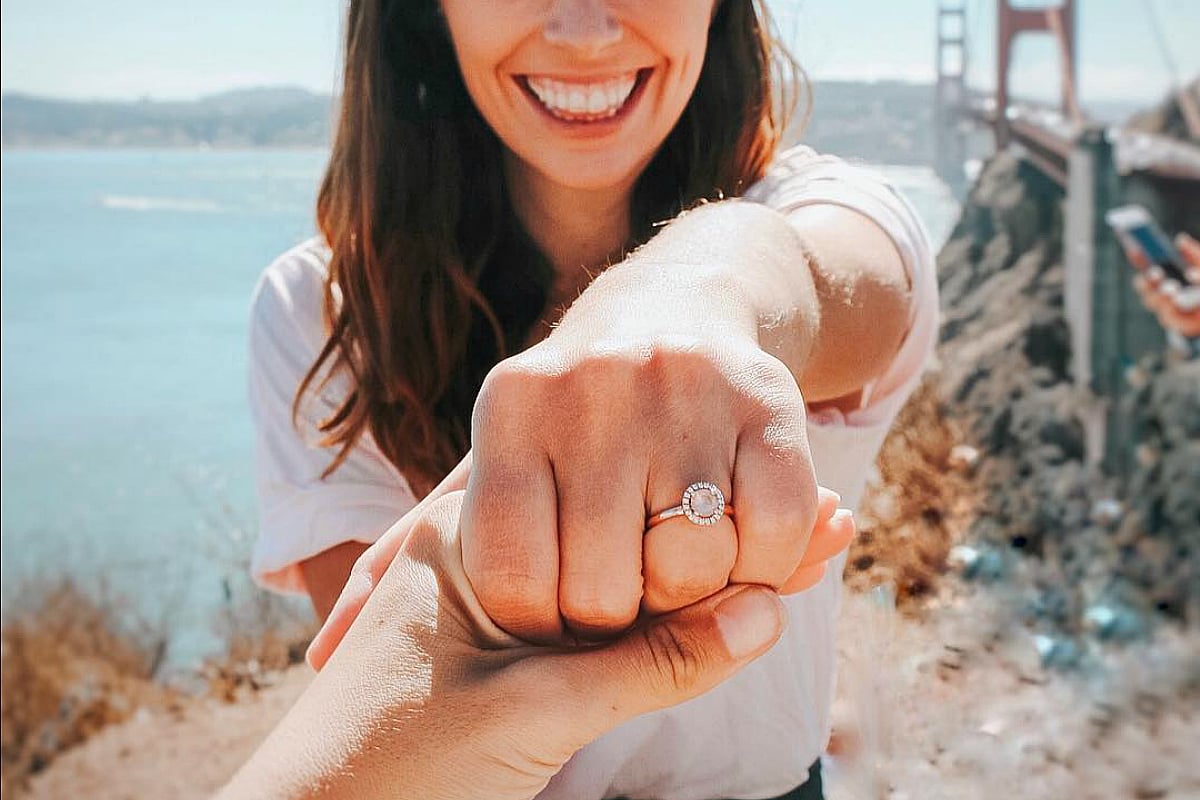 For decades, everyone from Marilyn Monroe to jewellery companies have told us diamonds are a girl's best friend.
But right now, diamonds are kind of dead.
Not literally, but environmental, sustainable and ethical factors have led to a worldwide supply shortage, making diamonds harder to find and more expensive to buy.
That's why everyone's turning to a different stone for engagement rings. One that can look just as blingy and exxy as a big ole celebrity diamond engagement ring, without the ginormous price tag.
We're talking about morganite.
This week, Vox reported on the morganite engagement ring trend, saying it's "the engagement ring trend everyone's buying and no one's talking about."
And they're right. The Knot's 2017 engagement ring survey found morganite engagement rings the second most popular non-diamond stone after sapphire.
From what morganite actually is to how morganite engagement rings can look, here's a quick run down on the alternative gemstone you ought to consider:
What is morganite?
Morganite is a semi-precious gemstone, also once referred to as pink beryl, belonging to the same family of gemstones as aquamarine and emerald.
Morganite engagement rings mimic the look and feel of pink diamonds and the colours of different stones can range from pale pink to a brilliant orangey coral. The Gemological Institute of America (GIA) reports morganite stones get their colour from the presence of manganese. The brighter and stronger the colour of your morganite stone, the larger, rarer and more valuable it is.
Because of the gemstone's rosy, blush pink (otherwise known as millennial pink) hue, morganite engagement rings compliment cool-toned or fair complexions.
If you're into your crystals, morganite reportedly signifies divine love, and promotes healing, promise, reassurance and compassion… all of which are helpful assurances to have when committing to spending your life with another human.
How much do morganite engagement rings cost?
On first glance, you might mistake a morganite engagement ring for a rare pink diamond or an exotic stone only Kim Kardashian could afford.
And that's the beauty of them. Morganite engagement rings can look blingy but won't cost you your life savings.
How much your morganite engagement ring will cost depends on the size of gemstone you choose, if the ring also contains diamonds, which metal you chose and the quality of the gemstone.
On Etsy, morganite engagement rings range from as low as $200 for a morganite stone with a rose gold plated sterling silver band, to $2,500-3,000 for a large six carat morganite stone framed with diamonds on a 14 carat rose gold band.