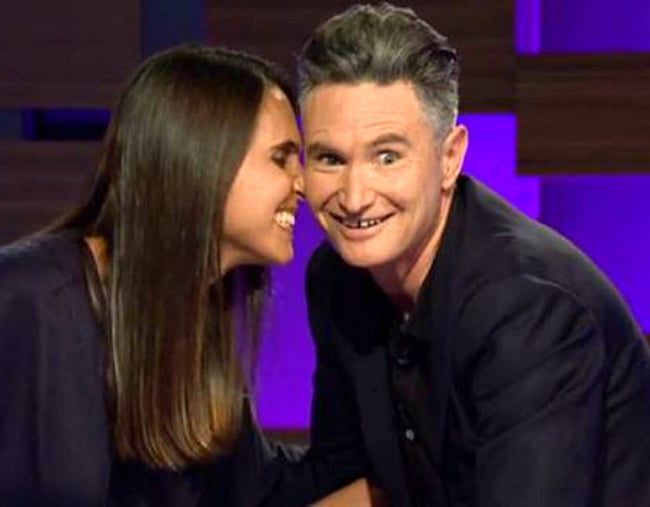 They say there are a couple of risky things about working on the the telly one should watch out for.
Working with kids. Working with animals. And asking your wife on national TV to talk in detail about your, erm, foreplay skills.
But 'stuff rules', thought comedian Dave Hughes on Tuesday night's episode of Hughesy, We Have A Problem, bringing his wife and business partner Holly Ife onto the the stage to answer a personal question.
That question: How can I stop my wife getting distracted during foreplay?
The segment began with the 47-year-old radio presenter and The Block home owner saying that things between he and Holly's in ze bedroom have become a tad stale. And it's not his fault, of course.
"She looked me up and down and I thought she was perusing how sexy I was… She had a look in her eye and I thought, 'she wants me so much, she can't handle it.' And she looked at me and said, 'have you put the bins out?'," he said of one particularly memorable encounter.
Watch Hughesy and Holly chat about their foreplay skills on national TV in the video below. 
When asked by the panellists Judith Lucy, Jo Stanley, Peter Berner and Rhys Nicholson what his idea of foreplay was, Hughesy said "generally it's a hold of the hand and then I start circling the palm of her hand with my finger like I'm trying to unlock a safe."
Oh. Oh dear.
After hearing her husband's side of the story, Holly had a few things to say about their apparent lack of foreplay, all of which were hilarious and highly relatable.
"We don't get to spend a lot of time together because you work a lot… I'm still debriefing and you're trying to start the thigh rub or the hand holding and I'm like, 'I've still got things to tell you'," the former journalist told the audience.