Corey Feldman has been trying to get people to listen to his stories of sexual abuse for a long, long time – but it seems like a lot of people just haven't wanted to hear what he has to say.
Within Hollywood, it seems the stories were circulating back in the 1980s. Alison Arngrim, who starred in Little House On The Prairie, remembers the gossip about Feldman and fellow child star Corey Haim.
"People said, 'Oh yeah, the Coreys, everyone's had them,'" Arngrim told Fox News in 2011. "I literally heard that they were 'passed around'. The word was that they were given drugs and being used for sex."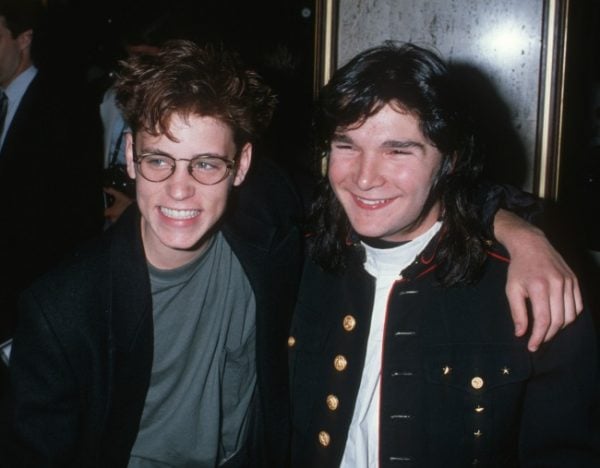 Feldman started out in show business at the age of three, when he shot his first TV commercial. His father Bob was a musician, his mother Sheila was a cocktail waitress and his older sister Mindy was a member of The New Mickey Mouse Club.
Feldman found fame in The Goonies and Stand By Me. He bonded with Haim when the two of them co-starred in the 1987 movie The Lost Boys. Feldman says it wasn't long before Haim confided in him that he'd "allowed himself to be sodomised" on the set of the film Lucas. Feldman makes this claim in his memoir Coreyography, without naming the alleged abuser. This week, actor Dominick Brascia made the claim in the National Enquirer that the abuser was Charlie Sheen, a claim denied by Sheen's spokesperson.
Feldman told The Hollywood Reporter last year that his mother let him go to parties where there were "mostly kids", aged 10 to 16, but also a handful of adult men who were grooming them.
"That's the networking, and that's when you become pals with them," he said.
Feldman has said on several occasions that the main guy who molested him was an employee of his father's. A week ago, when speaking to talk-show host Dr Mehmet Oz, he finally put a name to the man he alleges abused him: actor Jon Grissom. US media have confirmed that Grissom is a convicted sex offender.
But at the time, Feldman didn't tell his father what was going on.
"As a child you don't really do that," he told The Hollywood Reporter.
Although Feldman was also friends with accused sex offender Michael Jackson when he was young, he says the pop star didn't abuse him.
Listen: The women of Mamamia Out Loud talk about what is happening in Hollywood. (Post continues...)

It was 1993 when Feldman, by then in his twenties, finally went to the Santa Barbara Police Department with his allegations. Although years had passed, the crimes were still within the 10-year statute of limitations.
Feldman says he named his alleged abusers. A spokesperson for the police department says their records "do not indicate that he named any names".
Sean Astin, who co-starred with Feldman in The Goonies, says people often ask Feldman why he didn't go to law enforcement officials.
"He says, 'I did go to the cops. I told them I've been molested, here are the names, but Michael Jackson is not that guy,'" Astin said recently. "All they wanted was to get Michael Jackson, so they didn't follow his leads."
Feldman developed drug problems and his career took a nosedive. Haim's drug issues were even more serious.
In 2007, on their reality show The Two Coreys, the duo said they had been molested when they were starting out in Hollywood.
"That was one of those things that we'd discussed not bringing up," Feldman told GQ. "And then Haim brought it up anyway."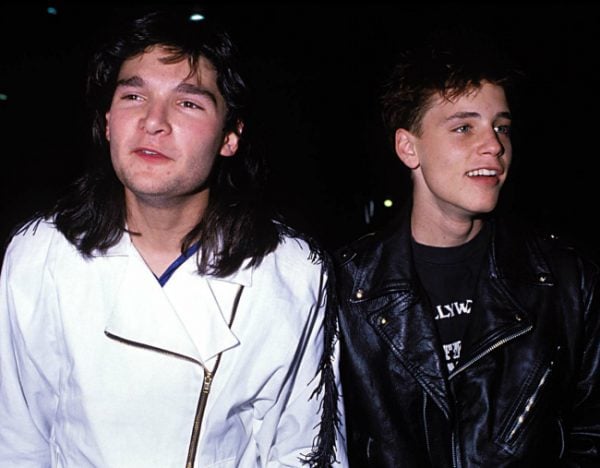 Haim died in 2010, aged just 38. He had at least eight substances in his system, including marijuana, with his official cause of death named as pneumonia.
With his friend gone, Feldman became even more vocal about the alleged abuse the two of them had suffered. He went into detail in his 2013 memoir Coreyography, although a lawyer compelled him to change names, at risk of putting himself into a costly law suit.
Even then, Feldman was criticised for what he was saying. On talk show The View, he claimed the people that had done things to him and Haim were still working.
"They're still out there, and they are some of the richest, most powerful people in this business," he said. "And they do not want me saying what I am saying right now."
As Feldman went on, co-host Barbara Walters interrupted him by saying, "You're damaging an entire industry!"
Now, in the wake of the Harvey Weinstein and Kevin Spacey scandals, people may finally be willing to listen to Feldman.
Following on from his appearance on the Dr Oz show, Feldman again went to the Los Angeles police with his claims of a paedophile ring operating within Hollywood.
"Officially the first formal report ever taken on any of my cases, as SBPD never followed up back in 1993, and has no record of my complaints," he tweeted.
Feldman is currently trying to raise money to make a documentary about alleged paedophiles in Hollywood. He's hoping for $10 million, to cover the making of the film, as well as lawyers and armed guards to protect himself and his family.
"When I say I need protection, I'm not being paranoid, or acting delusional," he told USA Today. "In fact, my concerns are quite valid."
This won't be the last that people hear of the alleged Hollywood child sex ring. As Feldman wrote on Twitter: "In case you missed it, the war has begun."
LISTEN: Mamamia Out Loud - Everything with Harvey Weinstein explained.